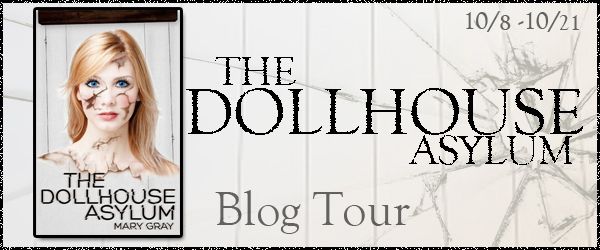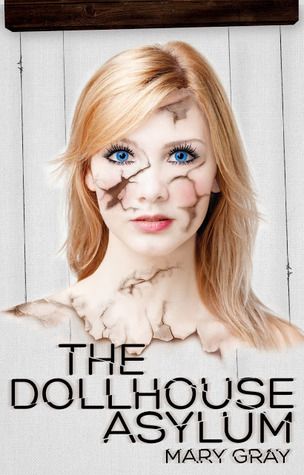 The Dollhouse Asylum by Mary Gray
Published by Spencer Hill Press on October 22, 2013
Pages: 296
A virus that had once been contained has returned, and soon no place will be left untouched by its destruction. But when Cheyenne wakes up in Elysian Fields–a subdivision cut off from the world and its monster-creating virus–she is thrilled to have a chance at survival.

At first, Elysian Fields,with its beautiful houses and manicured lawns, is perfect. Teo Richardson, the older man who stole Cheyenne's heart, built it so they could be together. But when Teo tells Cheyenne there are tests that she and seven other couples must pass to be worthy of salvation, Cheyenne begins to question the perfection of his world.

The people they were before are gone. Cheyenne is now "Persephone," and each couple has been re-named to reflect the most tragic romances ever told. Everyone is fighting to pass the test, to remain in Elysian Fields. Teo dresses them up, tells them when to move and how to act, and in order to pass the test, they must play along.

If they play it right, then they'll be safe.

But if they play it wrong, they'll die.
Author Mary Gray stopped by to talk to us on Swoony Boys Podcast. Thanks so much for dropping by Swoony Boys Podcast today to let our readers get to know you, Mary. We're excited to have you!


Tell us a little about The Dollhouse Asylum. Was it a fun to write? What is your favorite scene?
The beginning scene was extremely fun to write. My heart just pounded and I knew I had something. So much in the book changed, but Cheyenne sitting in that chair, totally freaked out, didn't. My favorite scene? The kissing ones. Always the kissing ones. Next, would be Cheyenne's flashbacks with Teo. They felt so real in my head, like I was there and he was there, and I still have to remind myself Teo isn't a real human being.
We love kissing scenes, too. ♥ If you only had twenty seconds with a stranger in an elevator, how would you pitch this book?
It's about a group of teenagers who are granted asylum from the apocalypse, only to be forced to reenact famous, tragic literary couples… or die. (Seven seconds, tops!)
OMG how awesome! What is your favorite part of the writing process?
When the juices are flowing, and scene spills right out of me–when I know what I'm writing is clear and makes sense. Unfortunately, those times are fewer than I'd like. I have to work for those moments, screw up a lot before the real stuff comes.
We hear you. What kind of research did you have to do to make the story seem believable? Was there anything about your research that was difficult or problematic?
Research for The Dollhouse Asylum was a pleasure. I got to learn about some of my favorite classic books! Incorporating them in the story was an equally fun task, from making the homes match the literary couples, figuring out what the girls were wearing, to deciding what portion of the tale would play out in the book.
How would you introduce Cheyenne to readers at a party?
She's not your stereotypical heroine. She has this crazy, fierce loyalty, which she soon learns is misplaced, and possesses this quiet power that sneaks up on you when you least expect it. She's not the next Joan of Arc–but I feel like every type of personality deserves to be represented in books. Without her intense inner conflict in this story, this book wouldn't exist. It's a conflict I've seen people experience, and it's heartbreaking.
What's the best piece of advice you ever received from another author?
Don't read bad reviews! I've read a few, and yeah, they affect me more than I'd like to admit. It's so important to believe in yourself, and when you don't, the creative juices tend to stop flowing, so I'm slowly learning to not read each and every review posted, because I'll get wound up and discouraged, and it accomplishes nothing. I wrote a book that some people will love, and some people will hate. I wrote my heart. I'm glad I was honest enough to do that.
That's great advice! How would you describe yourself in three words?
Loyal (just like Cheyenne; that's why I feel like I can relate to her), a people pleaser, and a rabid introvert.
Because we are Swoony Boys Podcast, we have to ask you about the swoon. So which character makes you swoon the most (yours or someone else's)?
I swoon for my villain, Teo, simply because he's so passionate about literature, he's graceful, intelligent, and is driven in crazy ways. He's also a monster, but that's what makes him a great villain. I also love the Winchesters, Peeta Mellark, Beast in Dark Triumph, and Mr. Rochester in Jane Eyre. There's more. In fact, if you listed some, I'd probably agree with all of them.
We love a lot of them too. Especially Peeta 🙂 What's next for you? Do you have any future projects you can tell us about?
I'm working on a new novel, but I haven't finished it yet. Wish me luck!
Good luck! We know you'll be amazing. Is there ever anything that you always wish someone would ask you, but they never do? (We want the answer too!)
I suppose the question would be, "Why did you writeThe Dollhouse Asylum with such a distinctly different heroine like Cheyenne?" I have an entire guest post written up about this, but I'd like to include a summarized answer here. I feel like in YA literature, we have so many awesome, badass heroines who are natural leaders, that we sometimes overlook other personalities with polar opposite personalities who can be equally as deserving of a story. I mean, really, how many of us could chat it up with the most popular boy around in high school, or throw nun-chucks like it was no big deal? And what of those horrific mistakes we once made? How many of us have been crazy obsessed with a boy who was horrible for us? If not us, how many of us know someone fixated on a douche-bag like that? Well I thought it was time to tell that person's story. Is it painful? Yes. But that's drama, right? We need the conflict to pray that things turn out right.
That has got to be one of the best answers we've ever read, and Cheyenne definitely sounds like a character we want to root for. Thanks again for coming by today, Mary. We had so much fun and hope you did too!
Thank you so much for having me! I love the name Swoony Boys Podcast, by the way. None of us can get enough swoon!
Awwww, thanks! And we agree ♥♥♥
***About Mary Gray***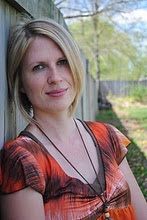 Mary Gray has a fascination with all things creepy. That's why all her favorite stories usually involve panic attacks and hyperventilating. In real life, she prefers to type away on her computer, ogle over her favorite TV shows, and savor fiction. When she's not immersed in other worlds, she and her husband get their exercise by chasing after their three children. The Dollhouse Asylum is her first novel.
Find Mary Here: Website | Facebook | Twitter | Goodreads
***GIVEAWAY***
Win a Signed Copy of The Dollhouse Asylum
a Rafflecopter giveaway
And be sure to check Out the Other Stops on the Tour:
Related Posts