Welcome to Swoony Boys Podcast! This is our stop on the Finding Mr. Brightside Tour. We are beyond excited that Macmillan Teen asked us to be a part of this tour!
To celebrate FMB's release yesterday, we've got an awesome interview with Jay today, plus a giveaway at the bottom of the post! You don't want to miss any of it!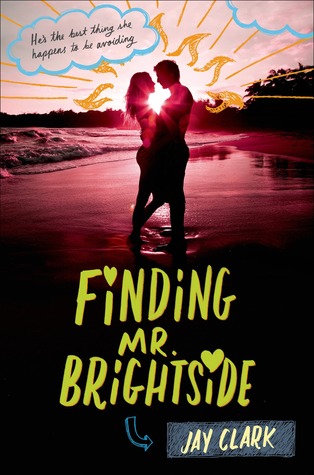 Finding Mr. Brightside by Jay Clark
Published by Henry Holt and Co. on March 24, 2015
Genres: Contemporary
Pages: 224
Goodreads Buy the Book

Abram and Juliette know each other. They've lived down the street from each other their whole lives. But they don't really know each other—at least, not until Juliette's mom and Abram's dad have a torrid affair that culminates in a deadly car crash. Sharing the same subdivision is uncomfortable, to say the least. They don't speak.

Fast-forward to the neighborhood pharmacy, a few months later. Abram decides to say hello. Then he decides to invite her to Taco Bell. To her surprise as well as his, she agrees. And the real love story begins.
***INTERVIEW***
Hi, Jay. Thanks so much for talking with us today! We are so excited about Finding Mr. Brightside and can't wait to share more about it with our readers and get to know you better. Let's get started!
Tell us a little about Finding Mr. Brightside. What was your favorite scene to write?
The part where Juliette revises 1 Corinthians (in a good way, I swear!). I'm also for all the romantically antisocial moments between Abram and Juliette in the basement. If there's a nook or cranny within a setting, I'll find it and temporarily trap my characters there. But I also enjoyed taking J & A out of their comfort zones via road trip, impromptu karaoke face-off, etc. I couldn't be any more all over the place with this answer if I tried, my bad.
Now we're going to make you work. If you only had thirty seconds with a stranger in an elevator, how would you pitch this story?
First I'd try a pickup line to break the ice, something desperate like: "Hi, I'm the author of Finding Mr. Brightside, so I feel qualified to say that your beauty is practically writing itself right now." Once that goes over weirdly, I'd recite the following haiku:

Adderall girl runs from love
Paxil won't stop him
From running after like wind

Ding! I'm much more convincing outside of elevators, wanna grab a venti Starbucks or something
Hahaha. Perfect!
What is your favorite part of the writing process? Do you have a routine or any rituals you follow when you sit down to write?
Warning: Aspiring writers should probably do the exact opposite of the following routine:

Listen to a song or two—something with depressing lyrics but an inspirational beat.
Think about how sitting is the new smoking and my chair is killing me softly with its swivel.
Start freewriting like a second grader until I can't hear my mind making comments, like, "You should download an app!" and, in Rod Stewart's voice, "Have I told … you lately … that this idea is never going to work?"
Enjoy the perfect feeling of it all coming together in some sort of cosmic, hard-to-explain way (until it all falls apart again in a few minutes).
If only we had known that our everyday routine could help us become as awesome as you! 😉
We're sure you've been asked your advice for aspiring writers, and you kind of gave us some above, but what's the best piece of advice you've ever received from another author?
You shouldn't be allowed to write anything longer than two questionably double-spaced pages until you've read Anne Lamott's Bird by Bird. Until then, you'll remain a danger to yourself and others. Here's a summary that won't do it justice: Write what you love, milk your childhood for all it's worth, whoa, whoa, whoa, one step at a time, write everything down (keep a notepad by your bed, etc.), commit to writing a not-too-overwhelming # of words each day (250-500 is a healthy number, leave the 3k-per-day's to Stephen King for now), be kind to yourself.
Is it okay that this answer made us swoon a little? Okay, good.
One of the questions we love to ask every author we interview is, if you could introduce one of your characters to another character from any other book, who would it be and why?
Park (of Eleanor & Park) shows up for tennis team tryouts, and Abram holds out a bag of whatever he's eating—Fiery Buffalo Doritos?—and encourages him to "pull up a bleacher and not stretch with me." Meanwhile, Juliette and Eleanor run into each other at a nearby Starbucks and … nothing happens, they don't really trust each other's motives.
We can't even put into words how much we need that scenario to be fully written out. Call Rainbow. Now
.
It can be easy for contemporary novels to fit into a standard formula. The formula works and it sells. But instead of being cookie cutter, Finding Mr. Brightside is refreshingly new and different. How did the idea of Abram and Juliette's story come about?
Thank you! I remember being 19 or 20, going to the university clinic in a bad mood about something unimportant (burnt popcorn smell in dorm?), and walking away with several sketchy sampler boxes of Paxil. Although I think/hope Paxil serves some sort of medical purpose, it didn't serve mine very well. Took me a few years, 20 lbs, and some outside perspective to realize I'd taken a wrong turn. I liked the idea of two people helping each other get through a similar ordeal (under much more complicated circumstances) … at the beach.
FMB touches on a few not-so-easy topics. Were you nervous to put them out in a YA book? Why did you feel it was important to address these issues?
Definitely nervous. In particular, I wanted to give the issues the respect they deserved but not tiptoe around them so much that they became all-consuming black holes of seriousness that sucked away everyone's sense of humor. (The side effects do that enough as it is.)
Let's switch gears for a second and talk about other people's books. Is there a book or book series that you think is under appreciated or hasn't gotten enough credit for how good it is?
Not sure if they qualify as under-appreciated or not, but these are the books that have resonated most with me in recent years:

The Story of My Life, Jay McInerney
The Pleasure of My Company, Steve Martin
Bird by Bird, Anne Lamott
The Power of Now, Eckhart Tolle
Great picks! The Pleasure of My Company is one of Meg's favorites.
Is there ever anything that you always wish someone would ask you in an interview, but they never do? (We want the answer too!)
The question: Will you go to prom with me?
The answer: Girl, I thought you'd never ask, pick you up at 7, I'll wear my best gray hoodie
We can't let you leave without asking you about swoon. This is Swoony Boys Podcast after all and we know that everyone swoons. Even guys. So let's hear it. What about a person or a character makes you swoon?
Funny girls. Girls who make/laugh at inappropriate jokes. Girls who make/laugh at bad puns. Girls who are firm on the outside and warm on the inside like a chocolate chip cookie and quietly crave chocolate chip cookies but only around certain people, gotta earn her trust. Girls in running/tennis gear that doesn't look like the tags were cut off recently. Girls that listen to audiobooks while they're running. Girls that read, end of story. I could swoon on forever….
This interview was perfection. We just keep reading your answers over and over again.
Thanks so much for stopping by, Jay! This was an absolute blast.
***About Jay Clark***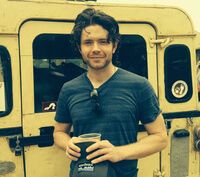 Jay Clark is the author of The Edumacation of Jay Baker, which was named a Bank Street College Best Book. He's also a random blogger. Surprisingly popular entries like "How to stop hating people in 21 minutes" and "8 tips for posting your best selfie yet!" can be found on his website: jayclarkbooks.com. He lives in Columbus, Ohio.
Find Jay Here:
Website | Facebook | Twitter | Goodreads
***GIVEAWAY***
Win a copy of Finding Mr. Brightside
a Rafflecopter giveaway
Good luck and don't forget to check out
the other stops on the Finding Mr. Brightside by Jay Clark tour
!
Related Posts