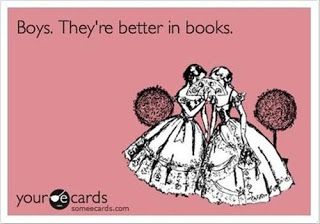 We are picky when it comes to the features/memes that we participate in, but when we saw that Kelly from Belle of the Literati was starting a "Book Bangin'" feature, there was no way we could resist. In the future we will be doing this one with our friends Jaime and Erin (Fiction Fare) via a mini podcast. But for this month we're keeping it simple!
Here's a little more about the feature straight from Belle of the Literati:
The last day of every month I will be posting a Book Bangin' entry. What this entails is this: each month will have a topic and you will discuss, brag, fangirl, swoon, exclaim, freak out, and talk about ALL THE FEELS over your favorite boys for that topic.

Example: Let's say August is Dystopia. You will then pick your favorite book boyfriends from the dystopia genre and talk about why you love them. Their swoony lines, their chisled abs, their tattoos, WHATEVER makes you swoon for them! Each month will be different. AND at some point in your post I think it would be fun to honor your Hot Man of the Month. Look at the books you read this past month and pick your favorite boy to brag about.
The topic for July is Top Book Boyfriends.
For those of you who know us, you know that this is an impossible task. We decided to limit our selves to a top 5 each, and then we spent days screaming in agony making sure our lists were just right. So without further adeu, here are our boys:
Kassiah
Meg
So there they are, our top 5  (well, top 10 really) boys. Make sure you check out Jaime and Erin's on Fiction Fare and share your own list in the comments below!
We can't wait to find out what August's topic will be! We'll see you then!
Related Posts