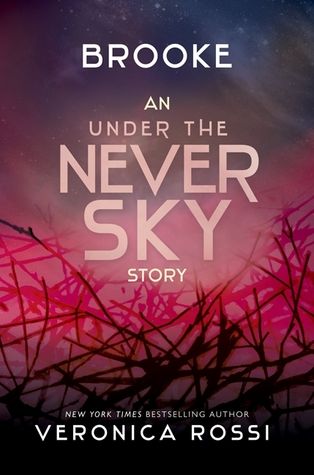 Brooke
by
Veronica Rossi
Also by this author:
Through the Ever Night
,
Roar and Liv
,
Under the Never Sky
,
Into the Still Blue
Series:
Under the Never Sky #2.5
Also in this series:
Through the Ever Night
,
Roar and Liv
,
Under the Never Sky
,
Into the Still Blue
on November 26, 2013
Genres:
Dystopian
Pages:
82
Goodreads
Buy the Book
Set just before the events of Into the Still Blue, the conclusion to Veronica Rossi's Under the Never Sky trilogy, this breathtaking novella is a satisfying stand-alone for new readers as well as an exciting glimpse at favorite characters from the trilogy. Pulsing with romance and danger, Brooke will leave readers desperate for the conclusion to this epic and unforgettable saga.

The only fight she can't win is the one for Perry's heart. Following the stunning climax in Through the Ever Night, the Tides have been forced to seek shelter from the Aether storms in a dismal, secluded cave. But Brooke's memories of the cave go back much further, to when she and Perry used to come here together. That was before Perry fell in love with Aria and before Vale's dealings with the Dwellers altered the course of the Tides forever.

Now, with her sister back from a haunting year in captivity and Aria lying unconscious in the sick bay, Brooke struggles to put the pieces of her life back together. Without Perry, who is she? And what is her role in this frightening new world? As these questions swirl about her, an old threat to the Tides resurfaces, and Brooke is forced to put the lives of her people before her own. But in taking this step outside of herself, Brooke may finally discover what she truly wants.
The 411:
If you haven't read the other books in the Under the Never Sky series (and if you haven't, what are you waiting for?!?), you might find this spoilery.  We'll try to keep it down 🙂
The synopsis for this story is pretty spot on.  This novella picks up just before Into the Still Blue and gives us insight into Brooke's character–how she's feeling about losing what she considered her place in life, as Liv's best friend and Perry's girl.  It also has something we never, ever in a thousand years could have imagined:  a sort-of kissing contest!

What We Loved:
It's no secret that we never liked Brooke in any of the previous books, and we don't necessarily like her now.  But after reading this, we understand where she's coming from and why the vitriol toward Aria.  We might not like her, but we get her, and we loved that about this novella.
There are no emotions to describe the emotions colliding inside me.  My friend is gone; my sister is back.  I am scalding and yet I'm chilled to the bone.  I am angry.  I am sadder than I've ever been in my life.  My emotions rise and fall like the stoop and soar of a hawk.

I am scared.  I am alone.  I don't know what I am, and I miss him…
You already know what else we're going to say.  We loved seeing Perry (and Roar) and how much Perry loves Aria.
I stare at Perry's face as he hovers over Aria.  He speaks to her though she's unconscious.  He begs her to hold on and he tells her in a dozen different ways that he loves her.

The things he says…they are beautiful.
We also loved seeing the moments between Brooke and Liv.  They were best friends, and it showed.
Also, perfect ending is perfect.  We loved loved loved the last line!

Um...Not So Much:
Though we know all about the history between Brooke and Perry, seeing it through her eyes was a little tough to take.  It's not that we didn't like it because it was bad, it just breaks our heart that it hasn't always been Aria for him.  Even though it's really always been Aria for him.

The Boys:
Perry.  sigh  Do we really need to say anything about him here?  He was caring and loyal and a true leader here.  We loved this thought from Brooke about him:
He was my nemesis in archery competitions when we were young.  He was my best friend's little brother.  Roar's constant companion in tormenting Liv and me.  A pest for many years, in truth.  Awkward and gangly and too quiet, until the day he became gorgeous and graceful and quietly confident.
There were other boys, and we loved getting insight into their characters.  We loved Soren's joking, Hyde's swoons, Haven's boyishness, and Hayden's banter with Brooke.  We don't want to give anything away else about them (or spoil any of Into the Still Blue), so we'll just tell you to read this novella.  We think you'll be surprised with how much you love the other boys!

The Girls:
The Brooke that we've come to know and "love" is still there.  Just because everything is different in her life doesn't mean she had a personality change.
Twelve hours ago, the Moles arrived on a ship with Perry and his new toy, Aria.  The Dwellers were forty-some in number.  None has succumbed to illness yet, as far as I know.  When they first saw us, every one of them looked terrified, like they expected us to roast them alive for supper.  I enjoyed that  moment.
She's so real.
I am blond and strong and loud and determined, and no one will ever call me elegant.  No one will ever see me as gentle.

Dream Cast:

Bottom Line:
Veronica Rossi is the justification we always give for having novellas, and giving us more of the characters that we already loved as well as some insight into the one character that perhaps none of us liked, Brooke is the perfect little bite to tide us over until the series conclusion.

Verdict:
Rating Report
Cover
Characters
Plot
Writing
Swoon
Overall:
5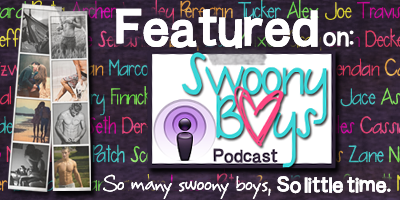 Related Posts