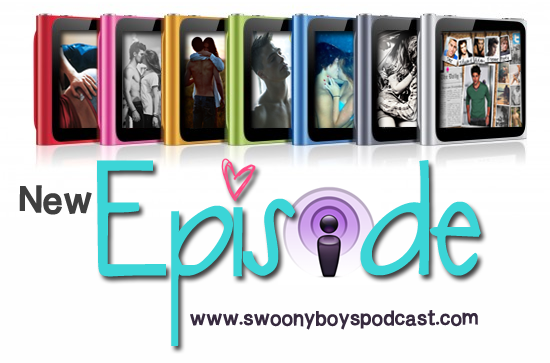 We're back with our twins, Jaime and Erin, from Fiction Fare, and this episode is all about Dystopian Boys We Want to Bang. You might have caught the first time we participated in Book Bangin', the new feature from Belle of the Literati. This month is all about one of our favorite genres and some of our favorite boys. Have a listen and leave us comment to let us know who the Dystopian boy you'd like to bang the most is.
Subscribe to our podcast in iTunes.
Podcast Notes
We explain a little about what Book Bangin' is.
Jaime Talks About the Boys She Loves: Brendan Donnelly from Beyond Pain by Kit Rocha:

He handled the bomb the way he handled her, every movement gentle, every touch precise, as if he knew all the ways she could shatter into dangerous pieces.

and Perry and Roar from the Under the Never Sky Series by Veronica Rossi:
Perry's Quotes:

Perry held her against him. "I missed you," he whispered in her ear. He couldn't hold her close enough. "I should never have let you go. I missed you so much."

"What?" she asked.

His hands slid to her hips. "You're incredible."

"That's not what you were thinking."

"Was so. I always think that." He leaned in, twisting a strand of her hair around his finger as he kissed her bottom lip. "But I was also wondering what you were doing around Butter today."

Aria laughed. That was attractive. She smelled like horse. "Do you ever miss anything?"

Perry smiled. "You, all the time."

"I miss you.

I miss you. I miss you, I miss you.

Be ready, because when I see you, I'll never let you go again."

Roar's Quotes:

"My ambitions aren't grand. All I have ever wanted is to be there for the two people who mean everything to me. Maybe that's a small goal to others, but it's always felt like enough."

"Liv or love?" she asks. I brush her hair away from her neck and rest my hand there, feeling the beating of her pulse. "Either," I answer. "They're the same to me."

"Here, love."

"I'm fine."

"Well, I'm not. I'm scared. Take my hand?"

She humors me – I never fall – but I get what I want: her hand in mine. An excuse to feel a bit of her strength as we make our way down the hill. And a window into her thoughts.

"Can't you be away from me even a few hours?" Liv whispers in my ear.

I pull her closer. The way she feels against me makes my heart stop. "Of course not."

Meg talks about her favorites: Warden (Arcturus) from The Bone Season by Samantha Shannon
and Four from the Divergent Series by Veronica Roth

"Okay." He laughs shakily in my ear. "Why is your heart racing, Tris?"

"I might be in love with you." He smiles a little. "I'm waiting until I'm sure to tell you, though."

"We're all right, you know,' he says quietly. 'You and me. Okay?' My chest aches, and I nod. 'Nothing else is all right.' His whisper tickles my cheek. 'But we are."

"Two things you should know about me; The first is that I am deeply suspicious of people in general. It is my nature to expect the worst of them. And the second is that I am unexpectedly good with computers."

He doesn't speak for a long time, until I am quiet again.

"Sleep," he says. "I'll fight the bad dreams off if they come to get you."

"With what?"

"My bare hands, obviously."

"I don't …" I sound like I am being strangled. "My family is all dead, or traitors; how can I …"

I am not making any sense. The sobs take over my body, my mind, everything. He gathers me to him, and bathwater soaks my legs. His hold is tight. I listen to his heartbeat and, after a while, find a way to let the rhythm calm me.

"I'll be your family now," he says.

Erin talks about the boys she wants to bang: Jackson from The Taking Series by Melissa West

He glances up sideways, his hair once again shadowing his eyes. "What can I say? For me, it has always been you…"

He isn't perfect. He is so far from perfect. But maybe it isn't about him being perfect…maybe it's about him being perfect for me.

I shiver as the thought circulates through me, each second making me realize the truth of it all. Jackson is perfect for me.

I slip under the covers beside him and edge closer, feeling both anxious and excited at the same time. Looking down on him, I've never seen anyone more beautiful in my entire life, and I wish I could guarantee he was always at peace, just like this. And then the reality of everything hits me—the impending war, my plan against Zeus, the risks that may end up burying me—and I no longer feel that time is on my side. I'm tired of allowing my mind to fight my heart. I lean down until my breath dances with his and close my eyes, allowing my lips to caress his so lightly it's barely a touch, but the impact is immediate. He jars awake, and I slowly open my eyes to see his staring, surprised, into mine.

"I thought you were asleep," I whisper.

"Clearly I am." And then in one move he cups my face with his hands and sits us up, crushing his lips onto mine.

and Adam from the Shatter Me Series by Tahereh Mafi:

"He whispers, "You have no idea how much I've thought about you. How many times I've dreamt"-he takes a tight breath- "how many times I've dreamt about being this close to you." He moves to run a hand through his hair before he changes his mind. Looks down. Looks up. "God, Juliette, I'd follow you anywhere. You're the only good thing left in this world."

"He smiles a small smile. His lips twitch like he's trying not to laugh. His eyes soften as they study my own. "There's very little I wouldn't do for you."

"Juliette, please, tell me what I'm supposed to do. How am I supposed to feel? It's one shitty thing right after another and I'm trying to be okay–God, I'm trying so hard but it's really freaking difficult and I miss–I miss you, I miss you so much it's killing me."

"You should know – you have to know," he says, the words raw, seeming to drain him, "that I have never wanted anything like I've wanted you. Nothing. Because this – this – I mean, God, I want you Juliette, I want – I want – "

"You have no idea," he says, his voice ragged, "what you do to me. What you make me feel. When you touch me – "

We got off on a long Warner-related tangent but Erin brought us back around to Adam.
Then, Jaime made us talk about Warner some more.

Please note:

We did not know POV for the next

Shatter Me Novella

of at the time of recording.

Kassiah talks about the boys on her list:
Logan from the Defiance Series by CJ Redwine:

"I understand," he says softly.

"Do you?"

"I am kind of irresistible." He wiggles his brows as me.

He lifts his head and says in a voice I barely recognize, "Walk away."

"I–what?"

"Walk away from me." His fingers dig into my hips. "Please."

I don't want to, I want to forget everything that haunts us, everything we still have to face, and just have this one perfect moment with him.

and a surprise that is too shocking for us to mention here on the notes. Okay, really. It's Anderson from the Shatter Me Series by Tahereh Mafi. Not even kidding.
We mention a bunch of boys that we consider Honorable Mentions because we're h00rs:
Peeta (and Gale) from The Hunger Games Series
Callum from Reboot.
Zeke from the Blood of Eden Series by Julie Kagawa
Evan from The 5th Wave
Lucas from The Last Year Series
Alex & Julian from Delirium
Day from Legend
Liam from The Darkest Minds Series
Chase & Sean from Article 5
Anthem from CODA
Ash from Black City
Other Links and Stuff We Mentioned:
Let us know what you think! Ask Us a Question or Make Suggestions via our Handy Dandy Suggestion Form and tell us who's got you swooning here.
Related Posts