Defy
by
Sara B Larson
Also by this author:
Warriors of Wing and Flame
Series:
Defy #1
Published by
Scholastic Press
on January 7, 2014
Genres:
Fantasy
Pages:
336
Goodreads
Buy the Book
A lush and gorgeously written debut, packed with action, intrigue, and a thrilling love triangle.

Alexa Hollen is a fighter. Forced to disguise herself as a boy and serve in the king's army, Alex uses her quick wit and fierce sword-fighting skills to earn a spot on the elite prince's guard. But when a powerful sorcerer sneaks into the palace in the dead of night, even Alex, who is virtually unbeatable, can't prevent him from abducting her, her fellow guard and friend Rylan, and Prince Damian, taking them through the treacherous wilds of the jungle and deep into enemy territory.

The longer Alex is held captive with both Rylan and the prince, the more she realizes that she is not the only one who has been keeping dangerous secrets. And suddenly, after her own secret is revealed, Alex finds herself confronted with two men vying for her heart: the safe and steady Rylan, who has always cared for her, and the dark, intriguing Damian. With hidden foes lurking around every corner, is Alex strong enough to save herself and the kingdom she's sworn to protect?
The 411:
To protect herself, Alexa Hollen disguises herself as a boy and earns a spot in the king's army as one of the prince's elite guards. When tragedy strikes it becomes increasingly more difficult for her to keep her true identity hidden and when it becomes apparent that others might know her secret, her entire world changes. Add to that an evil sorcerer and an unexpected love triangle and you've got one magical fantasy.

What We Loved:
We can't lie. The first thing that drew us in was the summary. Why? Because when we read it we started singing "I'll Make a Man Out of You" in all it's Mulan excelleness. Now obviously, the stories aren't exactly the same, but you can see where our excitement came from. Who wouldn't want to read a grown-up version of Mulan? Especially one that promises more kissing. (ps. It definitely delivers in that area.)
Aside from letting us relive our childhoods, there are many other reasons that we fell in love with Defy. Let's talk about them:
Leading Lady– Alex(a) is a pretty kick ass heroine. We'll talk more about her below, but it deserves to be said here too.
Awesome guys– Damian. Damian. Damian. You already know we're going to talk all about him in a few minutes, but like Alexa, he deserved a little special attention. (Side note: We should mention Rylan here too. More on him later.)
Writing Style– Sara B. Larson knows how to rock a debut. Not only are her characters relatable, her plot is entertaining, and the flow of the story is steady and fun. We find ourselves anxiously looking forward to more from her, both in Alexa's world and others. Her words and descriptions are beyond amazing and will leave you feeling the full spectrum of emotions.
Stayability– For days after we finished reading this one our minds were consumed by it. Meg even found herself dreaming of camping trips with a handsome prince. We also found ourselves having frequent conversations about what will come next in Book #2. We'd like to know when we can have it. Now? Okay, we'll wait…. How about now?

Um...Not So Much:
So you know what we loved, but now let's talk about what we didn't love.
Love triangle–  Ick. It's no secret that we hate love triangles. Hate them. Luckily we don't really think that there is much of a choice here. We know how things ended up (we won't spoil!) but we also know how Alexa really feels. As awesome as the other guy is… he's just not Mr. Right.
Love "drama"– One of our leading men was honest from the beginning about having to be well, dishonest. Alexa continuously gets upset about his dishonestly and we couldn't help but be a little annoyed by that. Come on girl. He said he couldn't tell you everything yet. Give him a chance. (It didn't help how wounded he felt every time she said she didn't trust him. **sob**)
The "break up"– We don't even want to talk about it. It's too soon.
Waiting–  We shouldn't really complain about this, but we can't help it. We don't want to wait. We really don't. We need book #2 now!

The Boys:
Let's start things off with Rylan. How about a little Pro/Con list?
Pro's
Friendship– He's an amazing friend. He's always there for Alexa, he keeps her secret, knows her almost better than anyone else, and is extremely loyal.
Protective– He takes this role very seriously. Sometimes maybe a little too seriously. (But we're pretty sure that's just a guy thing.)
Memories– He keeps Alexa's memories of her brother alive. We think this one is important. We also think it's the only real reason she considers him a possibility at all. We're just not sure she knows that yet.
Con's
Friendship– We know we listed it above too, but there's something to be said about the "friend zone" right?
Jealous- Now usually we like a little jealousy. But when it takes a big strong man and turns him into a whiner, we don't like that. We're not sure we like how Rylan handles his jealousy, but maybe we're just being too critical. You know, because DAMIAN!
He's not Damian– Nothing else needs to be said.
We like to save the best for last. So let's talk about Prince Damian. Can you say holy swoon? There are so many layers to this guy. We don't want to spoil anything, but just when you think you've got him figured out… BAM! another twist is revealed. We liked that he kept us guessing.
Not only does he have the "man of mystery" thing going for him, he 's also got this big, strong, gorgeous, cocky thing too. We loved his banter with Alexa. We like that they keep each other on their toes. Which brings us to another point. This boy brings the swoon with his words. For example, there's this…
"You're perfect," he said roughly, cutting off my protest. "And if I had to do it over again, I would save you every time."
and this…
"Alexa," he whispered against my skin. "Do you have any idea what you're doing to me? I've never needed anyone the way I need you."
Right? And do we need to mention his name again? PRINCE Damian. That's right ladies, you're going to want to meet him. (But keep your hands to yourself. He's ours.)

The Girls:
You already know from the summary there are two very different versions of this girl. There's the beginning of the story which revolves around Alex. Alex is a fierce, strong, fighter. When Alexa is Alex she holds in her emotions, pushes down her feelings, and lets those things make her stronger. When she is able to be Alexa, even for just a minute, things change.
I only knew I had to do it, too — I had to learn to move like that, to spin and twist and lunge, to make my sword become an extension of my body.

Beautiful and deadly, the most intoxicating dance I've ever seen.
She's obviously still strong, but there's also a layer of confusion that wasn't there before. She spent so long pretending to be Alex that she isn't always sure how to be Alexa. Her "girly" thoughts cause a tailspin of emotion and she doesn't always handle it well, but who does? Especially when you've been forced to think like a guy for so long and suddenly you have not one, but two gorgeous guys professing their love to you! No matter what, there are a few things that are always true. She's loyal, honest, and one heck of a good fighter.

Dream Cast:
Prince Damian was not an easy guy to cast. He's got such a rich heritage that finding someone to match all of those traits would have been impossible. So instead we took all those things about him that Alexa describes over and over, and the things that stuck out to us, and found a guy that encompasses all of that. Here he is:
Not too shabby, right? I mean if this was waiting in a tent for you, well you'd be pretty happy.

What We Think Will Happen Next:
We're not sure what will happen in Book #2, and we don't want to give too much away for those that haven't read Defy yet. (What are you waiting for?) But we will say this, we really hope that Alexa learns to trust Damian again, to get over her "new appearance" and to once again become the leader we think she's born to be, whether that's as a member of the guard, or something more important. (Perhaps a more royal role? *hint hint*) Also? NO MORE LOVE TRIANGLE. Sorry Rylan. We're just not that into you.

Bottom Line:
Sara B. Larson's debut novel is a tale of family, loyalty, and Kingdom. Its pages are filled with war, betrayal, and most importantly, love

Verdict:
Rating Report
Cover
Characters
Plot
Writing
Swoon
Overall:
4.5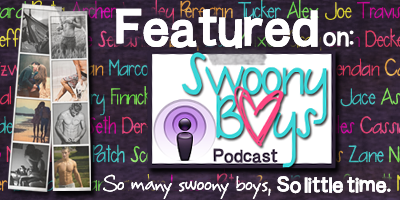 Related Posts