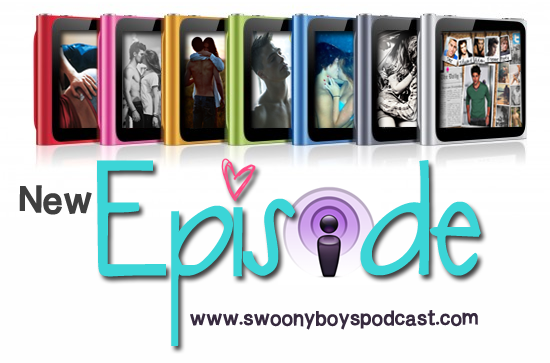 It's time for another awesome episode with Jaime and Erin, our favorite twinnies from Fiction Fare. This time we're all about Boys We Want To Make History With. This is another fun episode in response to Book Bangin', which is hosted by Belle of the Literati. Have a listen and leave us comment to let us know who's the boy you want to make history with.
While you're here, please subscribe to our podcast in iTunes.
Podcast Notes
We mention the historical boy who launched a zillion stories and forbidden romances: Romeo. He's really the basis for all boys. Well, most of them.
Erin chooses the guys she's wants to make history with: Dominic Courtenay from The Boleyn Trilogy by Laura Andersen and Alexander Belov from The Bronze Horseman by Paulina Simons. In case you haven't listened, or just want to hear about their flail-worthyness again, You can hear Erin swoon over these guys in our Bad Boys We Want to Get Naught With episode, too.
Kassiah talks about Vinnie/Vincenzo from Not Exactly a Love Story by Audrey Couloumbis, after we discuss how long ago it had to happen for it to count as historical fiction.
Jaime tells us about Gavriel Duval from Grave Mercy by Robin LeFevers.
Meg gives us her pick: Gilbert Blythe from Anne of Green Gables by L.M. Montgomery
Erin gives us her H-O-T-T-I-E(s) of the month: Preston Riggs from Pieces of Olivia by Melissa West, Ethan Landry from The Rules for Breaking by Ashley Elston, and Matt Finch from Open Road Summer by Emery Lord. #mattfinchforeveryone
Kassiah chooses Owen Buckley from The Geography of You and Me by Jennifer E. Smith for her guy this month.
Jaime starts to tell us her picks this month: North from Free To Fall by Lauren Miller, Henry from Alice Bliss by Laura Harrington, and Ethan Vance from Boomerang by Noelle August (aka Veronica Rossi and Lorin Oberweger). But! Kass accidentally deleted all of her amazing swoons and flails. Trust, these boys are all awesome, and we are really sorry for the total epic fail!
Meg talks about Caleb from Exile by Kevin Emerson and Ezra from The Beginning of Everything by Robyn Schneider.
You know we can't get by without our list of Honorable Mentions:
Let us know what you think! Ask Us a Question or Make Suggestions via our Handy Dandy Suggestion Form and tell us who's got you swooning here.
Related Posts