The Geography of You and Me
by
Jennifer E Smith
Also by this author:
This is What Happy Looks Like
,
The Statistical Probability of Love at First Sight
Published by
Poppy
on April 15, 2014
Genres:
Contemporary
Pages:
352
Goodreads
Buy the Book
Lucy and Owen meet somewhere between the tenth and eleventh floors of a New York City apartment building, on an elevator rendered useless by a citywide blackout. After they're rescued, they spend a single night together, wandering the darkened streets and marveling at the rare appearance of stars above Manhattan. But once the power is restored, so is reality. Lucy soon moves to Edinburgh with her parents, while Owen heads out west with his father.

Lucy and Owen's relationship plays out across the globe as they stay in touch through postcards, occasional e-mails, and -- finally -- a reunion in the city where they first met.

A carefully charted map of a long-distance relationship, Jennifer E. Smith's new novel shows that the center of the world isn't necessarily a place. It can be a person, too.
The 411:
It's the classic case of opposites attract when optimist Lucy and "it is what it is" Owen meet in an NYC building elevator during a blackout. Her family's well off and his dad is the super of their building. She loves her city and he just wishes he could see the stars. Still, there's something about them that keeps them in each others' orbits–long after the lights come back on.
During the blackout they pass the time trying to avoid the heat on the rooftop of their building, getting to know each other. At some point during the night, they talk about postcards.
"Postcards are overrated anyway."

"Oh yeah?" she asked, raising her eyebrows.

"Yeah, I mean, what's the worst thing you can say to someone who isn't on some beautiful beach with you?"

Lucy shrugged.

"'Wish you were here.'" He rapped his knuckles against a scene from Greece, which was hanging near the bottom. "I mean, come on. If they really wished you were there, they'd have invited you in the first place, right? it's kind of mean, if you really think about it. It should say: 'Greece: Where nobody's all that upset you're not here.'"
And thus begins a journey that takes Owen and Lucy here, there, and everywhere, spanning the country and the globe before finally coming to the conclusion that home doesn't have to be a place at all.
Their contact is limited to the postcards they send to each other and her occasional emails, and they each tries to move on from that night on the rooftop.
How long could a single night really be expected to last? How far could you stretch such a small collection of minutes? He was just a boy on a roof. She was just a girl in elevator. Maybe that was the end of it.
Maybe not. 🙂

What We Loved:
We love Jennifer E. Smith–the way she weaves words together is magical.  She creates the sweetest characters and tells such a big story in a short amount of time.  We always say the same thing when I finish one of her books:  We want more.  More, more, more.
That's exactly the way we feel about Lucy and Owen's story in The Geography of You and Me.  We loved it, and we just want more.  We love the way that Lucy and Owen are so different yet their lives line up perfectly, even when they're thousands of miles apart.  We loved their banter and even when we wanted to scream at them, their feelings were always authentic and just so real.
In addition to amazing leading characters, this story has a full cast of supporting characters that are add such depth to the story.  There's someone for everyone to love and identify with for sure.  The parents were especially awesome and had some pretty great advice.
"You can't know the answer until you ask the question."

Um...Not So Much:
Our only complaint about this book, really, is that we wanted more.  Don't get me wrong–we loved the ending, but we want to know what happens next!
Actually, there is one other thing that we didn't love, but we can't tell you what it is. If you know us at all, you'll know exactly what we're talking about when you get to it. LOL

The Boys:
Owen Buckley is such a great guy.  His mother passed away a few months before the story begins, leading him and his father to pack up their belongings and leave their Pennsylvania home and their friends for a small, cramped apartment in the basement of Lucy's building.  He feels stifled by the city and longs for clear skies and things to make sense again.  His father has trouble keeping a job in the declining economy, and they end up traveling around the country.  He meets other people and makes other friends, but always has Lucy on his mind.
It was true that things could always change.  But it was also true that somethings remained as they were, and this was one of them:  nine months ago, he'd met a girl in an elevator, and she'd been on his mind ever since.
Liam. He's quirky and funny and ridiculously beautiful.  We really liked him a lot.
Every once in a while, in moments like this, she found herself startled by the very fact of him.  It was all so unlikely:  those rugby shirts and that accent, the easy confidence and the heart-stopping smile.

The Girls:
Lucy's smart and inquisitive and so cute.  We loved the journey that she made in this book–both literally and her character.  We love that she isn't a doormat and goes after what she wants.
We hated Paisley on principle, but we guess we'll grudgingly say that she seemed like a great girl.  That's all we have to say about that.

Dream Cast:
We had a hard time choosing a boy who could be Owen. We think this guy fits the bill:

Bottom Line:
If you're looking for an adorable contemporary YA book with great characters, some swoonworthy moments and realistic, punch-you-in-the-gut feelings, The Geography of You and Me is the book for you.

Verdict:
Rating Report
Cover
Characters
Plot
Writing
Swoon
Overall:
4.5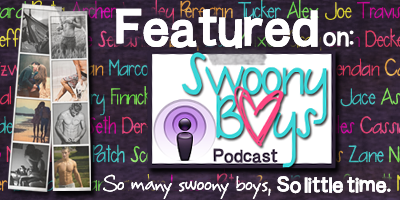 Related Posts