By now you know that when the four of us are together, in person or via the magic of the internet, the conversations almost always come back to books. We love them. We love the people who write them, the people who publish them, and the people who read them. In fact, we have so many feelings about books that we wanted to find a way to share our conversations with you!
Welcome to a new week of Spotlight Sunday, hosted by Fiction Fare (Erin & Jaime) and Swoony Boys Podcast (Kassiah & Meg), where we dish about ALL things bookish. Each week we'll post a topic, we'll start the conversation by telling you some of our thoughts, and then it will be your turn to sound off in the comment section.
Have a topic you'd like to discuss on Spotlight Sunday?

Fill out the form here

.
Is there anything that you consider unforgivable when it comes to fictional characters? Anything that makes you stop reading a book instantly?
Meg: This is a tough one, because it all comes down to the situation. Things that I would find unforgivable in real-life don't always make me feel the same in a book. I have a really hard time forgiving cheating. I can only think of maybe one or two times when I've forgiven for this. And both times the characters "were on a break" (hahahaha) or "not technically together yet."
Jaime: Unforgivable huh… That's tough. I'm with you Meg, I think it's definitely a situational thing for me. Cheating of course is a hard pill to swallow…I'm not sure that there are many other things that I have read that I've found it hard to get through.
Kassiah: I totally expected Jaime to pull out the We were on a break card, but not you, Meg. Et tu, Brute? Anyway, I think whenever a boy makes out in front of the girl with someone else there aren't many things that I can't forgive. Except kissing other people. I can get over just about anything else.
Unfortunately, I just keep reading and ranting and hating the characters instead of just flouncing. Do ya'll stop reading books very often for this kind of thing? I always want to see how the author is going to fix it.
Jaime: You mean this? LOL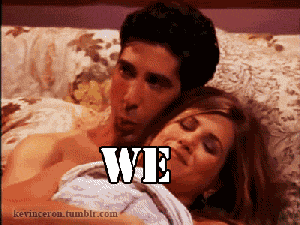 Kassiah: I hate you. *rolls eyes*
Erin: Nothing really falls into an "unforgivable" category for me but I do have a few books that I have marked dnf just because I didn't feel like spending any more time on them. I guess when I pick up a book, I expect to be challenged and not have everything be as I would want them to be. If that means there is a situation that in normal life I would consider unforgivable then it doesn't really make me not want to continue…unless again, the rest of the story makes me not interested in the book.
Now that you've read some of our thoughts, let us know what you're thinking in the comments below! We'll be back next week with a brand new topic and lots more to talk about.

Past Spotlight Sunday Topics
Related Posts