How are you enjoying these Author Talk Podcast Episodes? This time we're back with our favorite twinnies, Erin and Jaime from Fiction Fare, and featuring Love & Gelato author Jenna Evans Welch. SHe was so much fun, and we know you can't wait to hear what she had to say. Go ahead and jump right on in, and don't forget to let us know what you think in the comments.
While you're here, subscribe to our podcast in iTunes, and we're now on Google Play so you can subscribe on your android device! *jazzhands*
Podcast Notes
Jenna Evans Welch gives us the low down on Love & Gelato, including the setting, the inspiration, and the characters.
Jenna talks about her writing style and whether or not we'll see more of Lina and Ren.
We find out Jenna's favorite scenes and some fun things about her.
Jenna tells us some of her favorite books and what makes her swoon.
Finally, Jenna plays a little word-association game with us. Some of her answers might surprise you.
***Meet Jenna Evans Welch***
Jenna Evans Welch spent her high school years in Florence, Italy, where she drove a scooter, danced in fountains, and ate entirely too much gelato. She now lives in Salt Lake City, Utah, with her husband and young son. Read her blog, The Green Lemon, at JennaEvansWelch.com.

Find Jenna Here:
Website | Twitter | Facebook | Goodreads
***About Love & Gelato***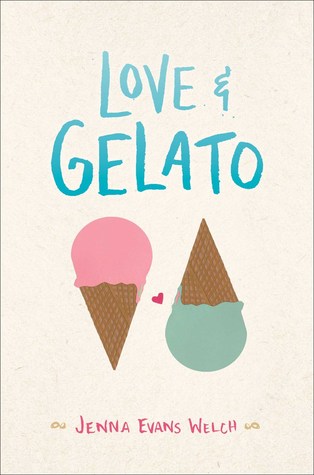 Love & Gelato
by
Jenna Evans Welch
Published by
Simon Pulse
on May 3, 2016
Genres:
Contemporary
Pages:
390
Goodreads
Buy the Book
Lina is spending the summer in Tuscany, but she isn't in the mood for Italy's famous sunshine and fairy-tale landscape. She's only there because it was her mother's dying wish that she get to know her father. But what kind of father isn't around for sixteen years? All Lina wants to do is get back home.

But then Lina is given a journal that her mom had kept when she lived in Italy. Suddenly Lina's uncovering a magical world of secret romances, art, and hidden bakeries. A world that inspires Lina, along with the ever-so-charming Ren, to follow in her mother's footsteps and unearth a secret that has been kept from Lina for far too long. It's a secret that will change everything she knew about her mother, her father—and even herself.

People come to Italy for love and gelato, someone tells her, but sometimes they discover much more.
Let us know what you think! Ask Us a Question or Make Suggestions via our Handy Dandy Suggestion Form and tell us who's got you swooning here.
Thanks for listening, everyone!
Related Posts