Welcome to Swoony Boys Podcast! This is our stop on the Overdrive Tour hosted by The Irish Banana . We have an awesome character interview and giveaway to share with you today and we can't wait for you to get to know more about this book, its characters and author, Dawn Ius! Are you ready to go?
*****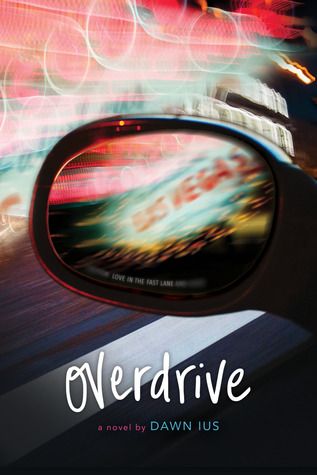 Overdrive
by
Dawn Ius
Published by
Simon & Schuster
,
Simon Pulse
on September 13th, 2016
Genres:
Contemporary
,
Mystery
,
Thriller
Pages:
320
Goodreads
Buy the Book
Gone in Sixty Seconds meets Heist Society in this edgy novel about a crack team of teenage criminals on a mission to learn to trust, build a life, and steal a wish list of exotic cars.

Jules Parish has screwed up.

After three years of boosting cars, she got caught. She's too good to get caught, but she let her (ex)-boyfriend talk her into a questionable job. And now she and her little sister, Emma, will be kicked out of their foster home, left to survive on the unforgiving streets of Las Vegas alone.

Unless.

Eccentric, wealthy Roger Montgomery wants to open up his mansion to Jules and Emma. The only catch? Jules must steal seven of the rarest, most valuable muscle cars in the world…in seven weeks. Even worse, she's forced to put her trust in three complete strangers to help her do it.

First there's Chelsea, the gorgeous redhead with a sharp tongue and love for picking locks. Then there's Mat, who hasn't met a system he couldn't hack. And finally there's the impossibly sexy car thief Nick, whose bad attitude and mysterious past drive Jules crazy.

With nothing in common and everything to lose, can Jules and her amateur crew pull off what could be the biggest car heist in history? Or will things spin out of control faster than a Nevada dust devil?
***Character Interview***
Today we're sitting down with Jules and Nick from Overdrive. Hi, you two! Welcome to Swoony Boys Podcast! We are excited to have you here and we can't wait for our readers to get to know you both a little better. Ready to get started? Here we go…
First impressions are everything! Tell us what you thought of each other when you first laid eyes on each other.
NICK: Erm. My first thought was, "Holy shit. She really is a ghost." It kind of took me aback. I mean, I pretty much thought that her white hair and pale skin was a gimmick. It isn't—her hair's actually that white. Which is cool. And exotic. And, uh…yeah, sexy. Definitely sexy.

JULES: Ha. That's totally not at all what you were thinking—but let's go with that. My first impression of Nick? Dick. Super dick. A ten on the dick-o-meter. Going too far? Obviously he had that tattooed bad-boy thing going on, but I know he was shooting daggers of hate from those ice blue eyes, which makes it pretty hard to swoon.

NICK: It was my car talk that finally got you, wasn't it?

JULES: You wish. I just really like a challenge…And okay, you're not so bad on the eyes.
There are so many teens like you who are living in the foster system. If you had the chance, what advice would you give them?
NICK: It's not your fault. Whatever reason you're in the system, isn't because of anything YOU did. Don't carry that guilt. It can destroy you.

JULES: Definitely what Nick said. Emma and I bounced around to a few foster homes, and maybe that was because I was acting out and our foster parents couldn't handle it, but it wasn't MY fault we ended up in the system in the first place. I figured it was, and it led to me doing some pretty crazy things. I guess my other advice is to realize that family is more than blood relations—just because you're not with your birth parents doesn't mean you're not part of a family. Sometimes the best families are the ones that find themselves through another path. That was absolutely the case for me and Ems.
Nick, if you had to pick a car that perfectly describes Jules what would it be and why? Jules, what about Nick?
NICK: Eleanor—the 1967 Shelby GT 500 featured in the movie Gone in 60 Seconds (and the book, Overdrive.) It's sleek, fast and sexy.

JULES: I'm not a "pony car" girl, but it's definitely Vicki, Nick's 68' cherry red Mustang Boss. It's aggressive, fast, and hot.

NICK: So you admit I'm hot?

JULES: I never said you weren't…
Jules, we love your relationship with Emma. How does being a big sister impact the choices you make in your life? What's the best part about having Emma as your sister?
JULES: I'm always thinking about Ems, which I guess can sometimes blind me. I make rash choices (obviously) thinking I'm doing what's best for her, without always thinking through the consequences until it's too late. There's this part of me that is so desperate to give her everything—the stuff she should have, but doesn't because our parents were so messed up. But she's the one who has taught me that "stuff" is just "stuff" and what she really needs is stability. Family. Me. That's heady, but also the best, you know? She's the most compassionate kid—I don't even know who she gets her heart from—and one of the strongest, bravest people I've ever met. Sometimes I think she's the big sister. Ems is my best friend—she's my everything, really.
What's the best part about living in Las Vegas? The worst?
NICK: There's a reason they call Vegas Sin City. Unless you live here, most people don't see past the lights and sounds of the famous Strip. But beyond the casinos, there's a whole other side of Vegas and it's not always pretty. I hate that this place destroyed my family—my Dad lost everything to the slot machines—but now that I have Jules…everything's a lot brighter. Even the shadowy areas.

JULES: * clears her throat * I love that. I'm with Nick on that. It's true that what happens in Vegas stays in Vegas, but for most people, they get to go home. For us, what happens here really does stay here, and that's not always awesome. Except when it is. There are crappy parts of every city, and over the past couple of months, I've learned a lot about finding diamonds in the rough.
That wasn't so bad, right? Before we let you go we are going to take the pressure off of Jules and ask Nick the five questions that we ask every guy who stops by our site. Ready?
***The Swoony 5***
(These are the five questions we ask all our favorite swoony boys!)
Boxers or Briefs? (We know it's cliche', but that doesn't mean we don't want to know!)
* blushes * Boxers.
Do you think you're a good kisser? What's the best kiss you've ever had?
NICK: Erm…Jules?

JULES: Oh yeah, he's an excellent kisser.

NICK: * blushes * Whew. To be honest, I don't remember a kiss before my first kiss with Jules… so I'd have to say that's the best kiss I've ever had.
What's your favorite book?
NICK: Don't laugh, but…Moby Dick?

JULES: * laughing * Is THAT why you come off as such a dick?

NICK: Ha. Maybe. Seriously though, it's pretty epic. I like a lot of books though.
If Jules wanted to make you breakfast in bed, what would you want on the menu?
Waffles. With strawberries and ice cream. Vanilla ice cream.
Okay, last question. Since we're all about the swoon here at Swoony Boys Podcast, we have to ask. What do you think makes you swoony?
NICK: Am I swoony? Shit. I don't know. My incredible knowledge of muscle cars?

JULES: Well, muscles do have something to do with it.

NICK: Funny. I guess maybe because I seem like such a bad ass, but I'm sensitive too. Erm. Jules?

JULES: I'm so not bailing you out of this one…
♥♥♥
***Meett Dawn Ius***
Dawn Ius is a short story author, novelist, screenwriter, professional editor, and communications specialist. She is the cofounder and senior editor of Vine Leaves Literary Journal; the assistant manager of The International Thriller Writers (ITW) Association e-zine, The Big Thrill; and the author of ten educational graphic novels. When she's not slaying fictional monsters, she can be found geeking out over things like fairy tales, Jack Bauer, Halloween, sports cars, and all things that go bump in the night. She lives in Alberta, Canada, with her husband, Jeff, and their giant English mastiff, Roarke.
Find Dawn Here:
Website | Twitter | Facebook | Goodreads
***GIVEAWAY***
3 Lucky Winners Will Receive A Finished Copy of Overdrive
Open to US residents only
a Rafflecopter giveaway
Good luck and happy swooning!
Check out the other stops on the tour by below:
Week 1:
Save
Save
Save
Related Posts