Did you know know that Harlequin Escape is one year old this week? We're celebrating this momentous occasion with a week filled with interviews, reviews, and excerpts, plus awesome giveaways, here on Swoony Boys Podcast and on our sister site featuring New Adult and adult fiction titles: Steamy Guys After Dark!.
Today, we're chatting with Jenny Brigalow, author of The Children of the Mist:


***INTERVIEW***
Thank you so much for stopping by Swoony Boys Podcast today, Jenny. We're excited to get to know you and your books! Tell us a little about The Children of the Mist. Was it a fun book to write?
Absolutely! The idea for COTM came to me during a conversation with my paranormal obsessed daughter. "How would you feel," I asked "if you woke up on your sixteenth birthday and discovered you'd morphed into a vampire?" And so Morven Smith was born. Yay!
How interesting. Give us your twenty second elevator pitch about The Children of the Mist.
When paranormal rides in on a skateboard anything can happen. And when it does – it's extreme.
How do you build your characters? Do you know every single detail of their lives?
Character building is one of my fav parts of writing. For me it's an organic process that I don't fully understand. But I guess person and place are interactive. From the start I knew Morven was definitely urban and middle class while Zest was absolutely the lone wolf and street. To bring them into the same sphere I put them on a skateboard. As I write, they reveal themselves. Largely who they are dictates the story. I don't know every detail of their lives. I don't think it's possible to know anyone that well. At times they surprise me and I love that.
We do, too. How would you introduce Morven to readers?
Morven Smith is an unconventional girl. She's the girl we'd all like to be.
What was your approach to making The Children of the Mist a new twist on the ancient feud between werewolves and vampires?
I love history and am particularly fascinated with Scottish history, myth and legend. Historically the Children Of The Mist were the Clan MacGregor who suffered attempted genocide at the hands of the powerful Campbell Clan. The premise of COTM is that modern day werewolves and vampires were once one people. The origins of the werewolves and vampires go back into the mists of time when, once upon a time, they were Gods.
Wow! How would you describe yourself in three words?
A hopeless romantic.
*grin*Do you have any interesting writing quirks or rituals?
Yes. I play cards on the computer before I start writing. When I win, I begin!
That's pretty cool. What is the one thing readers would be surprised to learn about you?
I discovered that I could write quite by accident.
That sounds like an interesting story. Which character makes you swoon the most (yours or someone else's)?
Any character played by Johnny Depp.
Agree with you there, girl. Do you have any current or future projects you can tell us about?
At present I'm working on another YA paranormal that has strong connections with COTM. Also, I've nearly finished the research for the second Valkyrie Chronicle (YA fantasy/paranormal series) which is planned as a detailed account of the evolution of the werewolves and vampires.
Is there ever anything that you always wish someone would ask you, but they never do?
I wish someone would ask me to read my book to them. I love telling stories.
That would be awesome. Thanks again for coming by today, Jenny!
It's great to be here. Thanks for the invitation.
***About Jenny Brigalow***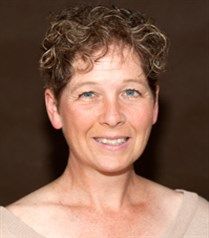 Jenny Brigalow is a writer of rural romance, young adult fiction and, more recently, literary fiction. In 2010 her teen novel, The Overlander, won a place in a competition co-run by Allen & Unwin and Queensland Writers Centre. She has been writing for six years and her rural romance, A Man For All Seasons, is published by e-publisher Steam eReads. Born in Britain, Jenny arrived in Australia as a young woman in 1985 for an impromptu holiday and never left. She fell in love with the Australian bush, its unique flora and fauna, and the colourful personalities who inhabit the country. At present she is settled on acreage close to Toowoomba.
Find Jenny Brigalow Here: Website | Facebook | Twitter | Goodreads
**About the Book**

The Children of the Mist by Jenny Brigalow
Published by Harlequin Escape on October 1, 2013
Pages: 222
An original paranormal YA about an unconventional girl, an unconventional boy, their extraordinary transformations, and the secrets of the Scottish Highlands.

When skater girl Morven Smith turns sixteen, she develops boobs, acute appendicitis…and a pair of pointy teeth. While she is stunned by her metamorphosis into vampire, her best mate, the enigmatic Zest, is not. For the young werewolf, Morven's transformation is an answer to his lonely prayers.

But they are unable to celebrate their mutual paranormalcy for long — there are too many dangers, too much suspicion, and too many questions. It's only in Scotland that Morven can learn the truth about her past. But she discovers more than she bargained for when she meets her birth family — an ancient feud between vampires and werewolves. They may both be Children of the Mist, but only one species can survive.
**Read the First Chapter of The Children of the Mist:**
***GIVEAWAY***
eBook copies of Words Once Spoken, The Children of the Mist, A Missing Peace, Riding on Air, and Finding Home
a Rafflecopter giveaway
Good luck and be sure to check out all the other interviews and reviews we've got going on to celebrate the first Birthday for Harlequin Escape!
Related Posts