So many books come out each week that it makes it hard to decide what to read. We want to make that a little bit easier on you by sharing our favorite releases from the week and telling you our top 3 reasons why we think you'll love them too!
This week our selection is Summer of Supernovas by Darcy Woods. Are you ready to hear more about this book and its author? Here we go…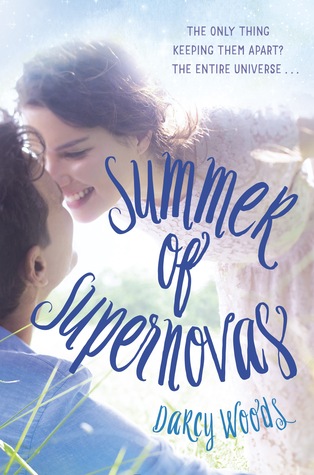 Summer of Supernovas
by
Darcy Woods
Published by
Crown Books for Young Readers
on May 10, 2016
Genres:
Contemporary
,
Romance
,
Sci-Fi
Pages:
352
Goodreads
Buy the Book
Fans of Jennifer E. Smith and Jenny Han will fall in love with this heartfelt and humor-laced debut following one girl's race to find the guy of her cosmic dreams.

When zodiac-obsessed teen Wilamena Carlisle discovers a planetary alignment that won't repeat for a decade, she's forced to tackle her greatest astrological fear: The Fifth House—relationships and love.

But when Wil falls for a sensitive guitar player hailing from the wrong side of the astrology chart, she must decide whether a cosmically doomed love is worth rejecting her dead mother's legacy and the very system she's faithfully followed through a lifetime of unfailing belief.
3 Reasons You Should Read…
Summer of Supernovas by Darcy Woods
We have to be very careful here about spoiling the story, but we can promise that you'll swoon. You'll swoon all the whole time you're reading this one. We can say this though, Seth and Grant for the win.
Read this one for the amazing cast of characters, love it for Darcy's beautiful words.
Debut author, swoon, & a story about finding yourself. What more do you need to know? Read this one now!
***About Darcy Woods***
Reading/writing YA is her oxygen.
She loves funny. Funny ha-ha and funny weird. She also adores books that have kissy bits because love makes life's pointy edges more smooth. Cats, music, and lattes happen regularly in her home. Once upon a time she refueled helicopters for the US Army and threw live grenades. Now she throws words.
Her Golden Heart-winning debut YA novel, SUMMER OF SUPERNOVAS, comes out from Random House/Crown May 2016.
Find Darcy Here:
Website | Twitter | Instagram| Goodreads
Related Posts