Our second annual trip to BEA (Book Expo America) in NYC was a huge success. We picked up so many great books, met some amazing authors/bloggers/fellow book enthusiasts, and of course spent plenty of time snuggling each other and our twinnie roommates from Fiction Fare.
We obviously can't recap every last detail of the trip, and we're pretty sure you'd see a little too much into our crazy if we did. So instead we're going to tell you a little bit about our very favorite parts!
Mini-Bloggers-of-Awesomeness Ice Cream Social
 We were beyond excited when we got the invite for this one, and the actual event far exceeded our expectations. We had so much fun chatting books with Heather, Deb, and all the bloggers that attended, and to top it all off, the food was super yummy!
HarperCollins Book Blogger Party
 We're not going to lie, when we walked in the door for this event we were a little overwhelmed. We were surround by so many amazing bloggers, authors, and HarperCollins peeps that we had to take a few deep breaths before settling in and finding our groove. We spent the night "working the room" and meeting as many people as we possibly could. Some of the standout moments include chatting with Eve Silver (RUSH), having Robyn Schneider sign our copies of The Beginning of Everything (the first copies she's ever signed!), squeezing Tahereh Mafi, and gushing over Katie Sise and The Boyfriend App. This night was definitely one of the highlights of our trip and we owe a million thank you's to the beautiful Alison for including us in the fun.
Harlequin Teen Blogger Breakfast
 Yummy food, gorgeous books, pretty authors, and great company. What more could we ask for? This event was the perfect way to kick off the first official day of BEA 2013. We were able to talk with a few of the Harlequin Teen team (including authors, editors, and publishers) in an awesome round-robin style breakfast and really felt like everything we were saying or asking was being heard. In an event like BEA where your voice can easily be lost, that was huge. To top it all off, we walked away with some amazing upcoming titles that we can't wait to devour.
The Rooftop Party
 We're not sure we can put into words how amazing this party was. The host? Liza is sweet, adorable, and so full of book passion. The location? You guys! The location! We've never seen views like this before. We'll be dreaming about it for weeks to come. The food? YUMMY! Seriously. The sponsers? Paper Lantern Lit and NOVL are the best. The books/swag? We're still petting our bag full of goodies, we'll just leave it at that. The attendees? Such a fun-loving group. Everyone there from authors, to editors, to bloggers, and everyone in between was there for one thing, their love of books. It was a night where everything else was put aside and all that mattered was that we were a bunch of book loving "freaks". It was the kind of night that we will never forget and that we are eternally grateful that we were able to be a part of. There were so many people involved that we'd be afraid to leave someone out, it would turn into an Oscar winner speech fail. So instead we'll say this: thank you, thank you, thank you to each and every one of you who had a hand in putting this event together. If we could we would personally find and hug each and every one of you.
Children's Author Breakfast
 There's no doubt that BEA's breakfasts are pretty epic. For us, the highlight of this year's Children's Breakfast was Veronica Roth's pure and heartfelt speech. Anything that ends like this deserves to be heard over and over again:
Humility in reading and in writing really means freedom, freedom to love things with unbridled enthusiasm. Freedom to critique things thoughtfully, freedom to write about topics you aren't that familiar with, freedom to admit to your mistakes and learn from them. Humility is freedom.
Our Favorite Grabs From BEA On Friday
 Friday was another uber busy day filled with so many pretty books. The two that stood out the most to us were Stalked by Death by Kelly Hashway and Fangirl by Rainbow Rowell. We had great convos with both of these ladies and are even more pumped to read their books! Even though Jennifer Armentrout wasn't able to attend BEA for personal reasons, our signed copies of Frigid deserve their very own mention. We're sending all our best to her and her family.
a Rafflecopter giveaway
So there you have it, our VIP events of BEA 2013! We could have gone on forever, and in our upcoming podcast episode recapping the week, we're pretty sure we'll break some sort of podcast length record. But until then, feel free to stalk us and ask us all the questions about all the things and enter our amazing giveaway above!
Earn extra entries!: Grab the code for our giveaway below and display it on your blog to get 5 extra entries.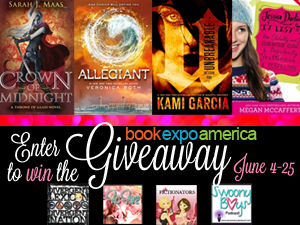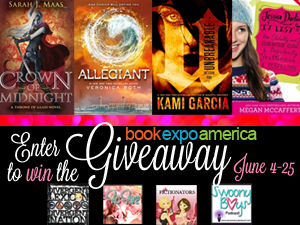 Related Posts