We're so excited to be participating on the tour for The Secrets Between You and Me by Shana Norris today! We've got a great giveaway to share with you as well as our review.
The Secrets Between You and Me by Shana Norris
Series: Stolen Kiss #2
Published by Paper Lantern Lit on February 10, 2015
Genres: Contemporary
Pages: 247
Goodreads Buy the Book

4 wheels on a rusty truck * 2 gray eyes * 1 secret that could ruin everything...

All Hannah wanted was a summer break from being "perfect Hannah Cohen" and a chance to forget about the devastating family secret that could ruin her seemingly perfect life. So when she takes off for her eccentric aunt's house in the mountains of North Carolina and everyone makes one big (wrong) assumption about her past, Hannah figures that it's easier to live a lie than have to face the truth.

She never expected to make any real friends, like the hilarious and spontaneous Kate and Ashton, who drag her to late night bonfires and ice cream marathons. And she especially never counted on meeting Jude Westmore, the brooding bad boy next door with gray eyes and permanent oil smudges on his fingers, or that he would ever take an interest in her.

Between moonlit movie nights in the bed of Jude's truck and nearly romantic Ferris Wheel rides, Hannah's old life seems father away then ever, but can she keep her secret, or is the truth worth the risk of losing everything, including Jude?

The Secrets Between You and Me is a companion novel to The Boyfriend Thief and the second book in Shana Norris's Stolen Kiss series.
The 411:
The summer before her senior year, Hannah Cohen's world feels totally fake–she questions everything in her life: her friendships, where she wants to go to college, what she wants to do with her life, and whether the secret her family's keeping would actually jeopardize everything in her seemingly-perfect world.  Instead of spending the summer in Paris with her rigid mother, she flees to the outskirts of Asheville, North Carolina, to stay with her aunt Lydia.  Nothing goes as planned, beginning with the flat tire she gets on her way there.  Luckily, a helpful (and hot) guy stops to assist her.  Jude seems to keep showing up all over the place, and they strike up an unlikely friendship.  Despite the fact that they come from completely different worlds, Jude shares a lot with Hannah and helps her conquer some of her greatest fears, and their relationship turns to more than just friends.  They quickly toss out all the rules Hannah's lived her life by and make up new rules for themselves.  But she doesn't tell him the truth about the reason she's actually spending the summer with her aunt and pretty soon, she can hardly keep up with all the lies.  Will she be ready for the fallout when her secrets come crashing down around her?

What We Loved:
The setting. One of us is from North Carolina, and we really felt like Norris captured the feeling of a small town and the general friendliness there. We loved the places that Jude and Hannah visited and felt like their experiences were authentic.
The cover. It's beautiful, right?
Her friends. Hannah newfound friends, Ashton and Kate, were fun, and we really liked them.
First-time love jitters.
But every time I closed my eyes, I remembered the taste of his lips on mine and the smell of his soft skin pressed close to me. I remembered the way his strong hands on my back spread warmth along my body but made me shiver at the same time.
::le sigh::

Um...Not So Much:
Of course, we didn't like some things. Overall, we felt pretty underwhelmed by Hannah. She was bratty at times and totally fake for most of the book. Though we understood some of her actions, we didn't understand her reasoning for continuing to keep up her lies when it would have been easy for her to come clean on a number of occasions. Because of that, we questioned her authenticity for most of the book. We liked Jude a lot, but we felt like his character could have been explored a little more. We just wanted more of him and more about them.
We found the impromptu trips toward the end unrealistic, and something else we didn't like is kind of spoilery: View Spoiler »We really didn't understand the way most of her friends reacted to the secret when they find out, especially Jude. Maybe we don't understand how it works when someone is the president of a bank, but her father wasn't embezzling funds, so we don't get it. « Hide Spoiler
We didn't read The Boyfriend Thief, which is the first book in this series. In fact, we forgot that there even was a first book, and after seeing who it's about, we're definitely going to check it out. The Secrets Between You and Me is totally standalone, but we wish we had read it first as it might have helped change our minds about the way we felt about Hannah. We just think that there's probably some stuff that happens in The Boyfriend Thief that explains some of Hannah's thoughts and actions and the need for the big red bow that happens toward the end, which we also didn't like.

The Boys:
Jude Westmore. We really liked him. He was sweet and totally a stand-up guy. He brings Hannah to some awesome places and helps her conquer her fears. Even though we felt like we wanted to know more about him, he's definitely swoonworthy:
"I'll jump first," Jude told me. "So you can see that it's safe. Then you jump, and I'll be down there waiting for you. I'll be right there, Hannah, I promise."

Bottom Line:
The Secrets Between You and Me is a story about finding who you really are when everything around you, including yourself, is totally fake. The message to be yourself is a good one, even if the rest of the book falls a little flat.

Verdict: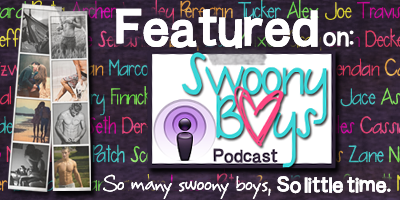 ***About Shana Norris***
Most days, Shana Norris still feels like she's stuck at sixteen, which is probably why she enjoys writing about teens. She has faced her fear of heights to climb to the top of Chimney Rock near Asheville, NC, but she isn't yet brave enough to go cliff-jumping into ponds. She lives in a small town in eastern North Carolina with her husband and small zoo of pets, which currently includes two dogs, five cats, and a flock of chickens.
Shana Norris has entertained millions of readers as the author of Troy High, the popular Swans Landing series, and The Boyfriend Thief, a companion book to The Secrets Between You and Me and a part of the Stolen Kiss collection.
Find Shana Here: Website | Facebook | Twitter | Goodreads
***GIVEAWAY***
Win a copy of The Secrets Between You and Me by Shana Norris!
a Rafflecopter giveaway
Good luck!
Related Posts