Welcome to Swoony Boys Podcast! Today is our stop on the The Peddler's Road Tour hosted by the awesome, Hannah! We've got a fun This or That? game with author Matthew Cody and a great giveaway at the bottom of the post! You don't want to miss any of it! Are you ready? Here we go…
***About the Book***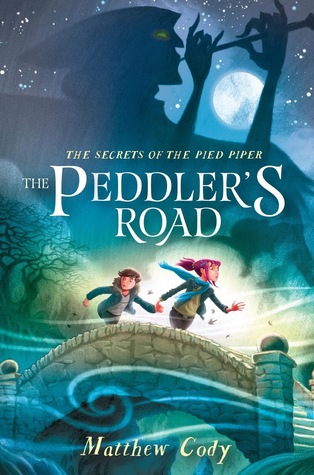 The Peddler's Road
by
Matthew Cody
Series:
The Secrets of the Pied Piper #1
Published by
Knopf Books for Young Readers
on October 27, 2015
Genres:
Adventure
,
Fantasy
,
Middle Grade
Pages:
368
Goodreads
Buy the Book
It is said that in the thirteenth century, in a village called Hamelin, a piper lured all of the children away with his magical flute, and none of them were ever seen again.

Today tough, pink-haired Max and her little brother, Carter, are stuck in modern-day Hamelin with their father . . . until they are also led away by the Piper to a place called the Summer Isle. There they meet the original stolen children, who haven't aged a day and who have formed their own village, vigilantly guarded from the many nightmarish beings that roam the land.

No one knows why the Piper stole them, but Max and Carter's appearance may be the key to returning the lost children of Hamelin—and to going home themselves. But to discover the secrets of the Piper, Max and Carter will have to set out on a mysterious quest down the dangerous Peddler's Road.
This or That?
E-book or Print Copy?
With apologies to all the trees out there, I'm a print guy. I actually prefer paperbacks best of all.
Noise or Silence?
How about quiet instead? The occasional bird call (or car horn as the case may be) but little else.
Morning or Night?
Night, though I do most of my writing in the morning out of necessity. I love the feeling of settling in with a book after a long day.
Scruff or Clean Shaven?
Razors hurt so I only shave like twice a week. I have baby sensitive skin!
Schwarzenegger or Stallone?
Rocky is one of the best movies of all time. Kindergarten Cop, not so much.
Coffee or Tea?
Coffee. Coffeecoffeecoffeecoffeecoffeecoffee . . .
Beach or Mountains?
Mountains. Beaches are beautiful but I have sensitive Irish skin (see question 4) and the sun is mine enemy!
Introvert or Extrovert?
Mostly introvert but too much time alone gets to me. Plus I love the creative energy that comes from collaboration.
Board Games or Video Games?
Board games! I actually have a board game problem thanks to the site Shut Up and Sit Down. You should really check it out if you have money to burn and don't mind giving up your shelf space to cardboard and little wooden meeples.
Donut or Bagel?
Ah! Head hurting! Cannot choose . . . ooh! Chocolate frosted? Don't mind if I do!
Live Music or Recorded Music?
Recorded. Unless it's something folksy like traditional Irish and I can grab a seat and a Guinness. Then I'm a content little author.
Indoors or Outdoors?
Indoors with an open window and nice view. Balcony is even better.
Star Wars or Star Trek?
Are you kidding? Have you SEEN the new BB-8 droid video where he plays with puppies? ADORABLE! Imagine a video of Spock Vulcan nerve pinching a bunch of puppies into unconsciousness. Wait, actually . . .
Beer or Wine
Sweet beery beer.
Keaton or Bale?
Bale. Keaton will always be Beetlejuice to me.
Chocolate or Vanilla?
Vanilla ice cream. Chocolate cake.
Drive or Fly?
I've been in NYC for 15 years so I really miss open road driving. City driving, not so much.
Facebook or Twitter?
Facebook for friends. Twitter to keep up with the book biz.
History or Future?
History predicts the future, right? I dunno, that just sounded good.
Handwritten or Typed
My handwriting is awful. Looks like someone tied a marker to a chicken's foot and gave it a hard shove.
We just have to say, we've done quite a few of these and this one was without a doubt one of the best. We wanted to chime in on each of your answers because they were just that awesome! Thanks for doing this with us, Matthew!
***About Matthew Cody***
Originally from the Midwest, Matthew Cody now lives in New York City with his wife and son. When not writing books or goofing off with his family, he teaches creative writing to kids of all ages.
Find Matthew Here:
Website | Facebook | Twitter | Goodreads
***GIVEAWAY***
-Giveaway is open Internationally. | Must be 13+ to Enter
a Rafflecopter giveaway
***Other Tour Stops ***
Related Posts