by
Pierce Brown
Also by this author:
Red Rising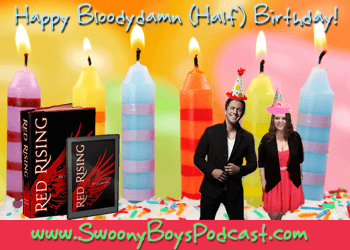 Welcome to
Swoony Boys Podcast
! We're continuing our
Bloodydamn Birthday Celebration
with a pretty awesome
Interiew
featuring
Red Rising
author
Pierce Brown
. We can't even explain how happy it made us that he agreed to do this. It ended up being one of our favorites interviews ever! Make sure you've entered our big
giveaway
at the bottom of the post! You don't want to miss it! Ready to get to know Pierce better? Here we go…
Author Interview
Tell us a little about Red Rising. What was your favorite scene to write?
Far and away, the first hanging scene. It's rare to find a moment so emotionally charged so early in a novel. I also had the characters so clearly in my head—Eo, Darrow, Augustus—that it was incredible to see their paradigms clash and create the conflict for the entire series.
The hanging scene is definitely one of those book moments that sticks with you. Let's talk more about writing.
Do you have a favorite part of the writing process?
When I write something that doesn't work, I'll go back and forth on why it doesn't work, how to fix it, etc, for hours, days, weeks. Then I'll have a burst of inspiration, delete it all, and cut to the point with half the words.
We have a ridiculously hard time keeping it short when we describe this book. We want to keep talking forever. What about you?
If you only had thirty seconds with a stranger in an elevator, how would you pitch this book?
I wouldn't.

But if I was to tell a friend of a friend about it over coffee, I might say that it is the story of a young man's war against oppression. Not for vengeance, but for love. And it's on Mars.
Perfect! Can we steal that?
One of the things we loved so much about Red Rising, is how futuristically real (made up phrase for the win!) it seems. What kind of research did you do to make the story seem believable?
Very little. Almost all of Red Rising came from my childhood—histories I learned, books I read. It is a very good snapshot of what I thought about when I was but a wee little lad. It's an honor to hear you call it believable, but I wouldn't credit research or knowledge or details in the story. If it feels believable it's because I believe it, and the characters ground you enough so that you believe they really could exist in such a world.
Can an answer make you swoon? Because we're pretty sure it just happened! Let's talk about the characters.
If you could introduce one of your characters to another character from any other book, who would it be and why?
Fantastic question. I'll answer fast, otherwise I'd puzzle over this all day. I'd say Sevro should meet Harry Potter. He'd steal his wand and turn him into a newt, but then Hermoine would steal Sevro's little Goblin heart.

Or I'd have Mustang meet Tyrion Lannister. I believe they'd have many adventures.
Sevro, Harry, and Hermione? That's a better answer than we could ever have imagined.
If you had to pick the best piece of advice that another author has given you, what would it be?
"If you can do anything else, don't be a writer."
Is there a book or book series that you think is under-appreciated or never got enough credit for how good it was?
Shadow & Claw by Gene Wolfe. Majestic in scope, vividly written, massive thematically. It's the best fantasy/sci-fi I've ever read. Full stop.
*adds it to our to-be-read list* I'm sure you knew this question was coming, but we can't help ourselves and we know everyone else wants to know too!
Can you share any Golden Son details or Red Rising movie news with us?
(Too much to hope for both? We're not above bribing with cookies!)
In Golden Son, you may meet Pax's father and brother, you may see Sevro play with toys and discover that he has an infatuation with unicorns. You may travel far from Mars and visit distant moons. You may see war and death and hope. Or Golden Son may be just a 450 page novel about Darrow getting makeovers and becoming a reality HoloCan star. Only time will tell.

As for the movie…stay tuned 😉
If it was about Darrow, and we get some Sevro, we'd take a book about makeovers written by you.
Is there ever anything that you always wish someone would ask you in an interview, but they never do? (We want the answer too!)
Question: If any artist in history could be commissioned to portray a scene from Red Rising,who would you choose?

Answer: Athenodoros of Rhodes, who sculpted Laocoon and his Sons. Check out the sculpture
and you'll understand.
Alright, you know we can't let you go without asking you a question about swoon. So here we go.
It's no secret to you that Darrow (okay, and you) have us in a constant state of swoon. So now we're dying to know… what makes you swoon?
If I fall down and scrape my knee and a girl tells me to "rub some dirt on it", then, and only then, do I swoon.
Does it count if we were to push you down and then say it? If so, we're pretty sure it could be arranged! Thanks so much for stopping by, Pierce. This was an absolute blast.
***Meet Pierce Brown***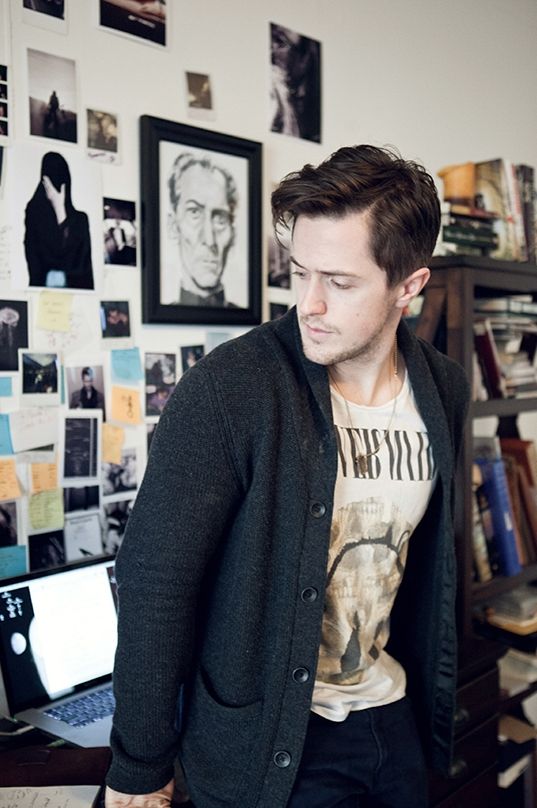 Pierce Brown spent his childhood building forts and setting traps for cousins in the woods of six states and the deserts of two. Graduating from college in 2010, he fancied the idea of continuing his studies at Hogwarts. Unfortunately, he doesn't have a magical bone in his body. So while trying to make it as a writer, he worked as a manager of social media at a startup tech company, toiled as a peon on the Disney lot at ABC Studios, did his time as an NBC page, and gave sleep deprivation a new meaning during his stint as an aide on a U.S. Senate campaign. Now he lives in Los Angeles, where he scribbles tales of spaceships, wizards, ghouls, and most things old or bizarre.
Find Pierce Here:
Website | Goodreads | Facebook | Twitter | Instagram
***Bloodydamn Birthday Posts***
Want to know if Pierce prefers Star Wars or Star Trek? The mountains or the beach? Find that out and more in our 'Author This or That?' interview! Click here to check it out!
Join us Monday for our last Bloodydamn Birthday Celebration post! You won't want to miss it!
***GIVEAWAY***
-Giveaway is open Internationally. | Must be 13+ to Enter
3 Winners will receive ARCs of Red Rising & 1 Winner will receive a hardcover of Red Rising + a custom Red Rising Trilogy bracelet
a Rafflecopter giveaway
Related Posts