We're ecstatic that we got to sit down and chat with Katlyn Duncan for a few moments about her latest title, This Summer, the New Adult contemporary that hit shelves on July 9, 2014. Before we get to her awesome interview, here's the 411 on This Summer:
This Summer
by
Katlyn Duncan
Published by
Harlequin
on July 9, 2014
Genres:
New Adult
Pages:
288
Goodreads
Buy the Book
Before college, before responsibilities, Hadley Beauman and best friend Lily are determined to have a summer to remember. There will be all the usual dramas - ex-boyfriends who don't seem to know what 'ex' means, pesky younger brothers with unrequited crushes, but what Hadley didn't anticipate was the out-of-the-blue return of the seriously hot boy-next-door, Will Carson. The boy who broke her heart when he skipped town two years ago.

Will may have shot up a foot and filled out (oh yes), but inside he carries the weight of guilt - for leaving, for coming back... Now he's just passing through to tie up loose ends but it's clear the old chemistry still crackles between him and Hadley. Trouble is, it's built on two years of lies...

This summer might just be the best time of their lives, but is Hadley ready for everything to change - again?
Check out the awesome trailer:


***INTERVIEW***
Thanks for stopping by Swoony Boys Podcast today, Katlyn! We're so excited to get to know Hadley and Will (and you)! What sparked the idea for This Summer?
Reading my journals from high school, I stumbled upon the summers I worked at a local pool. I had so much fun and I wanted to write a summer contemporary, This Summer stemmed from that.
Oh, that's fun! What was your favorite part of This Summer to write?
The initial reuniting of Will and Hadley at orientation. I wrote that scene so many times but I never tired of it!
That is a great scene 🙂 How do you build your characters? Do you know every single detail of their lives?
When I write a first draft my characters are quite flat. I tend to get the story down and on my second pass I flesh them out a lot. I don't do character worksheets and know every detail of their past, but I do have a good idea on how they will react to certain situations.
How would you introduce Hadley to readers?
I think of her as a typical middle of the ladder high school girl. She's had her heart-broken which has altered her perspective on life but she's just trying to get by until her life begins in college.
Tell us about Will. We want to know all the things!
Will has a complicated past with his family which he's very good at hiding. He internalizes a lot which makes him vulnerable when certain buttons are pressed, but he's stubborn and strong (physically and emotionally). And he protects the women in his life fiercely.
Sounds like our kind of guy! What is the one thing readers would be surprised to learn about you?
I'm not sure what readers would be surprised to know about me, but I'm actually quite introverted!
That is surprising. What's the best piece of advice you ever received from another author?
An author once told me to stop talking about "being an author" and work hard to "just do it". And I did!
That's great advice! Which character makes you swoon the most (yours or someone else's)?
I don't want to be bias so I will choose outside of my own, and quite frankly it's not a hard choice, since Jamie Fraser from The Outlander series seriously makes me swoon.
Sooo many of our readers say that about Jamie! Is there ever anything that you always wish someone would ask you, but they never do?
I think with all the interviews I've done so far, the questions I think readers would care about have already been covered! :0)
Thanks again for coming by, Katlyn. We can't wait for our readers to get their ::grabbyhands:: on This Summer!
***About Katlyn Duncan***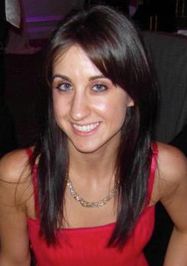 Katlyn Duncan was born and raised in a small town in western Massachusetts. Her overactive imagination involved invisible friends, wanting to be a Disney Princess and making up her own stories. Her bibliophile mom always encouraged her love of reading and that stayed with her since. Even though she works full time in the medical field Katlyn has always made time for books, whether she is reading or writing them.
Katlyn now lives in southern Connecticut with her husband and adorable Wheaten Terrier and she is thrilled to finally share her stories with the world.
Find Katlyn Here: Website | Facebook | Twitter | Goodreads
***GIVEAWAY***
Win a $50 Amazon US or UK gift card from Katlyn Duncan!
a Rafflecopter giveaway
Good luck and be sure to check out the other stops on this awesome tour!
Related Posts