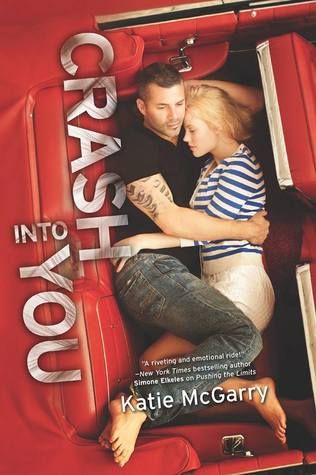 Crash Into You
by
Katie McGarry
Also by this author:
Long Way Home
Series:
Pushing the Limits #3
Published by
Harlequin Teen
on November 26, 2013
Genres:
Contemporary
,
New Adult
Pages:
474
Goodreads
Buy the Book
From acclaimed author Katie McGarry comes an explosive new tale of a good girl with a reckless streak, a street-smart guy with nothing to lose, and a romance forged in the fast lane.

The girl with straight As, designer clothes and the perfect life-that's who people expect Rachel Young to be. So the private-school junior keeps secrets from her wealthy parents and overbearing brothers...and she's just added two more to the list. One involves racing strangers down dark country roads in her Mustang GT. The other? Seventeen-year-old Isaiah Walker-a guy she has no business even talking to. But when the foster kid with the tattoos and intense gray eyes comes to her rescue, she can't get him out of her mind.

Isaiah has secrets, too. About where he lives, and how he really feels about Rachel. The last thing he needs is to get tangled up with a rich girl who wants to slum it on the south side for kicks-no matter how angelic she might look.

But when their shared love of street racing puts both their lives in jeopardy, they have six weeks to come up with a way out. Six weeks to discover just how far they'll go to save each other.
The 411:
Two teenagers from opposite ends of town. Both broken for very different reasons. When chance brings them together, sparks fly. If they can overcome everything that stands in their way, they just might be everything that the other needs.

What We Loved:
We've been fans of Katie McGarry since cracking the cover of Pushing the Limits. With each thing we've read we've fallen more in love with her story telling. We've also come to expect some things. Deeply developed, real characters, hot boys, kickass girls, steamy kisses, and some major swoon.
That's a tall order, but Crash Into You delivers it all, and then some. We've got characters to root for, despise, and swoon over. A storyline that keeps you on the edge of your seat and wanting to stay up until the early morning hours to flip every last page. And as a bonus, it's full of the kind of kissing that makes your heart skip a beat and your eyes immediately re-read the scene.
What's left to say? We loved this one and we have no doubt that you will too.

Um...Not So Much:
Because nothing is perfect, we have to share the couple of things that we  could have done without. So here they are:
Car talk. They all love it. We don't understand it. (We should add that Isaiah makes us want to listen to him talk engines all day long.)
Drama, drama, drama. It's there, it's not forced, but that doesn't mean we wouldn't have loved it if Isaiah and Rachel had an easier go of it.
Can we complain about wanting more kissing? I mean we got a lot of it, but can there ever really be enough?

The Boys:
We loved getting more Noah, because swoon. But we're not going to lie. We've been waiting for Isaiah's story since book one. Who wouldn't want to know more about this dark, brooding, tattooed boy? Getting to know him in CIY was well worth the wait.
There are so many layers to our Mr. Walker. We all know his background, and between his home life and the way Beth left him broken, Isaiah has brooding down to a science. What we loved seeing was how Rachel broke down those walls. She trusted him, but more than that, she fought for him. From the minute they met, these two brought out the best in each other.
"Maybe you should go first," she yells as I push her forward.

I lean down to say in her ear, "And take a chance on some drunk asshole grabbing your ass? I'm not interested in getting into a fight."

Her head whips back to see if I mean what I say. I nod for her to keep moving.
Isaiah's obviously gorgeous (we can't read Rachel's descriptive paragraphs about him enough), but the thing that really gets to us is how gentle and patient he is with her. He always asks first, even though we know that his bossy side is sometimes aching to come out.
"You can ignore me, Rachel, and you can try to treat me as a friend, but none of that will erase the fact that I think about kissing you every second I'm awake and dream at night of my hands on your body. And it sure as hell won't erase that I'm terrified by how much I like you."
Swoony, right? Isaiah made such an impact on us that Meg decided to make him one of her top two boys. That means that no one else can claim him. (Except maybe Rachel.)

The Girls:
Rachel Young is pretty awesome. Does she have some "seventeen year old girl moments?" Yes. But can anyone out there tell us that they didn't have those same moments? We didn't think so.
Rachel has a pretty messed up interesting home life. She lives in the shadow of her dead sister and overprotective brothers. Her parents expect so much out of her, and not necessarily in a good way. She keeps her real self, her wants and likes, hidden so deep inside that it takes a physical toll on her body. No one understands her, not even her twin brother Ethan.
When she finally meets Isaiah it's like the real Rachel, the hidden one, can finally be free. She can talk cars, she can let loose, and most importantly she can relax. She needs Isaiah as much as he needs her.
We love being in side of her head. She has such a strong, memorable voice. Just look at this:
No fear. No nausea. No brothers to boss me around. No parents to impress. Just me, the gas pedal, and the open road. And a big, fat, fluffy dress that reminds me of a flower. Shifting in this getup was a nightmare.
and this…
My purse slips out of my hand and lands on the floor in an embarrassing thump. His head jerks up and he spots me gaping. A knowing smile slides across his lips, causing heat to creep along my cheeks. If only I could die.
Rachel is the kind of girl that we'd definitely want to be friends with. With think you'll agree.
Even though this is Rachel's story, we can't go without mentioning Abby. She may not be a key player in CIY, but that didn't make her stand out any less. We'd love to see a whole book devoted to her and Ethan! Who wouldn't want a book with more of this:
"What's your favorite color?" asks Abby.

"Green?" That is a beyond odd question– I mean normal,yet not.

"Tacos or spaghetti?"

"Tacos"

"Disney World or Disneyland?"

"Neither."

"Rolling Stones or Beatles?"

'Beatles."

She squishes her lips to the left. "Oh, so close, but I can let the last one go." Abby regards Isaiah with the same familiarity I have with my brothers. "We should keep her, but we may have to set up a visitation schedule. You know, control issues and all."

Dream Cast:
We had a guy in our minds from the beginning. We know he's missing the tattoos and the piercings, but we're pretty sure you won't mind adding those in your imagination. Our Isaiah is Ryan Guzman. He's go the brooding down:
And he's got the smile down. (Plus just picture this bent over an engine.)

What We Think Will Happen Next:
We definitely think these two are in it for the long haul. We can picture lots of awkward family dinners with Isaiah right by Rachel's side. And yes, we think they get their happily ever after, to include lots of little ones that will love to drive fast. For now, we can't wait to catch glimpses of them in Take Me On.

Bottom Line:
Fast, sexy, and unforgettable. Crash Into You has fast cars, danger, and a swoony love story that cannot be denied.

Verdict:
Rating Report
Cover
Characters
Plot
Writing
Swoon
Overall:
4.5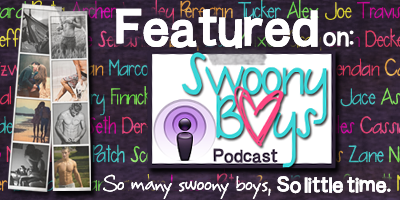 Related Posts