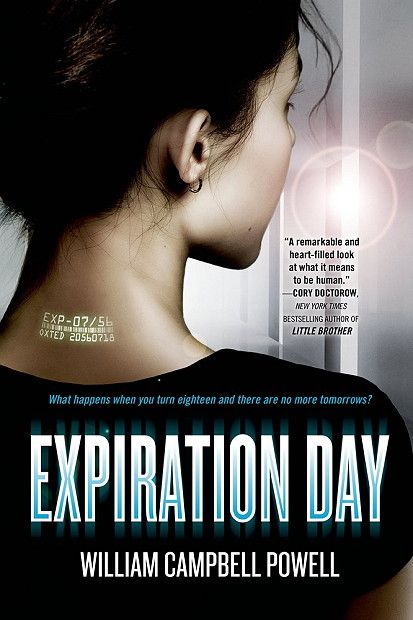 Expiration Day by William Campbell Powell
Published by Tor Teen on April 22nd, 2014
Pages: 336
What happens when you turn eighteen and there are no more tomorrows?
It is the year 2049, and humanity is on the brink of extinction….

Tania Deeley has always been told that she's a rarity: a human child in a world where most children are sophisticated androids manufactured by Oxted Corporation. When a decline in global fertility ensued, it was the creation of these near-perfect human copies called teknoids that helped to prevent the utter collapse of society.

Though she has always been aware of the existence of teknoids, it is not until her first day at The Lady Maud High School for Girls that Tania realizes that her best friend, Siân, may be one. Returning home from the summer holiday, she is shocked by how much Siân has changed. Is it possible that these changes were engineered by Oxted? And if Siân could be a teknoid, how many others in Tania's life are not real?

Driven by the need to understand what sets teknoids apart from their human counterparts, Tania begins to seek answers. But time is running out. For everyone knows that on their eighteenth "birthdays," teknoids must be returned to Oxted—never to be heard from again.
We are so excited to be a part of the tour for Expiration Day by William Campbell Powell hosted by the awesome ladies over at Book Nerd Tours! We've got a great author interview and giveaway for you all to enjoy, so let's get started…

***INTERVIEW***
Thanks so much for dropping by Swoony Boys Podcast today to let our readers get to know you, William. We're so excited to have you!
What is your favorite part of the writing process?
I'd like to say "all of it", but sometimes the creative process stalls, and it can be a grind. So I've generally got 3 or 4 projects on the go, which lets me move to something fresh. Then I re-read the manuscript-so-far, tinker a bit with the phrasing along the way and try and pick up again, writing a few new paragraphs at the end, and that generally gets me excited for a few hundred words. But I'm really trying to find a key that will unlock one or other of these stories, to find the twist that that will let the words spill out. I generally know the ultimate destination quite early on, but not all the stages of the journey are clear.
That moment of clarity is something I can't force, and it happens when it chooses, as often as not when I wake in the middle of the night. So I dash downstairs – the computer is always on and waiting – and I scribble down the key idea before it flits away.
So a lot of writing is grind, with moments of illumination.
But then months, or years later, all those arcs finally come together in the final scene. It's like coming home at the end of a long sea voyage. I'm probably in tears, because I've put my protagonists through all sorts of grief, and I'm about to restore some measure of balance. They don't quite realise that they're almost home, but I'm cheering them on through the last pages, feeling their dawning realisation that maybe something is going to work out right after all.
If you only had six seconds with a stranger in an elevator, how would you pitch this book?
Post-apocalypse, robots propping up dying human society, can a robot be human too?
Did you have to do any kind of research to make the story more believable?
I've used the dictum of "write about what you know", so that apparently-specialist topics like bass-playing, Aplastic Anaemia, school life at a grammar school, living in Wood Green and in a Buckinghamshire village and being a teenager in the 1970s are all taken from my own life or those close to me. More speculative (and involving special research) are the parts about the Dales, Banbury, Christiana, acting in and producing (specifically) a Shakespeare play.
A lot of the science comes from my own background in computing, and I do try to keep current on a broad range of science, through reading New Scientist, which is the British equivalent of Scientific American. Certainly that's how I came across the notion of the "Uncanny Valley", fortuitously at about the time that my editor, Susan Chang, was challenging me about why parents would voluntarily return their teknoids.
How would you introduce Tania to readers at a party?
"This is Tania. She plays bass fit to make a stone cry."
What's the best piece of advice you've ever received from another author?
"That doesn't work." Every author needs a friend who doesn't pull his punches.
Do you have any future projects you can tell us about?
The obvious answer is, yes, I am working on a sequel! To qualify that, I want to write a sequel that's still a YA novel, even though by Expiration Day's end, Tania is growing up. I've a few ideas about how to follow-on without losing Tania's readership, which I'm still experimenting with. It's a cop-out to simply pick up at the closing scene of Expiration Day, even though that future was well mapped out in the earliest versions of the manuscript. Perhaps those chapters will see the light of day as a spin-off novella, or some sort of eNovella for those who really want to know what Tania did next. But Tania's universe is bigger than just Tania, with more wonders in it than poor, lonely Zog knows. It's that wider universe I want to explore in the sequel, but still seen through YA eyes.
Is there ever anything that you always wish someone would ask you in an interview, but they never do?
How about "Can I make your book into the next Hollywood blockbuster?" – I think you can guess the answer.
***Meet William Campbell Powell***
William Campbell Powell was born in 1958 in Sheffield, but grew up in and around Birmingham. He was educated at King Edward's School, Birmingham, and gained a scholarship to Clare College, Cambridge to study Natural Sciences. Leaving Clare College in 1980 with a BA in Computer Science, he entered the computer industry, which is where he has been ever since.
William has been writing since 2002, experimenting with various genres, but he is most at home with Science Fiction, Historical Fiction and fiction for Young Adults.
Find William Here:
Website | Facebook | Goodreads
***GIVEAWAY***
Three winners will receive a copy of Expiration Day PLUS a Tor Teen bag! Enter to win by filling out the form below!
a Rafflecopter giveaway
Be sure to check out the other stops on the tour here:
Related Posts