Welcome to Swoony Boys Podcast! Today is our stop on the Here We Are Tour! We fall in love with everything that Oliver Jeffers writes/illustrates (especially Stuck and Lost and Found!) so when our friends at Penguin asked if we wanted to participate in a promotional campaign for his newest title, Here We Are, we answered with the biggest YES!
While you're here, don't forget to enter the giveaway at the bottom of the post! You don't want to miss it! But first, let's start with the 411:
***About the Book***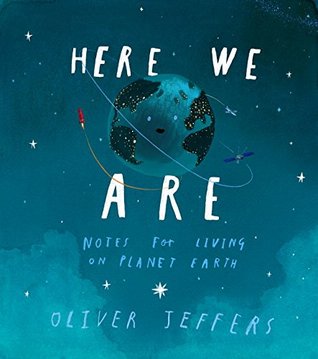 Here We Are by Oliver Jeffers
Published by Penguin Group, Penguin Young Readers Genres: Children's Fiction
Pages: 42
Goodreads Buy the Book

In this moving and thought-provoking book, Oliver takes the reader on a journey, introducing planet Earth with all of his signature wit, gentle humor, and stunning illustrations. With a complex view of our planet's terrain (bumpy, sharp, wet) to a deep look at our place in space (you are here) to a guide to all of the animals (they can't speak, though that's no reason not to be nice to them), Oliver Jeffers creates an insightfully sweet guide to life on Earth.
***Mood Board***
This book is one of the BEST picture books that we have ever had the pleasure of reading. Meg's boys can't get enough of it, and neither can we. We couldn't pick just one way to express our love for it, so instead we came up with a mood board that shows all the different things that reading Here We Are brought to mind. Things we want our children to know, people who inspire us, questions we have about the world, and a few other fun things thrown in as well. Here's what we came up with:
Once you've read the book, or if you've already read it, we'd love for you to leave a comment below telling us all about what went through your head after reading it! Do you have your own mood board in your head? Tell us about it.
***Meet Oliver Jeffers***
Oliver Jeffers makes art and tells stories. His books include How to Catch a Star; Lost and Found; and the New York Times bestsellers Stuck; This Moose Belongs to Me; and Once Upon an Alphabet. He is also the illustrator of the #1 bestsellers The Day the Crayons Quit and The Day the Crayons Came Home, both written by Drew Daywalt. Oliver has been the recipient of some of children's books highest accolades, including the Nestle Gold Medal for Lost and Found and the Irish Picture Book of the Year for The Incredible Book Eating Boy. An animated film of Lost and Found won a BAFTA for Best Animation in 2009.
His fine art is world-renowned and his dip-art exhibitions are a much sought-after event. Originally from Belfast, Northern Ireland, Oliver now lives and works in Brooklyn, New York, with his wife and young son.
Find Oliver Here:
Website | Instagram | Twitter | Goodreads
***Book Trailer***
***GIVEAWAY***
Enter for a chance to be one (1) copy of Here We Are by Oliver Jeffers.
NO PURCHASE NECESSARY. Enter between 12:00 AM Eastern Time on November 30, 2017 and 12:00 AM on December 8, 2017. Open Internationally to readers who are 13 and older. Winners will be selected at random on or about December 8, 2017. Void where prohibited or restricted by law.
a Rafflecopter giveaway
Good Luck and Happy Swooning!
Related Posts