A Little Something Different
by
Sandy Hall
Published by
Swoon Reads
on August 26, 2014
Genres:
Contemporary
Pages:
272
Goodreads
Buy the Book
The creative writing teacher, the delivery guy, the local Starbucks baristas, his best friend, her roommate, and the squirrel in the park all have one thing in common—they believe that Gabe and Lea should get together. Lea and Gabe are in the same creative writing class. They get the same pop culture references, order the same Chinese food, and hang out in the same places. Unfortunately, Lea is reserved, Gabe has issues, and despite their initial mutual crush, it looks like they are never going to work things out.  But somehow even when nothing is going on, something is happening between them, and everyone can see it. Their creative writing teacher pushes them together. The baristas at Starbucks watch their relationship like a TV show. Their bus driver tells his wife about them. The waitress at the diner automatically seats them together. Even the squirrel who lives on the college green believes in their relationship.

Surely Gabe and Lea will figure out that they are ment to be together....
The 411:
A Little Something Different is one love story told from 14 different viewpoints. This book was very unique with its wide variety of loveable characters. We felt like every "viewpoint" was so well thought out; so well thought out we felt they each had stories of their own just waiting to be told.
The book follows Gabe and Lea, two college kids with a chemistry that is so palpable it's as if everyone can see it but them. And when we say everyone…even furry woodland creatures were feeling it.

What We Loved:
The characters! Usually when we read books with different viewpoints, there are some that we care for less than others. That was not at all the case with this book. Every one of the characters was so genuine that we loved them all.
We really loved this part:
"I'll get you next time!" he yells as I push him within Lea's earshot.

She gives him a confused look as the three girls walk out the door into a gust of cold air.

"I sounded like a cartoon villain. She should be afraid of me."

"I didn't mean you should quote me word for word."

"I told you I suck at this."

"I should have listened."

Um...Not So Much:
Once again this is one of those cases where we just wanted more; more of Gabe and Lea together and conversing. We would have probably enjoyed this book even more if it was slightly faster pace. It was short, don't get us wrong, but just a steady rhythm and like we said, we would have preferred things to happen quicker. Then again, that is kind of the point of this book so…

Bottom Line:
A quick, light, and funny read, A Little Something Different by Sandy Hall kept us laughing out loud.

Verdict:
Rating Report
Cover
Characters
Plot
Writing
Swoon
Overall:
4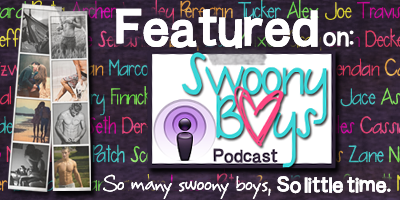 Related Posts