Biggest Flirts
by
Jennifer Echols
Also by this author:
Perfect Couple
,
Most Likely to Succeed
Series:
Superlatives #1
Also in this series:
Perfect Couple
,
Most Likely to Succeed
Published by
Simon Pulse
on May 20, 2014
Genres:
Contemporary
Pages:
336
Goodreads
Buy the Book
Tia and Will's lives get flipped upside down when they're voted Yearbook's Biggest Flirts in this sassy novel from the author of Endless Summer and The One That I Want.

Tia just wants to have fun. She's worked hard to earn her reputation as the life of the party, and she's ready for a carefree senior year of hanging out with friends and hooking up with cute boys. And her first order of business? New guy Will. She can't get enough of his Midwestern accent and laidback swagger.

As the sparks start to fly, Will wants to get serious. Tia's seen how caring too much has left her sisters heartbroken, and she isn't interested in commitment. But pushing Will away drives him into the arms of another girl. Tia tells herself it's no big deal…until the yearbook elections are announced. Getting voted Biggest Flirts with Will is, well, awkward. They may just be friends, but their chemistry is beginning to jeopardize Will's new relationship—and causing Tia to reconsider her true feelings. What started as a lighthearted fling is about to get very complicated…
We can't believe that we haven't read anything by Jennifer Echols before! When we saw the summary for Biggest Flirts–for the entire Superlatives Series–we knew we had to dive in. This story has everything that we love–hot new guy, authentic high school experiences, and odds-defying love conquering all.
The 411:
Party-girl Tia Cruz is all about carefully avoiding responsibility–in school, with her friends, and especially with guys. Because of her family's history, she's has a hard and fast rule about boys. She can hook-up, but commitments are forbidden. So when the hot new guy saunters into her life, Tia can barely resist his good looks and Midwestern charm. But Will isn't looking for just a hookup–he wants more than Tia's willing to give.
I wanted to get involved with him, but I just couldn't do that to myself. I knew what would happen next.
Even though he and Tia can't stay away from each other–or keep their hands off each other–Will starts dating someone else, leaving Tia to wonder if her rules were meant to be broken.
I wasn't jealous, only disappointed that he had such poor taste in women besides me.
When the Senior Superlatives are announced and Will and Tia are named "Biggest Flirts," Will's new girlfriend gets mad. Will and Tia come up with a cockamamie plan to get Angelica to like him again, involving them fake dating. What happens when Tia realizes her feelings might not be so fake after all?

What We Loved:
We really liked these characters and this storyline. Echols without a doubt knows how to write authentic experiences that made us feel like we were right there with them. It was full of humor and despite the very real feelings, it was a quick read. We loved getting to know everyone and can't wait to read the other books in the series, especially when we get to Sawyer, Tia's best guy friend, who she sometimes hooks up with. He was was undoubtedly our favorite.
We also loved the cover. How cute are they?

Um...Not So Much:
There were some things we didn't like, like the fact that it ended rather abruptly. We're glad there are two more books in the series to read! Also, we was surprised by Tia's flippant attitude toward sex and partying. Because of that, View Spoiler »the I love yous were wayyyyy too fast and shouldn't have happened at all, at least on Tia's side « Hide Spoiler.

The Boys:
Will Matthews. We loved Will. With his Midwestern accent that Tia loved to make fun of and his abs of steel, he was a standup guy and pretty hot, too.
Boys had done this to me before, yet not so slowly or thoroughly. Not like this.
He's vulnerable in a way that we didn't expect, but he's also cocky.
"I'm the king of you."
Sawyer DeLuca. Tia's best guy friend, who she sometimes hooks up with. He's the life of every party and is secretly in love with Tia's BFF, Kaye. We ♥ Sawyer, and we really liked his relationship with Tia.
Sawyer and I never really got mad at each other, because why would you get mad at yourself?

The Girls:
Tia.As far as Tia goes, we're just not sure how we feel about her. We actually don't think she really deserved Will. She's doesn't have a clock in her room and is sort of the anti-campaign for girl power. She's a total slacker and doesn't want any kind of responsibility, and we felt like her attitude was more college-age than high school. But what do we know? We do agree with some of her thoughts.
I loved making people laugh. Making a hot guy laugh was my nirvana.

What We Think Will Happen Next:
We can't wait to read the other books in the Superlatives Series and will definitely be reading more from Jennifer Echols. We know the other books in the series feature Tia's best friends, Kaye and Harper, and we're excited to see more of the whole gang. Especially Sawyer.

Bottom Line:
If you're looking for a fun high school story with great characters, including a hot drummer, then Biggest Flirts is the story for you.

Verdict:
Rating Report
Cover
Characters
Plot
Writing
Swoon
Overall:
3.5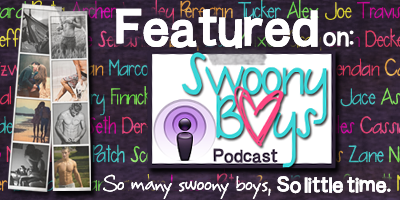 Related Posts