Article 5
by
Kristen Simmons
Also by this author:
Breaking Point
Series:
Article 5 #1
Also in this series:
Breaking Point
Published by
Tor Teen
on 01-31-2012
Genres:
Dystopian
Pages:
362
Goodreads
Buy the Book
New York, Los Angeles, and Washington, D.C., have been abandoned.

The Bill of Rights has been revoked, and replaced with the Moral Statutes.

There are no more police—instead, there are soldiers. There are no more fines for bad behavior—instead, there are arrests, trials, and maybe worse. People who get arrested usually don't come back.

Seventeen-year-old Ember Miller is old enough to remember that things weren't always this way. Living with her rebellious single mother, it's hard for her to forget that people weren't always arrested for reading the wrong books or staying out after dark. It's hard to forget that life in the United States used to be different.

Ember has perfected the art of keeping a low profile. She knows how to get the things she needs, like food stamps and hand-me-down clothes, and how to pass the random home inspections by the military. Her life is as close to peaceful as circumstances allow.

That is, until her mother is arrested for noncompliance with Article 5 of the Moral Statutes. And one of the arresting officers is none other than Chase Jennings—the only boy Ember has ever loved.
The 411:
In Ember's world, soldiers have replaced police officers and the Moral Statues has replaced the Bill of Rights. Going against these new "rules" could result in possible imprisonment or something even worse.  Ember and her mom don't stick to all the rules, but they've always been able to keep a low profile and avoid trouble. Then the worst happens. A group of soldiers, including Ember's high-school sweetheart Chase, show up at their door to arrest Ember's mom for an Article 5 violation. Ember and her mom are separated and everything she's ever known is ripped apart. She's got to find out where they've taken her mom and why the only boy she's ever loved betrayed her.

What We Loved:
There was a lot to love about Article 5. Most importantly we have to point out that this was Kristen Simmons' debut novel. That had us impressed as soon as we cracked the cover. We love the unique storyline, because in a book-world filled with lots of dystopian scenarios, we think this is one of the most plausible. (Which makes it fun and just a little scary!)
Even though we loved the plot and the writing, the characters were definitely our favorite part. Every character, minor and major, has a purpose in this world. It's a beautiful thing. Plus, with a super swoony boy like Chase Jennings, (who we've claimed!) you can't really go wrong.

Um…Not So Much:
There were really only a couple of things about Article 5 that we didn't love, and they both revolve around Ember. The first is how self-absorbed, and whiny she is. There is a reason for some of this, but there were times when she really frustrated us as a character.
Our second complaint was the lack of conversations. Most of this was also Ember's fault. Instead of having what could have been a two-sentence conversation that could have solved or prevented some bad situations, she acted impulsively and made things worse. (Check out our review of Breaking Point to see how our opinion of Ember changed!)

The Boys:
We've said it before and we'll keep saying it. Chase Jennings is everything. He's a tall, brooding soldier, who's somewhat broken. Of course we're in love with his military qualities, and when you add that he's also Ember's high-school sweetheart we were hooked from the beginning. It also doesn't hurt that he says thing like this:
He put a hand on his throat, as though trying to stop the words, but they came anyway.

"You're home. To me."
We've thought about this line more than can possibly be healthy.

The Girls:
Ember Miller has a lot of potential and some pretty kick- ass qualities, but there were times that she was everything that makes an annoying girl. With that said, she does go through A LOT so we're willing to forgive her for those moments that made us want to smack her around a little.

Bottom Line:
This is an awesome debut novel with one very swoony boy.

Verdict:
Dream Cast:
We didn't have to look far to find Chase. Kristen Simmons shared her dream cast here and there was no way we were going to disagree, especially with this face.
What We Think Will Happen Next:
We've already read Breaking Point, (AND LOVED IT!) but we don't want to spoil anything for those of you who haven't read. If you've already read it, or want to know our thoughts, check out the review here.

Other Books by Kristen Simmons:
Breaking Point (Article 5 #2) (released on February 12th, 2013), Glass Arrow (coming out in 2014), and the Untitled Article 5 #3 (coming out in 2014).
Other Article 5 Series Posts:
Other Posts About Chase:
Rating Report
Cover
Characters
Plot
Writing
Swoon
Overall:
4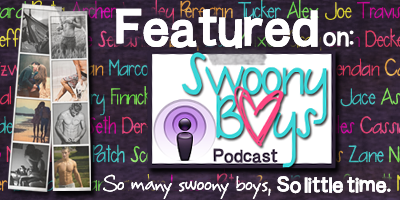 Related Posts