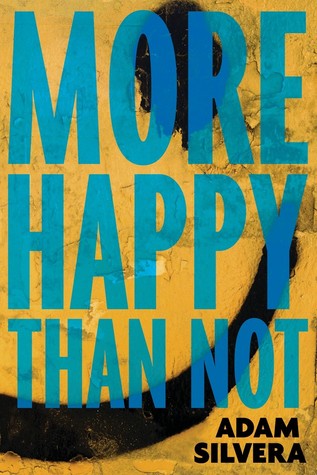 More Happy Than Not
by
Adam Silvera
Published by
Soho Teen
on June 10, 2015
Genres:
Contemporary
Pages:
304
Goodreads
Buy the Book
The Leteo Institute's revolutionary memory-relief procedure seems too good to be true to Aaron Soto -- miracle cure-alls don't tend to pop up in the Bronx projects. But Aaron can't forget how he's grown up poor or how his friends aren't always there for him. Like after his father committed suicide in their one bedroom apartment. Aaron has the support of his patient girlfriend, if not necessarily his distant brother and overworked mother, but it's not enough.

Then Thomas shows up. He has a sweet movie-watching setup on his roof, and he doesn't mind Aaron's obsession with a popular fantasy series. There are nicknames, inside jokes. Most importantly, Thomas doesn't mind talking about Aaron's past. But Aaron's newfound happiness isn't welcome on his block. Since he's can't stay away from Thomas or suddenly stop being gay, Aaron must turn to Leteo to straighten himself out, even if it means forgetting who he is.

Adam Silvera's extraordinary debut novel offers a unique confrontation of race, class and sexuality during one charged near-future summer in the Bronx.

Have you ever had something so bad happen to you, you wish you could forget about it? Just wipe it out of your brain so you'd never have to think about it again? We think everyone has probably had that fleeting thought, that brief 'if only I could forget then I wouldn't hurt so bad'. But what if that peace came with a price? In return for the loss of memory, you forget who you are entirely? Would it be worth it? This topic … and more are explored brilliantly and poignantly in Adam Silvera's extraordinary debut novel, More Happy Than Not.
This is not your typical YA novel. No way. The topics broached are deep and heavy. Depression. Suicide. Domestic Abuse. Homophobia. But the delicate way Silvera approaches each is subtle and will leave you feeling as if you've been on a roller coaster like no other.
The 411:
Seventeen year old Aaron Soto's father recently died. Actually he slit his wrists in the family bathtub, and Aaron was the one to find his body. After sliding into a deep depression, Aaron attempts the same thing and fails. He has the support of his girlfriend, Genevieve, though, and his friends, and for a while, Aaron thinks this is enough. After a while, he realizes it's not, not even close.
When Thomas shows up in Aaron's neighborhood out of the blue one day, it's almost as if he was sent just for Aaron. Too bad he's straight. And will NEVER feel about Aaron the way Aaron feels about him. Their friendship is true and real and exactly what Aaron needs, but only for a time.
Enter the Leteo Institute and the allure of being someone different, someone who isn't gay, who didn't find his father's body, who didn't try to commit suicide. Someone who's happy with who he is.

What We Loved:
First and foremost, the writing. It's breathtaking. If you've never been to New York City, you'll feel as if you have after reading this book. Vivid descriptions so rich and powerful that sights and sounds and smells plop you right in Aaron's neighborhood in the Bronx, and it's like Aaron and his friends are in the middle of a game of Manhunt right before your eyes. The feelings and emotions that burble beneath every word are present from beginning to end and suck you in and don't let go. The way the words flow is raw and real and evocative like you haven't experienced. Silvera masterfully handled heavy, serious topics with just the right amount of humor to keep you turning the pages. Aaron's voice is so perfect, so honest that he will stay with you for a long, long time.
Next, the science-fiction element with the Leteo Institute. Adam Silvera is spot on in his mixing this unbelievable aspect with familiar, though painful and recognizable social issues. He does it so seamlessly it's easy to believe it's possible. He taps into that fleeting wish most of us have had at one time or another and perfectly executes it.

Um...Not So Much:
Well. There are some things, but they're the things that make More Happy Than Not so heart wrenching and powerful. Without them, this would be a much MUCH different book. You'll see what we mean.

The Boys:
Aaron Soto. Where to even BEGIN with Aaron? At first glance, he seems like your normal (whatever that actually means) teenage boy. He has a girlfriend, he likes to hang out with his friends, he has a job, he likes comics and video games … he sounds like your typical seventeen year old right? Well, if this was all there was to Aaron, you'd be right, but alas there's much more.
Sometimes pain is so unmanageable that the idea of spending another day with it seems impossible. Other times pain acts as a compass to help you get through the messier tunnels of growing up. But the pain can only help you find happiness if you can remember it.
Powerful stuff, yeah?
Thomas Reyes. Thomas is kind of a bumbling but profound dude. Aaron is immediately connected to him in ways he's not with his other friends, and the closer they get, the more his friends from the neighborhood begin to question and insinuate and ultimately it's their friendship that's the catalyst for Aaron's insistence to proceed with the Leteo procedure.
He rubs his face and his eyes squint; a tear escapes. "You didn't have to take my side, Stretch." I kind of, sort of, definitely always will.
We LOVED Thomas. He's sweet and sincere, if not a bit clueless at times. But his heart is HUGE and god he loves Aaron, just not in the way Aaron wishes he would. We loved how Adam Silvera developed Thomas, and showed how sometimes the best thing you can have in your life is that one person who just GETS you and will always want to be there for you.

What We Think Will Happen Next:
We don't want to say too much because we're not spoilers, but we will say we think that Aaron and his mom and brother will get closer and help Aaron to remember it's always a win when you can be more happy than not.

Bottom Line:
There are A LOT of twists and turns in this book. A lot of heavy emotions and your heart will get punched in the feels. Numerous times, over and over. This book isn't easy. With each page, there's this sort of oppressing feeling, like something waiting in the dark to jump out at you and take you out. This book isn't light and fluffy. It won't leave you with that happy, feel good bubbling giddiness a lot of YA books impart. Instead it will make you think. It will make you hope. It will make you stop and realize sometimes life isn't what you expect it will be and sometimes that's an okay thing.

Verdict:
Rating Report
Cover
Characters
Plot
Writing
Overall: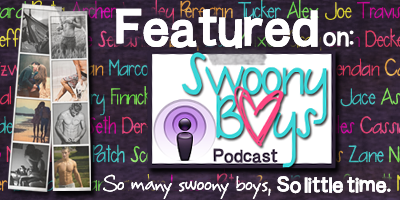 Related Posts