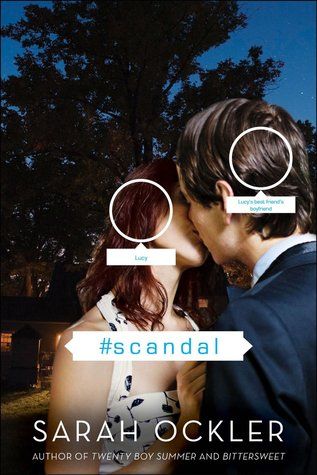 #scandal
by
Sarah Ockler
Published by
Simon Pulse
on June 17, 2014
Genres:
Contemporary
Pages:
368
Goodreads
Buy the Book
Lucy's learned some important lessons from tabloid darling Jayla Heart's all-too-public blunders: Avoid the spotlight, don't feed the Internet trolls, and keep your secrets secret. The policy has served Lucy well all through high school, so when her best friend Ellie gets sick before prom and begs her to step in as Cole's date, she accepts with a smile, silencing about ten different reservations. Like the one where she'd rather stay home shredding online zombies. And the one where she hates playing dress-up. And especially the one where she's been secretly in love with Cole since the dawn of time.

When Cole surprises her at the after party with a kiss under the stars, it's everything Lucy has ever dreamed of… and the biggest BFF deal-breaker ever. Despite Cole's lingering sweetness, Lucy knows they'll have to 'fess up to Ellie. But before they get the chance, Lucy's own Facebook profile mysteriously explodes with compromising pics of her and Cole, along with tons of other students' party indiscretions. Tagged. Liked. And furiously viral.

By Monday morning, Lucy's been branded a slut, a backstabber, and a narc, mired in a tabloid-worthy scandal just weeks before graduation.

Lucy's been battling undead masses online long enough to know there's only one way to survive a disaster of this magnitude: Stand up and fight. Game plan? Uncover and expose the Facebook hacker, win back her best friend's trust, and graduate with a clean slate.

There's just one snag—Cole. Turns out Lucy's not the only one who's been harboring unrequited love...

This review is going to be spoilerish, but you already know some stuff just from reading the summary 🙂

The 411:
When Lucy's best friend, Ellie, gets sick just before prom, Ellie begs Lucy to go to prom with Ellie's boyfriend, Cole. Only problem is Lucy's got a secret–she's been in love with Cole since she set sights on him four years ago:
Don't even think about it? I have thought about it. Every day. for the last four years.

We've never kissed, never cuddled, never been anything more than capital-F Friends. Cole Foster broke my heart anyway. Like the perfect dress and the flowers that refuse to stay put, the only boy I've ever loved belongs to Eliana Pike.

Ellie.

My best friend.
Everything is going fine at prom when Cole invites Lucy to come along to the afterparty.
"It's just a party," he whispers. "What's the worst that could happen?"
Apparently, a lot.
Cole kisses Lucy at the party. Pictures or it didn't happen, right? Exactly. Someone takes pictures of their tryst, swipes Lucy's phone, and posts everything to her facebook account, including all kinds of incriminating shots of many of their classmates.
People are grounded. Relationships are ruined. Members are kicked out of groups. All hell breaks loose. Cole confesses that he and Ellie broke up, but too late–the damage is done. Basically everyone hates Lucy (except Cole) for being a skank and moving in on her BFF's guy and for posting pics of all of them, too.
Meanwhile, Lucy's sister is back in town and offering all sorts of advice. She's willing to do just about anything to exonerate herself and get to the bottom of who leaked the photos, including reaching out to the resident gossip queen, Miss Demeanor. Lucy strikes up a friendship with and enlists the help of Franklin Margolis, the school paper editor, and tries to figure out what happened, all while being ridiculed at school.

What We Loved:
This story was very authentic and definitely got to the heart of one of the problems of social media in society: negativity is viral. Even though Lucy does a terrible thing, we got where she was coming from.
Why can't I have them both?

Um...Not So Much:
So what didn't we like? There were a few things.
One, it really started to feel like a PSA for anti-bullying, which we suppose it was. Don't get us wrong, we're not in favor of bullies, we just felt like this story went a little too far. We guess that's real life, though. We don't understand why the principal didn't consider the way that Lucy was being treated to be bullying. There was physical evidence of the way she was being treated, so we didn't get why the principal didn't step in–at all.
Two, we didn't appreciate the Fifty references, even though they weren't exactly positive.
The story was predictable. We figured out who started the #scandal 44% in. 🙁
And the seemingly fatal flaw in the plot: Ellie and Cole broke up before the prom, and we get why he didn't want to tell everyone out of respect for Ellie. We also understand the reasoning why Ellie asked Lucy to go with him. But we do not understand why Cole didn't tell Lucy that they broke up. They were friends too, and Ellie was mentioned several times during prom. We also don't think it's realistic that Ellie wouldn't have told anyone, especially her best friends. And wtf was up with all the drama after they found out Ellie and Cole were broken up? For all anyone knew, Cole told Lucy pre-kiss, so why were Ellie and Griffin so pissed about it? We still don't get it.

The Boys:
Cole Foster. He was super cute.
[text from] Cole: saw on fb u got a new phone. hope this is ur 1st text. 🙂 OH HAI LUCY'S PHONE!
He's gorgeous, he's a drummer (and you know how we feel about musicians), he does a mean river dance, and he's sweet.
"I miss my favorite groupie," he says, and I shiver, hopefully unnoticed. "I can't just pretend it didn't mean. . .You know I'm torn up about Ellie, but what? I'm supposed to act like I hate you just because everyone's talking shit?"
Franklin Margolis. He's British and funny.
I'm severely allergic to anything group project.
Marceau Chantrelle. He's the foreign exchange student who has a crush on Lucy. We liked him, we just didn't get to see much of him.
"I do not know this fish stick. It frightens the soul."

The Girls:
Lucy's feelings and reactions were spot-on and we really liked her. We were surprised at how much we liked Lucy's sister, and we were not surprised by how much we couldn't stand Ellie. Or their other BFF, Griffin Colanzi. And that's all we have to say about them 🙂

Bottom Line:
Even with the sweet shoulder kisses, a boy we liked, and realistic emotions, #scandal was a tad on the too-dramatic side. We would prefer more from the characters and a better-developed plot instead of the canned preachy-ness, but we guess you can't have everything.

Verdict:
Rating Report
Cover
Characters
Plot
Writing
Swoon
Overall:
3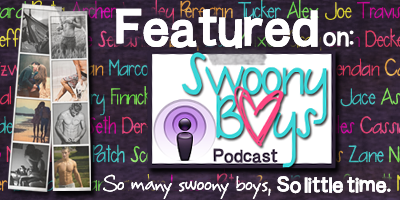 Related Posts