So many books come out each week that it makes it hard to decide what to read. We want to make that a little bit easier on you by sharing our favorite releases from the week and telling you our top 3 reasons why we think you'll love them too!
This week one of our selections is What If It's Us by the wonderful Becky Albertalli and Adam Silvera. Are you ready to hear more about this book and its author? Here we go…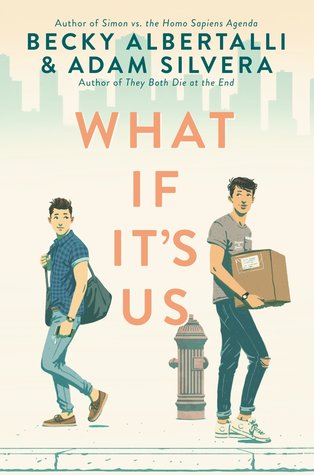 What If It's Us by Adam Silvera, Becky Albertalli
Also by this author: More Happy Than Not, Simon vs. the Homo Sapiens Agenda
Published by HarperTeen on October 9th 2018
Genres: Contemporary, LGBT
Pages: 448
Goodreads Buy the Book

Arthur is only in New York for the summer, but if Broadway has taught him anything, it's that the universe can deliver a showstopping romance when you least expect it.

Ben thinks the universe needs to mind its business. If the universe had his back, he wouldn't be on his way to the post office carrying a box of his ex-boyfriend's things.

But when Arthur and Ben meet-cute at the post office, what exactly does the universe have in store for them?

Maybe nothing. After all, they get separated.

Maybe everything. After all, they get reunited.

But what if they can't quite nail a first date . . . or a second first date . . . or a third?

What if Arthur tries too hard to make it work . . . and Ben doesn't try hard enough?

What if life really isn't like a Broadway play?

But what if it is?
3 Reasons You Should Read…
What If It's Us
by Becky Albertalli and Adam Silvera
When we saw that these two were collaborating our hearts went crazy! The end result of these two minds coming together is even more magical than we thought possible. Their voices blended perfectly and we are already hoping for more.
Arthur and Ben are wonderfully and beautifully flawed. We could not get enough of these two. They could not be more different, or more perfect for each other. Add to them the awesomeness that is Dylan, Jess and Ethan and you have a whole crew of characters to fall in love with.
If you're in the market for a YA contemporary that is charming but awkward, insanely funny but still a little heartbreaking, and definitely swoony- look no further than What It's Us. Go get yourself a copy now.
Related Posts