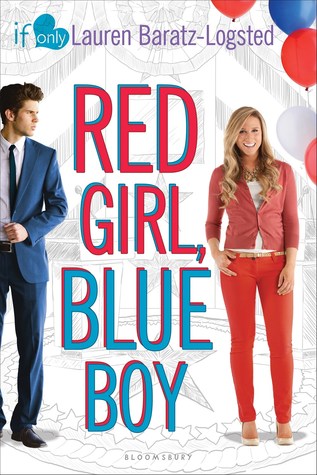 Red Girl, Blue Boy
by
Lauren Baratz-Logsted
Series:
If Only... #5
Published by
Bloomsbury USA Childrens
on October 20, 2015
Genres:
Contemporary
,
Romance
Pages:
304
Goodreads
Buy the Book
Enjoy Red Girl, Blue Boy and the other standalone titles in Bloomsbury's contemporary If Only romance line centered around an impossible problem: you always want what you can't have!

Sixteen-year-old Katie and Drew really shouldn't get along. After all, her father is the Republican nominee for President of the United States while his mother is at the top of the Democratic ticket. But when Katie and Drew are thrown together in a joint interview on a morning talk show, they can't ignore the chemistry between them. With an entire nation tuned into and taking sides in your parents' fight, and the knowledge that—ultimately—someone has to lose, how can you fall in love with the one person you're supposed to hate?

This title in the If Only line is a frank and funny romance that shows how sparks fly when opposites attract.
As you can see from Kassiah's instagram update, we did not like this book. And that surprised us because we like the other books in the If Only line from Bloomsbury, and we were excited to get our hands on this one at TLA. We kept reading this because we really wanted it to get better. We should have flounced while we were ahead. #disappointed
The 411:
The idea for this book is really great: Sixteen year olds Katie and Drew's parents are running for president (his mom, her dad). They're invited on a morning talk show to discuss the campaign, only Drew doesn't show up. Katie calls Drew a wimp on National television, so he feels he has to go on with her to defend his honor. On that show, Katie makes a fool of herself and Drew comes to her rescue, causing them to become America's sweethearts. The pair strike up an unlikely friendship and soon find themselves falling for each other–so much so that Drew shares a secret with her that no one else knows. When things with the campaign heat up, will Katie and Drew find themselves in a doomed relationship or will their short-lived romance fizzle out before that happens?
Sounds good, right?
Well, it would be if the characters, namely Katie, didn't act obnoxious and ridiculous. For someone who is supposedly so smart, she's outright dumb. And we don't use that term loosely. She doesn't know what a landline phone is for God's sake. A phone!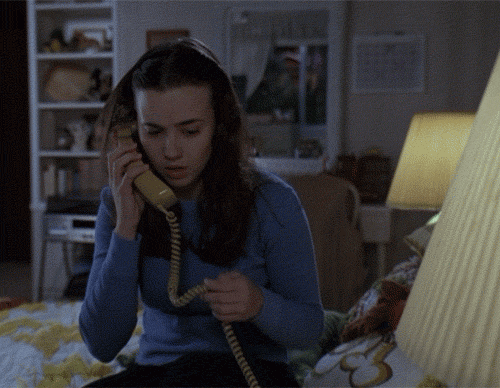 She's supposed to be a brilliant political analyst, right? It's just unbelievable. More on that in just a minute.

What We Loved:
There were a few things we did like about this. Like we said, the idea is genius, just poorly executed. We loved the history that Katie and Drew share, and there were a few swoony moments.
"It's always been you, Kat."
Actually now that we think about it, we did like Drew. His favorite movie of all time is How the Grinch Stole Christmas, and he did actually sing High School Musical with Katie instead of calling her a moron, so bonus points for him. Unfortunately, nothing could save this book for us.

Um...Not So Much:
There are so many instances that we highlighted in this book that were unbelievable, but we'll leave you with our favorite:
So, one time, we're in my garage, she's handing me tools, and she just breaks out into song.

I would never tell her this to her face but, truth time here: girl can't sing. But it's still cute and funny and like nothing any girl has ever done with me before–I mean, there's not even a radio playing to bring this all on–and when she pauses for breath, I can't help myself.

"Kat," I ask, "what are you doing?"

…

"Isn't that what people do when they like each other?" she asks.

"Where'd you get that idea?"

She looks wary now as though sensing a trap, either from me or from life. "High School Musical? she asks as much as answers.

I nearly bust out laughing. Did she really just say what I think she said? Could she possibly be serious? But then I see that she is, indeed, dead serious. Suddenly I don't have the heart to tell her that, one, that's a really old movie; two, no, people don't really do that in real life; and three, she can't really sing.

So, barely able to believe what I'm asking, I ask, "How does that song go again?"

Next thing I know, we're doing a duet.
The characters were not authentic for their age at all. Honestly, we think if they had been 12 or even 10, this story would totally work. She says stuff like "Yipee!" and uses way too many exclamation marks. Also, it was completely unbelievable to us that Drew would share the secret with Katie that he divulges to her. And don't even get us started on their parents. *shakes our heads*

Bottom Line:
A total waste of our time and epic disappointment, Red Girl, Blue Boy could have been awesome but really, really wasn't.

Verdict:
Rating Report
Cover
Characters
Plot
Writing
Swoon
Overall:
1.5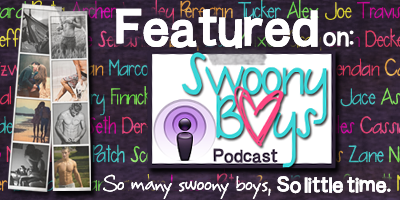 Related Posts