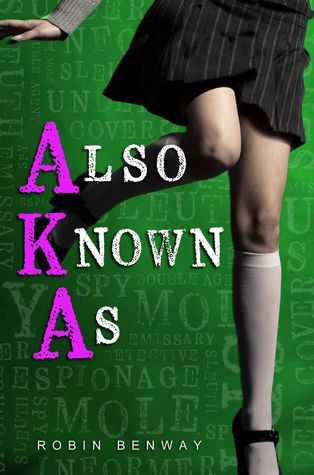 Also Known As
by
Robin Benway
Also by this author:
Going Rogue
Series:
Also Known As #1
Also in this series:
Going Rogue
Published by
Walker Children's
on February 26, 2013
Genres:
Contemporary
Pages:
320
Goodreads
Buy the Book
Which is more dangerous: being an international spy... or surviving high school?

Maggie Silver has never minded her unusual life. Cracking safes for the world's premier spy organization and traveling the world with her insanely cool parents definitely beat high school and the accompanying cliques, bad lunches, and frustratingly simple locker combinations. (If it's three digits, why bother locking it at all?)

But when Maggie and her parents are sent to New York City for her first solo assignment, her world is transformed. Suddenly, she's attending a private school with hundreds of "mean girl" wannabes, trying to avoid the temptation to hack the school's elementary security system, and working to befriend the aggravatingly cute son of a potential national security threat... all while trying not to blow her cover.

From the hilarious and poignant author of Audrey, Wait! comes a fast-paced caper that proves that even the world's greatest spies don't have a mission plan for love.
The 411:
After working with her secret agent parents for most of her life, Maggie finally gets her own assignment: enroll in an exclusive private school and befriend cute boy Jesse Oliver in order to get into his dad's files. Pretty simple, right? It is, until Maggie becomes too attached to her new friends and realizes that there's more to Jesse than just a pretty face.

What We Loved:
We loved so many things about this book, we barely even know where to start. This story is so many things: contemporary romance, action packed drama, and mystery all rolled into one.
Straight Up Real.

We loved how authentic everything felt. Maggie is put in situations that no normal teen would experience, yet she acted like a real person throughout everything. Even with the whole "my parents are spies and I've been a safecracker my entire life," we never found ourselves thinking no way in hell could that happen.

Maggie.

She rebelled, she was snarky. She kicked ass as well as being vulnerable. We ♥ her!

Jesse.

Oh, sweet swoony Jesse. We loved him so much, we made a Swoony Boy File all about him. More on him in just a sec.

Roux.

Maggie's new BFF is a riot. She's totally the kind of girl we could see ourselves hanging with.

The 'Rents.

We really loved the relationship that Maggie had with her mom and dad. Sometimes it's hard for parents to see that their "big picture" isn't the same as their kid's, even when they're mature and they share a close bond. We really liked that even though Maggie's parents didn't agree with what she was doing all the time, they always had her back.

Um…Not So Much:
What's not to like? We didn't agree with some of Maggie's decisions, but we loved this book and can't wait for more from Robin Benway.

The Boys:
Jesse Oliver is one of our favorite swoony boys ever. He's super sweet and funny and smart. We flail whenever he calls her Spy Girl. Did we mention that he's gorgeous? And that he gave her a ring pop? How could we not fall in love with him?
"What other hidden talents do you have?"

"Well, I can't tell you or they wouldn't be–" I lowered my voice dramatically "–hidden. But I have a few skills."

And suddenly I realized that Jesse and I were really close together. More specifically, our mouths were really close together. "Oh," I said. "Um, hi."

"Hi," he whispered back. "This okay?"

"Well, we're already married in New Guinea," I whispered back. "This is just the natural progression of–"

And then he kissed me.
::le sigh::

The Girls:
You already know how much we love Maggie, and her friend Roux. This dynamic duo complete each other in a way that just makes sense for them to BFFs. Kinda like us.

Bottom Line:
If you're looking for an action-packed thrills with lots of flails and girl that totally kicks ass, this is the book for you.
Verdict: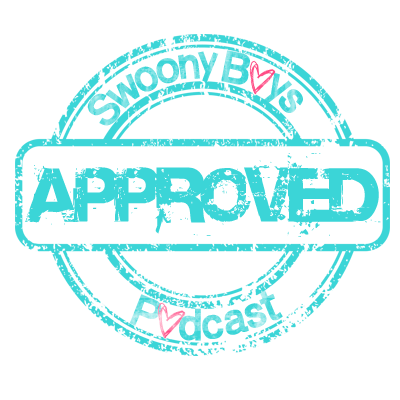 What We Think Will Happen Next:
When we posted our Swoony Boy File for Jesse, we didn't know that there would be more to this story, but Robin Benway tweeted us and said there would be a sequel. *jazz hands* We can only imagine the hijinx they get into next. As long as they all stay together, we're down to ride along.

Other Books by Robin Benway:
Audrey, Wait!, The Extraordinary Secrets of April, May, & June, and Emmy & Oliver (coming out sometime in 2014).
Other Posts About Also Known As:
Rating Report
Cover
Characters
Plot
Writing
Swoon
Overall:
4.5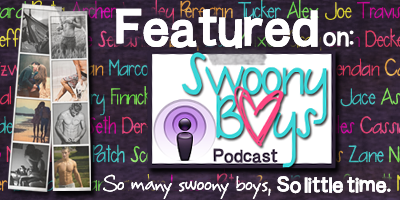 Related Posts