We were so excited to be included on the blog tour for Highly Illogical Behavior by John Corey Whaley today. We've got a fun dream-cast to share with you today, but first, here's the 411 on the book:
***About the Book***
Highly Illogical Behavior
by
John Corey Whaley
Published by
Dial
on May 10, 2016
Genres:
Contemporary
Pages:
256
Goodreads
Buy the Book
Sixteen-year-old Solomon is agoraphobic. He hasn't left the house in three years, which is fine by him.

Ambitious Lisa desperately wants to get into the second-best psychology program for college (she's being realistic). But how can she prove she deserves a spot there?

Solomon is the answer.

Determined to "fix" Sol, Lisa thrusts herself into his life, introducing him to her charming boyfriend Clark and confiding her fears in him. Soon, all three teens are far closer than they thought they'd be, and when their facades fall down, their friendships threaten to collapse, as well.
***Dream Casting***
***About John Corey Whaley***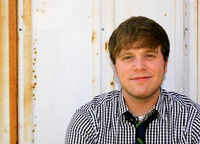 JOHN 'COREY' WHALEY grew up in the small town of Springhill, Louisiana, where he learned to be sarcastic and to tell stories. He has a B.A. in English from Louisiana Tech University, as well as an M.A in Secondary English Education. He started writing stories about aliens and underwater civilizations when he was around ten or eleven, but now writes realistic YA fiction (which sometimes includes zombies…). He taught public school for five years and spent much of that time daydreaming about being a full-time writer…and dodging his students' crafty projectiles. He is terrible at most sports, but is an occasional kayaker and bongo player. He is obsessed with movies, music, and traveling to new places. He is an incredibly picky eater and has never been punched in the face, though he has come quite close. One time, when he was a kid, he had a curse put on him by a strange woman in the arcade section of a Wal-Mart. His favorite word is defenestration. His favorite color is green. His favorite smell is books. He currently splits his time between Louisiana and Los Angeles.
Find John Corey Whaley Here: Website | Facebook | Twitter | Goodreads
***GIVEAWAY***
Win a copy of Highly Illogical Behavior by John Corey Whaley! (US Only)
a Rafflecopter giveaway
What do you think? Have you gotten your ::grabbyhands:: on Highly Illogical Behavior yet?
Related Posts