So many books come out each week that it makes it hard to decide what to read. We want to make that a little bit easier on you by sharing our favorite releases from the week and telling you our top 3 reasons why we think you'll love them too!
This week our selection is Their Fractured Light by Amie Kaufman and Meagan Spooner. Are you ready to hear more about this book and its authors? Here we go…
Their Fractured Light by Amie Kaufman, Meagan Spooner
Also by this author: The Other Side of the Sky
Series: Starbound #3
Published by Disney-Hyperion on December 1, 2015
Genres: Fantasy, Sci-Fi
Pages: 400
Goodreads Buy the Book

A year ago, Flynn Cormac and Jubilee Chase made the now infamous Avon Broadcast, calling on the galaxy to witness for their planet, and protect them from destruction. Some say Flynn's a madman, others whisper about conspiracies. Nobody knows the truth. A year before that, Tarver Merendsen and Lilac LaRoux were rescued from a terrible shipwreck—now, they live a public life in front of the cameras, and a secret life away from the world's gaze.

Now, in the center of the universe on the planet of Corinth, all four are about to collide with two new players, who will bring the fight against LaRoux Industries to a head. Gideon Marchant is an eighteen-year-old computer hacker—a whiz kid and an urban warrior. He'll climb, abseil and worm his way past the best security measures to pull off onsite hacks that others don't dare touch.

Sofia Quinn has a killer smile, and by the time you're done noticing it, she's got you offering up your wallet, your car, and anything else she desires. She holds LaRoux Industries responsible for the mysterious death of her father and is out for revenge at any cost.

When a LaRoux Industries security breach interrupts Gideon and Sofia's separate attempts to infiltrate their headquarters, they're forced to work together to escape. Each of them has their own reason for wanting to take down LaRoux Industries, and neither trusts the other. But working together might be the best chance they have to expose the secrets LRI is so desperate to hide.
3 Reasons You Should Read…
Their Fractured Light
by Amie Kaufman and Meagan Spooner
Amie and Meagan just have a way with words. Everything that we have ever read by either one of them has quickly skyrocketed to our favorites. Together they can do no wrong.
Each time we have been introduced to the new characters in the Starbound Series we think there's no way we could love them as much as we loved the ones before. For the record, we are always wrong. You are going to meet Gideon Marchant and Sofia Quinn and never want their story to end.
If you haven't already started this series of books you are missing out. For lack of a better word, they are AMAZING! There's swoon, adventure, space, humor, swoon, romance, action… and did we mention swoon? Seriously, you guys. You need them in your life and This Fractured Light just further proved it.
***About Amie Kaufman***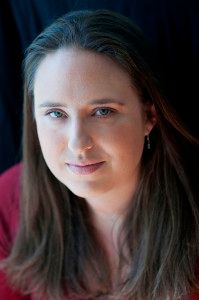 Amie Kaufman is the New York Times bestselling co-author of These Broken Stars and This Shattered World, and Illuminae, the first in a new series starting in 2015. She writes science fiction and fantasy for teens, and her favourite procrastination techniques involve chocolate, baking, sailing, excellent books and TV, plotting and executing overseas travel, and napping.
She lives in Melbourne, Australia with her husband, their rescue dog, and her considerable library. She is represented by Tracey Adams of Adams Literary.
Find Amie Here:
Website | Twitter | Facebook| Goodreads
***About Meagan Spooner***
Meagan Spooner grew up reading and writing every spare moment of the day, while dreaming about life as an archaeologist, a marine biologist, an astronaut. She graduated from Hamilton College in New York with a degree in playwriting, and has spent several years since then living in Australia. She's traveled with her family all over the world to places like Egypt, South Africa, the Arctic, Greece, Antarctica, and the Galapagos, and there's a bit of every trip in every story she writes.
She currently lives and writes in Asheville, North Carolina, but the siren call of travel is hard to resist, and there's no telling how long she'll stay there.
In her spare time she plays guitar, plays video games, plays with her cat, and reads.
Find Meagan Here:
Website | Twitter | Facebook| Goodreads
Related Posts