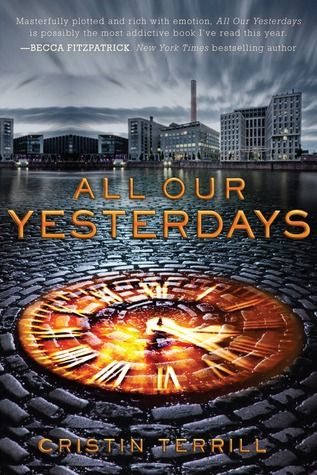 All Our Yesterdays
by
Cristin Terrill
Series:
All Our Yesterdays #1
Published by
Disney-Hyperion
on September 3, 2013
Genres:
Adventure
,
Sci-Fi
Pages:
368
Goodreads
Buy the Book
"You have to kill him." Imprisoned in the heart of a secret military base, Em has nothing except the voice of the boy in the cell next door and the list of instructions she finds taped inside the drain.

Only Em can complete the final instruction. She's tried everything to prevent the creation of a time machine that will tear the world apart. She holds the proof: a list she has never seen before, written in her own hand. Each failed attempt in the past has led her to the same terrible present—imprisoned and tortured by a sadistic man called the doctor while war rages outside.

Marina has loved her best friend James since the day he moved next door when they were children. A gorgeous, introverted science prodigy from one of America's most famous families, James finally seems to be seeing Marina in a new way, too. But on one disastrous night, James's life crumbles apart, and with it, Marina's hopes for their future. Now someone is trying to kill him. Marina will protect James, no matter what. Even if it means opening her eyes to a truth so terrible that she may not survive it. At least not as the girl she once was.

All Our Yesterdays is a wrenching, brilliantly plotted story of fierce love, unthinkable sacrifice, and the infinite implications of our every choice.
The 411:
All Our Yesterdays begins with Em staring at a drain in the floor that she's had an inexplicable preoccupation with since being imprisoned about four months prior. After some planning, she finally uncovers the secret within the drain–a piece of paper, written in her own handwriting, detailing what she has to do:
You have to kill him.
The people who are holding her constantly ask for the location of some mysterious documents. Despite being beaten, she refuses to give up what she considers her last bargaining chip, even when they torture Finn, the boy in the cell next to her. Because of the letter she found in the drain, she knows she and Finn will escape and that they have to fix whatever's going on. The only way to do that is to "kill him."
This story is told in sort-of dual points of view–Marina from four years ago (the point at which everything "started") and Em, who is present-day Marina trying to fix everything. Through Marina (and the past), we learn that James, the genius boy who lives next door, is Marina's best friend who she's a crush on forever. His brother, Nate, is in Congress and has been raising James since their parents were killed when James was twelve years old. Nate tells Marina that he's worried about his brother, and that the research James has been doing has caused him to be almost manic. He asks her to tell him if she notices anything weird going on with him. We find out that James has been working on making time travel a real possibility.
"It's something I've been working on for a long time. I'm finally starting to make some real progress, and those pages there are the crux of my formulations."

"What are they for?"

"Travel in the fourth dimension."

"Huh?"

James's gaze flicks into the rearview mirror and back again. "Time travel."

I've listened to James talk about this for years, so it doesn't faze me, but Finn clicks off his seat belt and scoots up between us. "Say what now?"

"I know it sounds ridiculous, but I think it's possible and Dr. Feinberg agrees. When I finish those formulas, I'll prove it."

"What happens when you prove it?" Finn asks.

"We fix the world."
We know that James is successful, but what happens after that…we can't tell you!

What We Loved:
We loved Finn.  (More on him in just a sec.)  We also really loved Finn and Em's connection to each other throughout the book:
He sighs.  "I just wish I could see you."

I scoot closer to the wall, until I'm pressed against it, and I spread my fingers against the concrete blocks like it's him I'm touching.
We really loved the whole idea of this story.  The way it was told was fast-paced and connected all together pretty well.  We liked the characters; we just felt like there should be more to them.

Um...Not So Much:
For as great as this book was, there are quite a few things that we found to be unexplained or lacking.  One is the world-building aspect.  In this book, there's almost a dystopian quality to the "new world," but there isn't very much of that displayed to us.  There are some references to some past issues undone (like the Euro) but it seems to us that there would be more of that and would have made the motivations of the characters, whether for good or for evil, more believable.
The whole idea of paradoxes kind of goes over our heads, and we didn't feel like we had a good grasp of it, even with the explanations given in the book.  There's also some contradiction that felt unnecessary and just added into our confusion.
There are also some questions about the characters and their motivations, not the least of which is James…James. James. James.  We can't really say what we want here (sorry!) but his motivation seemed clear throughout the book–until the end.  And then we had one of those wtf moments and wondered who he really was all along.  Finding out what we find out about him calls into question not only why he turned into the person he did, but why Marina continued to feel the way she did about him.  Even in the past, James used her, so we don't understand her need to protect him.
Marina's hatred of Finn isn't explained or warranted.  She even tells him she hates him, but we never understood why, other than he took away James's time and focus on her, but is that really reason to hate someone?  ::shrugs::
It seems kind of minor to mention this with all of the other things but her parents and their weird reactions to what's going on don't make sense to us, either.

The Boys:
Finn Abbott.  With his "shaggy blond hair probably in desperate need of a cut", bright ocean blue eyes, and "thin pink lips with one crooked corner always suggesting a mocking smile," the boy just makes us swoon.  He kisses her knuckles and brings her Oreos, even when he's mad and she's breaking his heart.  He always lets her know how he feels and uses what could be his last moment to let her know what she means to him.  Every. Time.
"Finn," I say, "if we can do it, if we change things, I'll never fall in love with you.  And you'll never fall in love with me."

"Don't be so sure," he says, pressing his forehead to mine.  "I think I was in love with you long before any of this started."

I don't know whether I want to laugh or cry.  "Really?"

"Really."  He presses a sweet kiss to my lips.  "There's always hope for us."
James Shaw. We don't really know what to say about him without giving away too much, so we'll just give you his description:
…all tall, dark, and gorgeous.  A couple of years ago, he was just a gangly science kid with oversize ears who was more interested in puzzling out math equations than partying and hooking up with the rest of his classmates.  Then, practically overnight, he shot up six inches, grew into his ears and became hot.
Oh, and he eats an orange.  We will admit to not really understanding his character, though.  There were things that we thought to be absolute truths that we later found out weren't true, and we're not really sure how we feel about that.

The Girls:
Marina/Em.  Both past and present versions of Marina kick ass.  She was fierce but had a vulnerability where James was concerned, and that was her major character flaw to us.  She wanted to protect the past version of herself and seemed to be willing to do anything to do so, but was incapable of following through.  Her indecision weakened the motivation of the storyline to us.
Her.  Marina.  She's in that building somewhere, hurting and confused, probably biting her nails to the quick.  Finn's right.  Marina's the reason I'm doing all of this.  More than anything, what I want is for her to be happy and have the life she deserves.  My love for her is a stronger motivator than my hatred of him could ever be.
Her friends. There aren't a whole lot of moments that we get with other characters, but the ones that we do are fairly authentic.  I liked the camraderie between Marina and her friends before everything happened, back when she was just a girl with a crush.
"I'm serious!" she says.  "You know you're going to have to make the first move with him, right?"

"Totally," Tamsin says.  "But play it cool."

"How do I do that?" I say.  I get shaky and sweaty just thinking about it.  "not all of us have jumped so many boys that it's easy."

"With that boy?" Sophie says.  "I t sure as hell should be easy."

Dream Cast:
We had a really hard time choosing a dream cast for this one. We must have looked at eleventy billion pictures of brown-eyed boys before deciding that we can't cast James yet. But Finn…
Finn's beautiful blue eyes are mentioned several times in All Our Yesterdays and Chace Crawford is a perfect choice for him. ::le sigh::

What We Think Will Happen Next:
We don't really know why there is going to be more to this series–everything seemed to be wrapped up pretty nicely and ending it any other way seems fake.  With that being said, we think lots of things that we didn't love about this book would have been resolved had it originally been planned out as a series (like the need for more character development).  It all really comes down to this, though:  more Finn, please!

Bottom Line:
If you're looking for a fast-paced tale of time travel, deception, and lots of action with a little swoon thrown in, All Our Yesterdays will have you on the edge of your seat right up until the very last page.

Verdict:
Rating Report
Cover
Characters
Plot
Writing
Swoon
Overall:
4
***About the Author***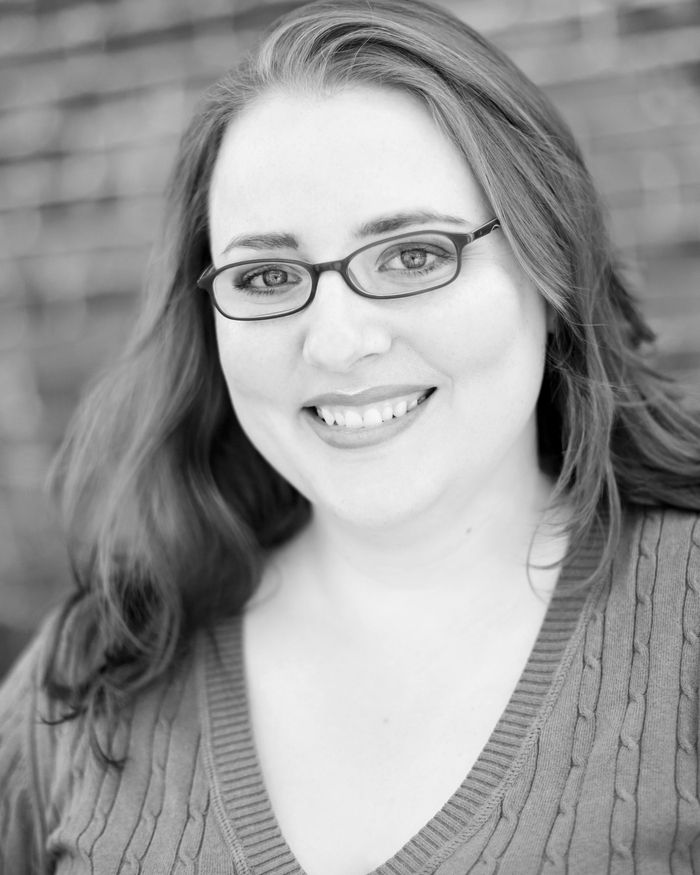 Cristin Terrill is a young adult author and aspiring grown-up. She grew up semi-nomadic and graduated from Vassar College with a degree in drama. After getting her masters in Shakespeare Studies from the Shakespeare Institute in Stratford-upon-Avon, she lived in London, Austin, Boston, and Washington, DC while working as a theatrical stage manager. Now she writes and leads creative writing workshops for DC-area kids and teens. All Our Yesterdays is her first novel.
Find Cristin Here:
Website | Facebook | Twitter | Goodreads
Related Posts