So many books come out each week that it makes it hard to decide what to read. We want to make that a little bit easier on you by sharing our favorite releases from the week and telling you our top 3 reasons why we think you'll love them too!
This week one of our selections is Kingdom of Ash by one of our very favorites, Sarah J. Maas. Are you ready to hear more about this book and its author? Here we go…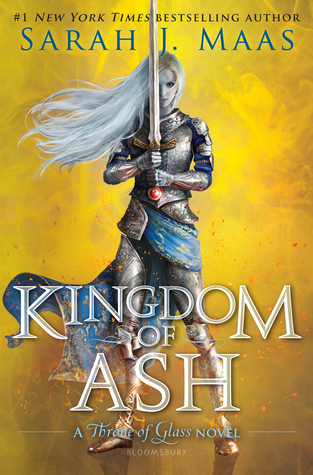 Kingdom of Ash by Sarah J. Maas
Also by this author: Throne of Glass, Crown of Midnight, Heir of Fire, Queen of Shadows
Series: Throne of Glass #7
Also in this series: Throne of Glass, Crown of Midnight, Heir of Fire, Queen of Shadows
Published by Bloomsbury USA Childrens on October 23rd 2018
Genres: Fantasy
Pages: 992
Goodreads Buy the Book

Years in the making, Sarah J. Maas's #1 New York Times bestselling Throne of Glass series draws to an epic, unforgettable conclusion. Aelin Galathynius's journey from slave to king's assassin to the queen of a once-great kingdom reaches its heart-rending finale as war erupts across her world. . .

Aelin has risked everything to save her people―but at a tremendous cost. Locked within an iron coffin by the Queen of the Fae, Aelin must draw upon her fiery will as she endures months of torture. Aware that yielding to Maeve will doom those she loves keeps her from breaking, though her resolve begins to unravel with each passing day…

With Aelin captured, Aedion and Lysandra remain the last line of defense to protect Terrasen from utter destruction. Yet they soon realize that the many allies they've gathered to battle Erawan's hordes might not be enough to save them. Scattered across the continent and racing against time, Chaol, Manon, and Dorian are forced to forge their own paths to meet their fates. Hanging in the balance is any hope of salvation―and a better world.

And across the sea, his companions unwavering beside him, Rowan hunts to find his captured wife and queen―before she is lost to him forever.

As the threads of fate weave together at last, all must fight, if they are to have a chance at a future. Some bonds will grow even deeper, while others will be severed forever in the explosive final chapter of the Throne of Glass series.
3 Reasons You Should Read…
Kingdom of Ash by Sarah J. Maas
Today is the day we get our hands on the conclusion of the Throne of Glass series. Is this real life? Is it really happening. Are we ready? Are you?
From the second we closed Tower of Dawn (and told it how angry we were at it and how desperate we were for the next book and everything to be fixed!) we have been waiting for this day. Aelin, Chaol, Manon, Rowan and Dorian here we come. Be kind to us. Please.
If you haven't started this series, go grab them all now. If you have been reading from the beginning, hold our hands and join us in the conclusion. #AllTheFeels
Related Posts