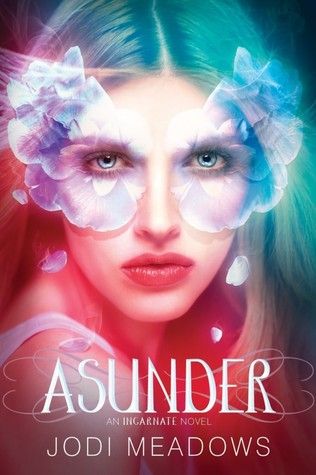 Asunder
by
Jodi Meadows
Also by this author:
Incarnate
,
The Orphan Queen
Series:
Newsoul #2
Also in this series:
Incarnate
Published by
Katherine Tegen Books
on January 29, 2013
Genres:
Dystopian
,
Fantasy
Pages:
406
Goodreads
Buy the Book
DARKSOULS
Ana has always been the only one. Asunder. Apart. But after Templedark, when many residents of Heart were lost forever, some hold Ana responsible for the darksouls–and the newsouls who may be born in their place.

SHADOWS
Many are afraid of Ana's presence, a constant reminder of unstoppable changes and the unknown. When sylph begin behaving differently toward her and people turn violent, Ana must learn to stand up not only for herself but for those who cannot stand up for themselves.

LOVE
Ana was told that nosouls can't love. But newsouls? More than anything, she wants to live and love as an equal among the citizens of Heart, but even when Sam professes his deepest feelings, it seems impossible to overcome a lifetime of rejection.

In this second book in the Newsoul trilogy, Ana discovers the truth about reincarnation and will have to find a way to embrace love and make her young life meaningful. Once again, Jodi Meadows explores the extraordinary beauty and shadowed depths of the soul in a story equal parts epic romance and captivating fantasy.
The 411:
Asunder picks up right after Incarnate ends, and we find Ana questioning her existence:
My life was a mistake.

As long as I'd been alive, I'd wanted to know why I'd been born.  Why, after five thousand years of the same souls being reincarnated, my soul had slipped through the cracks of existence and burdened the people of Heart with such newness.

No one could tell me how I happened, not until the night I'd found my way into the temple with no door, trapping myself with the entity called Janan.

"Mistake," he'd said.  "You are a mistake of no consequence."

I knew, as I'd always known, I was a soul asunder.
We follow Ana and Sam as they try to figure out how to stop Janan with his evil plan while navigating through being together in spite of the scorn of most of their society. They enlist the help of friends, some new and some old, to discern what the clues she took from the Temple mean.  When more newsouls are born, Ana feels like she has a real purpose.
"But it's not enough.  You saw what happened in there.  People were anxious to welcome back a friend, and then it was terrible.  Within minutes, people were talking about killing him.  If that's any indication of the rest of the city's reaction to his birth, when other newsouls start coming, there won't be anywhere safe.  Not in the city.  I need to make it safe.  Somehow."
We wish that we could tell you more about what happens in Asunder, but we feel like we can't without being too spoilery.

What We Loved:
We really loved Incarnate, especially how swoony Sam was and how much we loved him.  We didn't get that in this book, and we didn't like this one as much.  Fear not!  There is some swoon:
I lost myself in the brush of his lips, the thrill of his fingers against my cheek and neck and shoulder, and thump of his heartbeat under my palm.  So engaged in the way his mouth fit with mine, I almost missed the purr of my coat being unzipped.  When he paused his kissing, I stepped back, and he slipped my coat off my shoulders; I dropped my arms and the cloth fell with a soft whump.
You know how we are about boys that unzip jackets. lol  Something else that we liked was Ana's vulnerability when thinking about Sam being with other people in all of his other lifetimes.
I pressed my hands over my mouth as though I could smother the stab of hurt.  Why couldn't Sam really be a boy my age, with no more experience than I had?  No past lives, past loves.

Why couldn't he be only for me?

Um...Not So Much:
You know how it often is with second books–they feel like they're so transitory. That's how we felt about this book. A lot of stuff happens, but at the same time, it feels to us like the overall storyline didn't move forward.
We also didn't like that we barely remembered what was going on. That's our fault, and we think if we had read Incarnate and Asunder back to back, we wouldn't feel that way. As it is, we know we're going to have to read them both before the last book in the trilogy is released. There's something else, but it's majorly spoilery, so you'll have to highlight it to see it:
View Spoiler »
Even after Sam tells Ana that he loves her, she cannot tell him that she feels the same way. She questions her ability to love throughout the entire book. To us, this doesn't work because Ana has always felt like she is more than just being a newsoul. Ana would know without question that she loved Sam, even if she was worried that he wouldn't think her feelings could be real. It was backwards to us, and really dampened our love for the book, the series, and especially Ana. « Hide Spoiler

The Boys:
Sam.  We might love him even more after reading Asunder than we did in Incarnate, and that's a lot.  He's still loyal and swoony, and we love that he has character growth, despite being around for 5,000 years.  We love how much he loves Ana.
"When we first met, you asked about the scariest think I could think of."

…

"I remember," I whispered.  "You said not knowing what would happen if you died and didn't come back.  Where would you go?  What would you do?"  My gut twisted.

"When I couldn't find you that night, I realized that wasn't my answer anymore."  He pulled my hand up, placed it over his heart.  The beat raced under my fingertips.  If you asked me now, I'd say the scariest thing I can imagine is losing you."

I didn't know how to respond.

…

When each finger had a kiss, he turned my hand palm up and cupped it over his cheek.  "You're part of me, part of my existence."  Muscles in his jaw shifted under my fingers.  "Everything was dimmer without you."
We also loved Cris, but we can't really tell you anything about him without giving everything away.

The Girls:
Ana. Even though we didn't love some things about her, we loved that Ana seemed to go into fierce protector-mode in this book.
My courage was as thin as silk, but I held it around me like armor and urged myself up the stairs, dragging the remains of my dignity.
We know we didn't mention the other characters in our review for Incarnate, but we do recognize the importance of their friends in the series.  We love that Ana found what it meant to have true friendship and that they were there to love and support her, and offer her advice when needed:
"Just accept it, Ana. You can't stop your friends from loving you. You can't stop Sam from feeling the way he does. You know I admire that you question things, but this – this doesn't have to be one of them."

What We Think Will Happen Next:
There are so many possibilities, and so many things left open, we honestly have no idea how Meadows will pull this off with just one more book.  We can't wait to find out what happens!

Bottom Line:
With even more to the story than we could have ever dreamed, Jodi Meadows weaves together words and characters that make us anxious for more.

Verdict:
Rating Report
Cover
Characters
Plot
Writing
Swoon
Overall:
3.5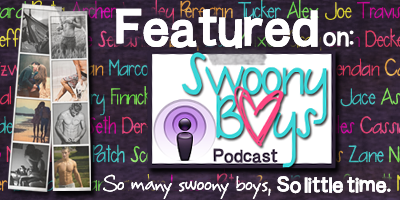 Related Posts