So many books come out each week that it makes it hard to decide what to read. We want to make that a little bit easier on you by sharing our favorite releases from the week and telling you our top 3 reasons why we think you'll love them too!
This week our selection is The Problem With Forever by Jennifer L. Armentrout. Are you ready to hear more about this book and its author? Here we go…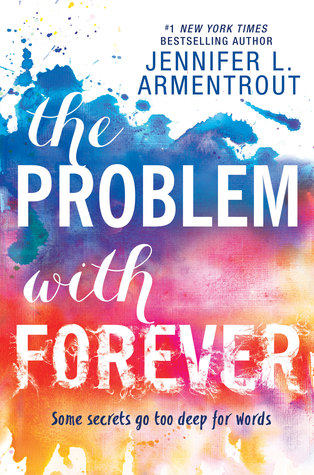 The Problem with Forever
by
Jennifer L. Armentrout
Also by this author:
Wait for You
,
Don't Look Back
Published by
Harlequin Teen
on May 17, 2016
Genres:
Contemporary
Pages:
480
Goodreads
Buy the Book
For some people, silence is a weapon. For Mallory "Mouse" Dodge, it's a shield. Growing up, she learned that the best way to survive was to say nothing. And even though it's been four years since her nightmare ended, she's beginning to worry that the fear that holds her back will last a lifetime.

Now, after years of homeschooling with loving adoptive parents, Mallory must face a new milestone—spending her senior year at public high school. But of all the terrifying and exhilarating scenarios she's imagined, there's one she never dreamed of—that she'd run into Rider Stark, the friend and protector she hasn't seen since childhood, on her very first day.

It doesn't take long for Mallory to realize that the connection she shared with Rider never really faded. Yet the deeper their bond grows, the more it becomes apparent that she's not the only one grappling with the lingering scars from the past. And as she watches Rider's life spiral out of control, Mallory faces a choice between staying silent and speaking out—for the people she loves, the life she wants, and the truths that need to be heard.
3 Reasons You Should Read…
The Problem With Forever
by Jennifer L. Armentrout
You guys, we have a confession. We love Mallory. A lot. Like, a whole lot. We felt for her from page one and we rooted for her all the way until the end. We have this feeling that you are all going to feel the exact same way. She's not your typical heroine, and that's the thing we love the most.
HOLY SWOON BATMAN. We all already know that Jennifer can write one heck of a swoony boy. Rider is no exception. You are going to fall for this fella hard. For real.
This story touches on so many important issue. Anxiety, foster care, adoption, high school drama, teen romance, and so much more. As usual Jenn is able to touch on all these things in a relatable and realistic way. You don't want to miss this story. Go grab a copy now!
***About Jennifer L. Armentrout***
# 1 New York Times and USA Today Bestselling Author Jennifer L. Armentrout Lives in West Virginia.
All the rumors you heard about her state aren't true.
Well, mostly. When she's not hard at work writing, she spends her time, reading, working out, watching zombie movies, and pretending to write.
She is the author of the Covenant Series (Spencer Hill Press), the Lux Series (Entangled Teen), Don't Look Back (Disney/Hyperion) and a yet untitled novel (Disney/Hyperion), and new YA paranormal series with Harlequin Teen.
Jennifer also writes New Adult and Adult romance under the pen name J. Lynn. The Gamble Brothers Series (Tempting the Best Man/Tempting the Player) and Wait for You. Under her pen name, she is published with Entangled Brazen and HarperCollins.
Find Jennifer L. Armentrout Here:
Website | Twitter | Facebook| Goodreads
Related Posts