So many books come out each week that it makes it hard to decide what to read. We want to make that a little bit easier on you by sharing our favorite releases from the week and telling you our top 3 reasons why we think you'll love them too!
This week our selection is Wonder Woman: Warbringer by the amazing, wonderful, and most awesom-est Leigh Bardugo! Are you ready to hear more about this book and author? Here we go…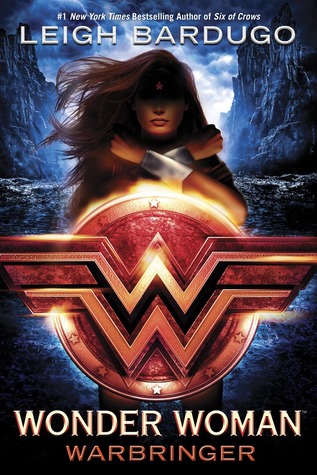 Wonder Woman: Warbringer by Leigh Bardugo
Also by this author: Slasher Girls and Monster Boys
Series: DC Icons #1
Published by Random House, Random House Books for Young Readers on August 29th, 2017
Genres: Fantasy, Superheroes
Pages: 384
Goodreads Buy the Book

She will become one of the world's greatest heroes: WONDER WOMAN. But first she is Diana, Princess of the Amazons. And her fight is just beginning. . . .

Diana longs to prove herself to her legendary warrior sisters. But when the opportunity finally comes, she throws away her chance at glory and breaks Amazon law—risking exile—to save a mere mortal. Even worse, Alia Keralis is no ordinary girl and with this single brave act, Diana may have doomed the world.

Alia just wanted to escape her overprotective brother with a semester at sea. She doesn't know she is being hunted. When a bomb detonates aboard her ship, Alia is rescued by a mysterious girl of extraordinary strength and forced to confront a horrible truth: Alia is a Warbringer—a direct descendant of the infamous Helen of Troy, fated to bring about an age of bloodshed and misery.

Together, Diana and Alia will face an army of enemies—mortal and divine—determined to either destroy or possess the Warbringer. If they have any hope of saving both their worlds, they will have to stand side by side against the tide of war.
3 Reasons You Should Read…
Wonder Woman: Warbringer
by Leigh Bardugo
Let's start this off by saying that we would read ANYTHING that Leigh writes. Anything. But add that to Wonder Woman and you have every ounce of our attention. We've been so excited to check this one out ever since we caught wind of it. It didn't disappoint. At all.
It's all about characters for us and while we knew we would love reading more about Diana, we didn't realize how much we'd love the rest of this diverse crew. Alia, Theo, Nim, and Jason all kept us captivated and the dialogue/banter between them was one of our favorite parts of this read.
Warbringer at its core is a book about female empowerment and friendship, but it's also more than that. It's action, plot twists, humor, mythology, a tiny bit of romance, and plenty of action. Basically, it's everything. Whether you're already a Wonder Woman fan, or new to the DC Universe, you need to get this one in your hands today.
Sister in battle, I am shield and blade to you. As I breathe, your enemies will know no sanctuary. While I live, your cause is mine.
Rating Report
Cover
Characters
Plot
Writing
Swoon
Overall:
5
***Meet Leigh Bardugo***
Leigh Bardugo is a #1 New York Times bestselling author of fantasy novels and the creator of the Grishaverse. With over one million copies sold, her Grishaverse spans the Shadow and Bone Trilogy, the Six of Crows Duology, and The Language of Thorns— with more to come. Her short stories can be found in multiple anthologies, including The Best of Tor.com and the Best American Science Fiction & Fantasy. Her other works include Wonder Woman: Warbringer, and the forthcoming Ninth House. Leigh was born in Jerusalem, grew up in Southern California, graduated from Yale University, and has worked in advertising, journalism, and even makeup and special effects. These days, she lives and writes in Los Angeles, where she can occasionally be heard singing with her band.
Find Leigh Here:
Website | Twitter | Instagram| Goodreads
Save
Save
Related Posts