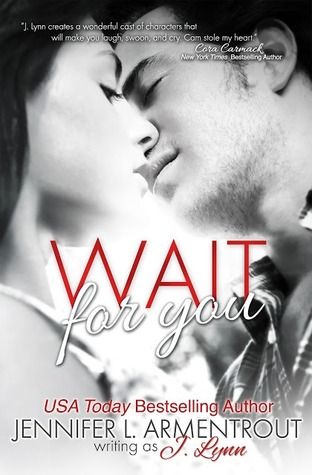 Wait for You
by
Jennifer L. Armentrout
Also by this author:
Don't Look Back
Series:
Wait for You #1
Published by
William Morrow
on February 26, 2013
Genres:
Contemporary
,
New Adult
Pages:
332
Goodreads
Buy the Book
Some things are worth waiting for…

Traveling thousands of miles from home to enter college is the only way nineteen-year-old Avery Morgansten can escape what happened at the Halloween party five years ago—an event that forever changed her life. All she needs to do is make it to her classes on time, make sure the bracelet on her left wrist stays in place, not draw any attention to herself, and maybe—please God—make a few friends, because surely that would be a nice change of pace. The one thing she didn't need and never planned on was capturing the attention of the one guy who could shatter the precarious future she's building for herself.

Some things are worth experiencing…

Cameron Hamilton is six feet and three inches of swoon-worthy hotness, complete with a pair of striking blue eyes and a remarkable ability to make her want things she believed were irrevocably stolen from her. She knows she needs to stay away from him, but Cam is freaking everywhere, with his charm, his witty banter, and that damn dimple that's just so… so lickable. Getting involved with him is dangerous, but when ignoring the simmering tension that sparks whenever they are around each other becomes impossible, he brings out a side of her she never knew existed.

Some things should never be kept quiet…

But when Avery starts receiving threatening emails and phone calls forcing her to face a past she wants silenced, she's has no other choice but to acknowledge that someone is refusing to allow her to let go of that night when everything changed. When the devastating truth comes out, will she resurface this time with one less scar? And can Cam be there to help her or will he be dragged down with her?

And some things are worth fighting for…
The 411:
After being assaulted and shunned by nearly everyone in her community (including her parents), freshman Avery Morgansten moves thousands of miles away to attend college. There she meets and falls for gorgeous and sweet Cameron Hamilton, who shows her that she's someone worth waiting for. As Avery lets down her guard little by little to allow Cam into her heart, she tries to move on from her past. When she starts receiving mysterious letters and phone calls, she has no choice but to tell Cam everything, even if it means losing him forever.

This book deals with some very sensitive topics, including rape, bullying, and attempted suicide. We think it was all handled very well, but be warned in case any of those are sensitive topics for you.
What We Loved:
We loved lots of things about this book, but probably what we loved the most (besides Cam) is the development of Avery and Cam's relationship. He was straightforward and amazing, and even though we wanted to shake Avery sometimes and ask her what the hale she was thinking by not falling into his arms immediately, it totally made sense for her character not to. We loved that there wasn't insta-love here. It gave us the chance to fall in love with Cam, right along with Avery.
We love the New Adult genre, and this is one of our faves. It was drool-worthy hot.
"Fuck, Avery. You think I don't want you?" His voice came out low, almost a growl. "There's not a single part of you that I don't want, you undertand? I want to be on you and inside of you. I want you against the wall, on the couch, in your bed, in my bed, and every fucking place I can possibly think of, and trust me, I have a vast imagination when it comees to these kinds of things. Don't ever doubt that I want you. That is not what this is about."

Um…Not So Much:
The editing on this book was without a doubt the worst editing job we've ever read. Maybe we're exaggerating slightly, but…no. We don't think so. We bought this book from amazon the day it was released. We've heard that it was updated and corrected, but even then it's still in need of editing. We hope it's much better because we want everyone to read this book. The terrible editing made us drop the writing score down to a 1.5, and that was being generous. Without that, this would probably have been a 4.5 for us.
We also didn't love the "big reveal". It was a let down and didn't seem realistic. That's all we can say about that.

The Boys:
Cam. Donut even get us started on this boy. Cameron Hamilton is sweet and hot and patient and gorgeous.
Sweet baby Jesus, Blue Eyes was…

He was gorgeous in all the ways that made girls do stupid things. He was tall, a good head or two taller than me and broad at the shoulders, but tapered at the waist. An athlete's body–like a swimmer's. Wavy black hair toppled over his forehead, brushing matching eyebrows. Broad cheekbones and wide, expressive lips completed the package created for girls to drool over. And with those sapphire-colored eyes, holy moley…
He's more than just amazing good looks. Cam is smart, drinks orange juice, and bakes cookies. He's willing to wait for Avery to come around.
"You just don't have to be. I want to be here with you, Avery. You don't have to worry about impressing me or wowing me. You've already done that."
He's so swoony. And he calls Avery pretty. Did we mention that he has a pet turtle…named Raphael?
*swoon*
Jacob. Jacob and Avery become friends at freshman orientation. He's funny and is such a good friend to Avery. We also love his sort-of obsession with Cam.
I don't know how you do it, Avery. If I lived across the hall from him, I'd be plastered to his front door noon to midnight. And I'd be all over his cookies. Yum."

Waving a hand in front of my face, I shook my head. "You can have his cookies."

"Oh, honey, if he swung batter-batter for my team, I'd be all over that in a heartbeat."
Ollie. Ollie is Cam's roommate, and he's pretty awesome. He's funny and a great friend. We're hoping that we'll be seeing more of him in the future *puppy dog eyes*

The Girls:
Avery. One of the things that we liked the most about Avery was how real she was. She's dealt with a terrible ordeal in her life, so her hesitance in having a relationship with anyone totally makes sense. There were definitely times we wanted to scream at her, but we got why she acted the way she did.
Brittany. Avery's friend is funny and loyal and the best sort of friend to have. We really hope we get to see more of her.

Bottom Line:
Despite its terrible editing, Wait for You has a great story with characters that we loved and one of the swooniest guys we've ever read.
Verdict: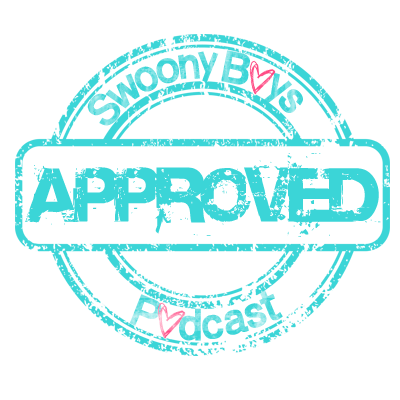 Dream Cast: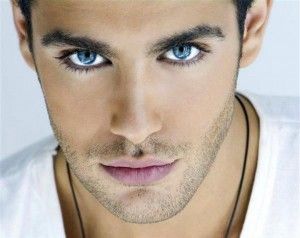 We have no idea who this boy is, but he's the dreamcast author J. Lynn chose. He definitely works for us, too *gah*
What We Think Will Happen Next:
We're beyond thrilled that there will be more books in this series. We really hope we get more of all of the characters we love. And of course, we want more of Cam and Avery!

Other Books by Jennifer L. Armentrout (aka J. Lynn):
Cursed (YA)
Don't Look Back, coming 2014 (YA)
Covenant Series (YA):
#0.5: Daimon, #1: Half-Blood, #2: Pure, #3: Deity, #3.5: Elixir, #4: Apollyon, #5: Sentinel (coming November 2013)
Lux Series (YA): #0.5: Shadows, #1: Obsidian, #2: Onyx, #3: Opal, #4: Origin (coming August 2013),
#5: the Untitled Finale (coming 2014), Adult Spin-off: Obsession
The Dark Elements Series (YA): #0.5: Bitter Sweet Love (coming December 2013), #1: White Hot Kiss (coming December 2013), #2: Untitled
Wait for You Series (NA): #1: Wait for You, #1.5: Trust in Me, #2: Be with Me (coming February 2014), #3: Untitled (release date TBA)
The Gamble Brothers Series (adult): #1: Tempting the Best Man, #2: Tempting the Player, #3: Tempting the Bodyguard (Coming November 2013)
Rating Report
Cover
Characters
Plot
Writing
Swoon
Overall:
3.5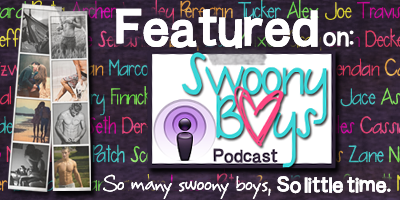 Related Posts