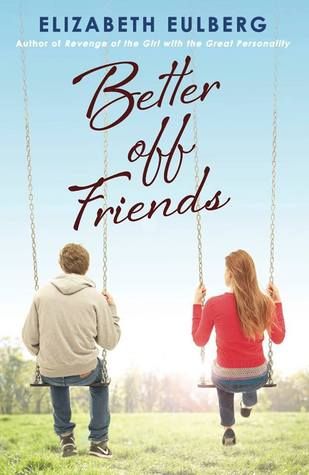 Better Off Friends
by
Elizabeth Eulberg
Published by
Point
on February 25, 2014
Genres:
Contemporary
Pages:
276
Goodreads
Buy the Book
For Macallan and Levi, it was friends at first sight. Everyone says guys and girls can't be just friends, but these two are. They hang out after school, share tons of inside jokes, their families are super close, and Levi even starts dating one of Macallan's friends. They are platonic and happy that way.

Eventually they realize they're best friends -- which wouldn't be so bad if they didn't keep getting in each other's way. Guys won't ask Macallan out because they think she's with Levi, and Levi spends too much time joking around with Macallan, and maybe not enough time with his date. They can't help but wonder . . . are they more than friends or are they better off without making it even more complicated?

From romantic comedy superstar Elizabeth Eulberg comes a fresh, fun examination of a question for the ages: Can guys and girls ever really be just friends? Or are they always one fight away from not speaking again -- and one kiss away from true love?
The 411:
Macallan Dietz isn't impressed when she first lays eyes on new kid Levi Rodgers on the first day of seventh grade. That quickly changes when they realize they're both fans of the same British comedy show.  Throughout the story, we follow Macallan and Levi as they navigate high school, discover who they are, and experience the ups and downs of roller-coaster relationships (including their own).

What We Loved:
BFFs to more is one of our absolute favorite storylines, which made us put Better Off Friends at the top of our must-have list. We loved this story so much!
We loved the way this story played out and how authentic it was. Levi and Macallan dealt with so many things from their other friends–asking if they were a couple (and not believing they were just friends), asking for hookups with the other one, not understanding the importance of their relationship, forcing them to keep secrets. They're both strong characters with amazing individual personalities, yet they face vulnerabilities in discovering who they are apart from their relationship with each other, and I loved that.
This story is told in alternating first-person points of view, which we always love. Between each chapter is a brief conversation between Levi and Macallan, which gives us even more insight to their characters and the way they interact with each other.
We loved the way the story played out; the pacing was perfect, and this is a quick read for sure.

Um...Not So Much:
We pretty much liked everything in this story.  There are things that happen that we didn't like (understatement), but they were true to the characters.  We would have liked more to the ending though, but that's pretty much the story of our lives.

The Boys:
Levi is a funny guy. His best friend is a girl, and he loves her, but he wants–needs–to have independence and do "guy" stuff. Witnessing Levi's transformation from boy to man is pretty spectacular, and we loved him (most of the time). He's a great best friend:
"I know I've been a total idiot lately and haven't really been around. And I'm sorry for that, too. I know I don't know a a lot, but I do know is that I'm going to be here. Whatever you need, whenever you need it, you know you can count on me, don't you? Nothing will ever change that. Nothing. You know that right?"
He's adorable:
…when you're best friends with a girl and you blather on and on, she kisses you to make you shut up.

When it first happened, I was shocked and confused for the first 1.3 seconds. I was a little disappointed when she pulled away and acted like nothing had happened.

And people think guys don't get attached when things get physical.

Of course, I tried to get her to kiss me again. But she didn't fall for it. Anytime I'd be purposely annoying to her, I'd say, "Uh-oh, somebody better get me to shut up," and then pucker my lips.
He's swoony:
I ran faster than I'd ever run before. There wouldn't have been a one-tenth difference that day. I would've blown away every last runner that time. Because at the end of this finish line wasn't a trophy–it was Macallan.
Despite the fact that he does and says some douchebag things, we loved him. He's so authentic, and he's definitely one of our favorite swoony boys.
Liam O'Dwyer is a boy Macallan meets in Ireland. He's sweet and swoony, and he gives great advice.
"I'll make it simple for you," he said, leaning in. "If you want to be with him, be with him."
There are other boys. Whatever.

The Girls:
Macallan was so complex. She's dealt with pain in her life, and she's such a strong character. She's smart and funny and fights (literally) for what she believes in.
Emily is Macallan's best girl friend, and we didn't like her from the beginning. That dislike quickly turned in to full-on hate, but we can accept that sometimes there are gray areas and friends get put in the middle. There were other girls, and we liked and didn't like them. We didn't want to like Stacey at first but ended up really liking her.

Bottom Line:
A fast-paced super sweet coming-of-age tale of first loves and true friendship that poses an answer to the age-old question: can girls and guys really be just friends?
Sure they can.  But why stop there?

Verdict:
Rating Report
Cover
Characters
Plot
Writing
Swoon
Overall:
4.5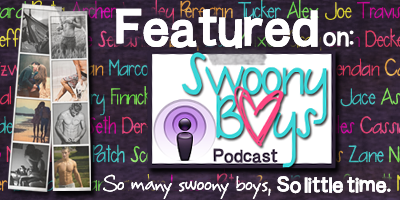 Related Posts