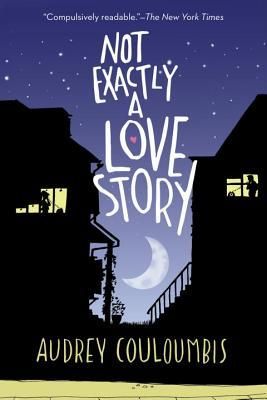 Not Exactly a Love Story
by
Audrey Couloumbis
Published by
Random House Books for Young Readers
on December 11, 2012
Genres:
Contemporary
Pages:
288
Goodreads
Buy the Book
It's 1977.

Fifteen-year old Vinnie isn't having a good year. He's recovering from the worst case of galloping acne his dermatologist's ever seen. His girl moved to California without even saying good-bye. And the ink on his parents divorce papers is barely dry, when his mom announces that they're moving from Queens to Long Island.

The silver lining in all this is that they move next door to Patsy—everyone's dream girl. Not that she'd ever notice him. But when Vinnie calls Patsy one night, it leads to a chain of anonymous midnight conversations. Under the cover of darkness, Vinnie becomes Vincenzo, Patsy's mystery caller, and the two share a side of themselves they would never reveal in daylight and develop a surprisingly real connection (despite the lies it's built on). As Vinnie gets to know Patsy in real life though, it becomes clear both identities can't survive and he'll have to find a way to hangup the phone and step into the daylight.

Fraught with complications and crackling with witty dialogue, and all the angst and electricity that comes with always being just a phone wire away from the one you want, acclaimed author Audrey Couloumbis's YA debut is a smooth-talking Cyrano meets Saturday Night Fever and tells a quirky, flirty, and smart story that will appeal to fans of Stephen Chbosky's The Perks of Being a Wallflower, Frank Portman's King Dork, Natalie Standiford's How to Say Goodbye in Robot, and John Green's An Abundance of Katherines.

It's not exactly a love story . . . but it's pretty close.

The 411:
It's 1977, and fifteen-year-old Vinnie is growing up in New York and dealing with parents getting divorced, having to move from the only home he's ever known, unrequited love, and his mom dating his gym teacher.
I couldn't seem to recover from one blow before another followed. No one tells you how things really are. Everything comes in waves, one rolling in after the other, and in case you're thinking that doesn't sound so bad, keep this in mind: that's how huge rocks, boulders, become sand on the beach.
Vinnie unexpectedly ends up with a phone number.
I imagined calling her. I thought about the dimple in her cheek, and about hearing that smile in her voice. I could say I was new in town. We could talk a little, discover we had a few things in common. Then I would say I'd seen her at the bus stop. I'd describe myself, she would remember me. "You're that dork in the leather pants," Patsy would say. And that would be that. I didn't plan to ask her out. What would be the point? I didn't expect to use the number at all. It was enough just to have it.
He does get the gumption to call her. What he says to her shocks both of them. And this is how he begins his nightly calls to Patsy, the pretty, unattainable girl who lives next door. When he's making his calls, he transforms from awkward gangly Vinnie into Italian stud Vincenzo, and Patsy is definitely intrigued. Vincenzo is practically invincible.
…I turned on the radio, unbuttoned a couple of shirt buttons, and flipped up my collar. Vincenzo was cooking tonight.
Their relationship progresses and they both want more:
I really wanted to be Patsy's friend, not just over the phone, but sitting in class, standing in line in the cafeteria, riding the bus. I wanted Patsy to want me, Vinnie Gold, to give her a valentine.
But Vinnie knows that he can't ever live up to the Vincenzo in Patsy's mind. They eventually start spending some time together, and Patsy knows that Vinnie exists–she just doesn't suspect that he could be the real Vincenzo.
"Suppose this is my false face. What if I'm just talking a good game now, while you can't see me for who I really am–that loser who passes you in the hallway at school. Maybe being an obscene caller is the best I can aspire to." "I guess you could have a mask for these talks," she said. "I hadn't thought of that, but I can handle it." "Handle what?" "That maybe it's not just that you're somebody I've always overlooked. Maybe you're somebody I wanted to overlook."
We're not going to tell you how the whole story plays out, but we will tell you that it involves some high-school hi-jinx (including a dance and a cape), and we really enjoyed it a lot.

What We Loved:
We loved Vinnie's alter ego and how authentic he was.  The storyline was pretty original, too. Parts of it reminded us of the movie You've Got Mail combined with Cyrano de Bergerac and a little of That 70s Show thrown in.

The Boys:
Vinnie Gold (aka Vincenzo). We really liked Vinnie's character.  He was just a regular guy, with regular guy problems.  We loved that he wasn't willing to just lay down and do anything for Patsy–he wanted her to actually like him.  He was sweet and crude and awkward and just wanted a girl to notice there was more to him than what she saw at first (or second) glance.  Oh, and he likes to drink orange juice from the carton.

The Girls:
Patsy was vapid at times, but she owned it, and we got why Vinnie liked her.

Bottom Line:
Not Exactly a Love Story isn't your typical run-of-the-mill profound coming of age story, but it was meaningful and a fun, quick read.

Verdict:
Rating Report
Cover
Characters
Plot
Writing
Swoon
Overall:
4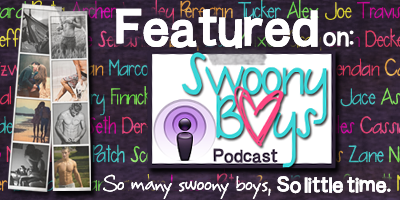 Related Posts