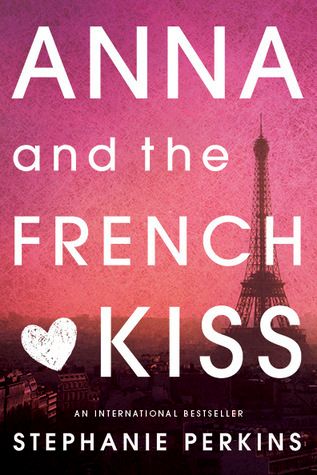 Anna and the French Kiss
by
Stephanie Perkins
Also by this author:
Lola and the Boy Next Door
,
Isla and the Happily Ever After
,
My True Love Gave to Me: Twelve Holiday Stories
Series:
Anna and the French Kiss #1
Also in this series:
Lola and the Boy Next Door
,
Isla and the Happily Ever After
Published by
Dutton Juvenile
on December 2, 2010
Genres:
Contemporary
Pages:
372
Goodreads
Buy the Book
Anna is looking forward to her senior year in Atlanta, where she has a great job, a loyal best friend, and a crush on the verge of becoming more. Which is why she is less than thrilled about being shipped off to boarding school in Paris--until she meets Étienne St. Clair. Smart, charming, beautiful, Étienne has it all...including a serious girlfriend.

But in the City of Light, wishes have a way of coming true. Will a year of romantic near-misses end with their long-awaited French kiss?
OMG you guys! We cannot tell you how excited and just…*swoony* we're feeling about Anna and the French Kiss by Stephanie Perkins!! We're almost nervous to review this book because we ♥ it so much– and we want every single one of you to read it. (Side note: It's been almost 4 years since Anna came out and there was no way we couldn't share our favorite lines. This is your warning that there might be a spoilerish quote or two!)
******
The 411:
Anna is a seventeen-year-old girl who loves film, hates germs, and has a happy life living with her mom and little brother. She fills her days spending time with her kick-ass best friend, Bridgette, and crushing on the guy she works with at the local theater. Her father is a cheesy, tragic-romance Nicholas Sparksy-kind of writer and, deciding that she needs some "culture" in her life, sends her to boarding school in Paris for her senior year of high school.
Needless to say, Anna is not happy about that. But pretty much as soon as she gets to school, she meets and becomes fast friends with Meredith, the quirky girl who lives next door in her dorm. Meredith introduces her to her friends Josh and Rashmi (who are a couple) and St. Clair (who has a girlfriend).
Anna is welcomed into the group pretty easily, and St. Clair (which is what pretty much everyone calls Étienne) guides her through her experience being in a new school in a foreign country. Étienne has a serious girlfriend, Anna still likes someone back home, and Meredith is obviously is crushing on Étienne, so Anna knows that he's totally off-limits even without the girlfriend.
But she just can't help herself. And he seems to like her, too, but, like we said, there's still that pesky problem of him having a girlfriend…
They spend time together as a group and just together, going to movies, eating delicious food, and exploring the 'City of Lights'. Of course, there's a little drama. As Anna and Étienne become closer and are each other's "best mates", they each have things to deal with, both at school and back home. There are rumors and fights and detention and pretty much whatever you'd expect with a group of teenagers. It's not over-the-top though, and the characters are so authentic.
Through it all, the electricity between Anna and Étienne is palpable. The UST comes by the truckload.
And, suddenly, I want to touch him. Not a push, or a shove, or even a friendly hug. I want to feel the creases in his skin, connect his freckles with invisible lines, brush my fingers across the inside of his wrist. He shifts. I have the strangest feeling that he's as aware of me as I am of him. I can't concentrate.
There are so many times that we just want him to grab her and kiss her and tell her she's "the one" or something. We're not going to reveal anymore secrets, but trust us and our swoony radar–this is one of the best books ever!
At less than 400 pages, Anna and the French Kiss is a quick read and is highly entertaining from start to finish. We're not kidding when we say that we literally couldn't put it down. Our only regret is that we didn't read it sooner than we did.

What We Loved:
The real question should be, what's not to love? Anna and the French Kiss is a story about family, friendships, and love. It's brilliantly written, hilarious, and filled to the brim with swoon. We fell in love with it from page one and years later still find ourselves giggling and telling others all about it. Here are just a couple of our favorite things:
We love how Perkins weaves Parisian sites and culture into everything without overwhelming or making it seem like a history lesson. We experience the lights, the sounds, and the tastes of Paris just like Anna does, and it's sublime.
We love the characters. You'll find yourself wanting to be friends with all of them. I love their relationships and their witty, realistic dialogue. The creeps are creeptacular and the slores are slorish. If by some insane chance you aren't instantly head-over-heels in love with Étienne (which omg what is wrong with you?), then we promise you'll be smitten with Josh. He's an artist. Even the minor characters have such depth, we totally felt like we were right there with them.
And isn't that what sets a book apart from the rest? Characters you can identify with? A setting that you can transport yourself into? Anna and the French Kiss might sound like some cutesy, fluffy foray into teenagerdom, but it's so much more. It's authentic without being overly dramatic, and that's hard to come by.
"Is it possible for home to be a person and not a place?"

Um...Not So Much:
There isn't much to say here. Although we'd be lying if we said we were 110% happy. Here's what we wish had been just a little bit different:
Étienne and she who shall not be named – Honestly? We like to pretend that this never even happened. Can you blame us?
That there wasn't more – We need another 30 books ending with Anna and Étienne having great grandchildren. That's not too unreasonable, is it? Though, admittedly, we get some more of them in both Lola and the Boy Next Door and Isla and the Happily Ever After, it's not enough. It's never enough.

The Boys:
So there are other boys in Anna's life that we could talk about, but since Josh has his own book now and all we really want to talk about is Étienne, that's what we're going to do!
There isn't much that we don't love about Étienne St. Clair. *swoonysigh* In fact, even the things he does that we shouldn't love don't bother us so much because… well, because he's him. He's smart, has an adorable accent, is ridiculously cute, and did we mention the accent? Anna had it right when she said: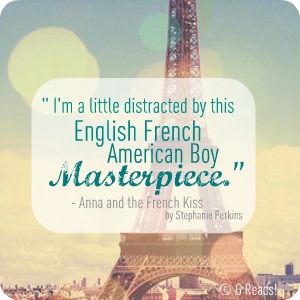 He's sweet and swoonworthy and says things like "wanker" and we love him. One of the things that Étienne does best is make Anna (and us!) swoon with his words. Just look at this:
"If you ask me to kiss you , I will," he says.

His fingers stroke the inside of my wrists, and I burst into flames.

"Kiss me," I say.

He does."
and this…
He takes my hands into his.Those perfect hands, that fit mine just so.

"Anna?"

Our foreheads touch. "Yes?"

"Will you please tell me you love me? I'm dying here."
How could you not love him?

The Girls:
It's no secret that we usually have a love/hate relationships with the heroine of contemporary books. Anna changed that. We fell for her almost as much as we did for Étienne. She is one of the most relatable female YA characters ever written. Almost everything she felt, said, and did had us smiling and nodding our head in agreement. She's real. We're pretty sure she's inside our heads. Just look at this:
"Har. Bloody. Har."

He smiles. "Oh, I see. Known me less than a day and teasing me about my accent. What's next? Care to discuss the state of my hair? My height? My trousers?"

Trousers. Honestly.
One of the things that we love most about her character is that she tries to make the best of things. At the beginning, she wants to be home with her friends and family, but she doesn't whine and turn emo because things aren't working out the way she wants.
She's quirky and witty and is a good person. She stands up for what she believes in and isn't afraid to admit when she's wrong. We love the way that girl thinks, and not just when she's thinking about Étienne's lips.
It should be noted that Meredith and Rashmi are awesome, too.

Dream Cast:
How do you pick someone to portray Étienne St. Claire? It should be impossible, right? We were shocked that it wasn't. We found our Étienne years ago and we've stuck with him! (Once you see him, you'll know why!)  Here he is:

What We Think Will Happen Next:
Since we're posting this review years after its release, and because there are two more books with glimpses of Étienne and Anna, we don't want to spoil anything by telling you what really happens. But we will say that Stephanie Perkins knows how to deliver a happily-ever-after. For real.

Bottom Line:
Hilarious, passionate, and real. Anna and the French Kiss set the swoon standard for all other YA romance and is absolutely required reading. Perfect book is perfect. C'est magnifique!

Verdict:
Rating Report
Cover
Characters
Plot
Writing
Swoon
Overall:
5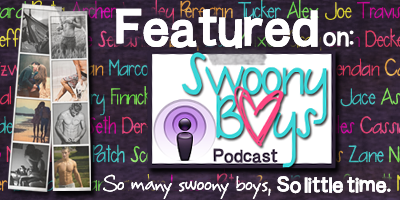 Related Posts