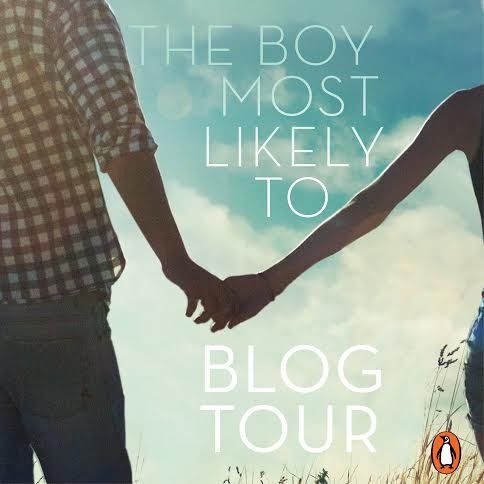 Welcome to Swoony Boys Podcast! This is our stop on The Boy Most Likely To Tour. It's no secret to anyone that knows us that we are obsessed with all things Huntley Fitzpatrick, which just means that we are beyond thrilled to be a part of this tour!
The Boy Most Likely To is the latest of Huntley's masterpieces. It follows Tim Mason and Alice Garrett, both who we met and fell in love with while reading My Life Next Door. Their story is all about family, love, life and yes, lots of swoon. Make sure you get a copy in your hands as fast as possible!
Today we've got an awesome interview (and some dreamcasting fun) for you plus a giveaway at the bottom of the post! You don't want to miss any of it! Are you ready? Here we go…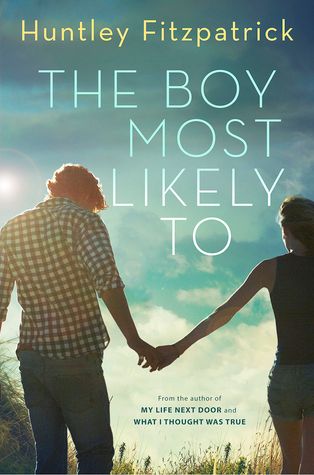 The Boy Most Likely To by Huntley Ftizpatrick
Published by Dial, Penguin Group on August 18th, 2015
Genres: Contemporary, Contemporary Romance
Pages: 432
Goodreads Buy the Book

A surprising, utterly romantic companion to My Life Next Door—great for fans of Sarah Dessen and Jenny Han

Tim Mason was The Boy Most Likely To find the liquor cabinet blindfolded, need a liver transplant, and drive his car into a house

Alice Garrett was The Girl Most Likely To . . . well, not date her little brother's baggage-burdened best friend, for starters.

For Tim, it wouldn't be smart to fall for Alice. For Alice, nothing could be scarier than falling for Tim. But Tim has never been known for making the smart choice, and Alice is starting to wonder if the "smart" choice is always the right one. When these two crash into each other, they crash hard.

Then the unexpected consequences of Tim's wild days come back to shock him. He finds himself in a situation that isn't all it appears to be, that he never could have predicted . . . but maybe should have.

And Alice is caught in the middle.

Told in Tim's and Alice's distinctive, disarming, entirely compelling voices, this novel is for readers of The Spectacular Now, Nick and Norah's Infinite Playlist, and Paper Towns. (less)
***INTERVIEW***
Hi, Huntley! Thanks for taking the time to talk with us today. We're excited for our readers to get to know you a little better. Let's get started!
For those who might not have read it yet, tell us a little about The Boy Most Likely To. What was your favorite scene to write?
All my books start with a boy and a question, and TBMLT started with the character of Tim and two questions (because the character is ornery and likes to push my limits): What does it really mean to grow up and How do you figure out what is and isn't your responsibility to fix? Both Tim and Alice grapple with those questions and, I hope, solve them to some degree, both for themselves and with each other. They seem like opposite ends of the spectrum—bad boy with a tender heart meets overly responsible girl who thinks she has a hard heart. They both have to deal with curveballs life has thrown (and keeps throwing) at them, and also with the hot attraction and growing connection between them, at a time when that connection just makes things more complicated.

I always have a lot of favorite scenes to write, but just to pick one, I loved writing Tim and Alice going to the abandoned fairgrounds. That falling in love, tingly, wary, delicious feeling of really falling for someone—and being afraid—and going for it anyway—I love writing that, and I love making sure it's really specific to those two characters—that this is the only way it could happen for these particular people with their strengths and their weaknesses and their fears and their own brand of brave.
Do you have a favorite part of the writing process? What is the best piece of advice you've been given from another author?
I love the "fresh tracks in the snow" part when I'm first setting out on a story and anything could happen—all my missteps and mistakes and do-overs are yet to happen and it could be the one story ever that's absolutely perfect and says everything that needs to be said about Life. But, I also love the very last turn in of the last revision when I hit send and think "Boom. That was as good as you can make it. You wrote what you set out to write. " Best advice: It's got to be Madeleine L'Engle telling me, "You're a writer. So write." It's above my computer, and I think of it every day.
Tell us about your writing space. Do you have a routine or any rituals you follow when you sit down to write?
When I'm home, I write at my desk which is in a corner of our bedroom. I have pictures of the ocean all over the walls facing it, so it's almost like an ocean view. We also have French windows which look out onto our yard, so sometimes I have snow views one way (real) and summer sea the other way (painted). I answer letters at the beginning of the day, do whatever PR I need to do, then read a poem, drink coffee, reread what I wrote yesterday, and start writing. If it's going well, I don't even break for meals until the school bus pulls up. If it's going badly the house gets very clean and all the laundry is done.
One of the questions we love to ask every author we interview is, if you could introduce one of your characters to another character from any other book (your's or someone else's), who would it be and why?
I'd love to have Nic from WHAT I THOUGHT WAS TRUE hang out more with Dominic (from WITWT but only briefly, and TBMLT much more). Nic needs a mentor and he needs to lighten up. Dom could help with all of those. Maybe in another story…I also think Cass from WITWT and Jase would get along. And I wonder how Spence and Tim would hit it off—it would either be insta-bond or insta-hate. I'd love to hear Gwen and Hester compare notes on Alex Robinson…I take a small bit of pleasure that Gwen being snarky to him was a little revenge for Hester even though she will never know about it.
Its time for the questions you knew were coming. Let's talk about Tim. Did he have you hooked from the time you wrote him into My Life Next Door? Or was it a slow burn kind of love that developed the more you wrote about him?
Tim's one of those characters who just kept beating the odds. I barely intended Samantha's best friend to have a brother, and then I thought he'd only have a few lines, and then I thought he'd be sort of a loser all the way through. But the more I wrote him the more I cared, and the more I identified, and the more I wanted to know what happened next with him (which is always the question that keeps me writing). I kind of had a crush on him…whenever I had to write him into a scene I lit up, and his words just "came to me" which definitely causes major author swoons. He was easy for me to love, to sum it up. I hope readers feel the same way.
Your books touch on some difficult themes. Topics that others might shy away from. (Teenage pregnancy, family financial situations, etc.) Why is it important to you to address these type of situations?
I've never been any good at surface. Small talk, glossing over, ignoring the elephant in the room… just not a talent of mine. This makes me an unfortunate dinner guest, but I hope it makes my writing more connected to life and real. Because don't we all read for the real? For that feeling that we're not alone with the hard stuff? When I was a teenager, and still now, I look to books to show me what is real and how its handled, both well and badly. Those are the kind of books I want to write and I look for to read.
For the next few questions let's imagine that The Boy Most Likely To is headed to the big screen! (Can we please make this happen? Who do we need to speak to?) Give us your dreamcasting for as many characters as you want! Here is the link to our dreamcasting of Jase, Cass, and Tim: http://www.swoonyboyspodcast.com/special/the-blog-most-likely-to Did they come close to what you picture?
I love your pics…love love love…my problem with casting is that I just can't imagine them outside of my head…I have this perfect image of all the characters—if only I were one of those police sketch artists—not as in only sketching criminals, but with that talent, obv– and then had the power to bring my creations to life (actually that sounds as though it could go wrong in so many different ways). I can see Tim's one dimple, and the way Jase stands, and Cass diving…but I can't put any actors in as them. Same with the girls.
Is there ever anything that you always wish someone would ask you in an interview, but
they never do? (We want the answer too!)
How did you win the Pulitzer? No, seriously, I think the question would be: who do you write for? And the answer would be: Anyone who thinks about or dreams about or remembers true love; anyone who might be lonely and wishing for their life to change; anyone looking to find themselves, or someone who could be their friend, in a book, anyone who cares about family and integrity and becoming their best self, anyone who loves books and oceans and any kind of weather, and boys and girls and men and women with their hearts open. If you like those boys shirtless, that's a bonus.
You know we have to ask you about swoon. It's no secret to you that your boys are some of our absolute favorites, but we want to know which swoony boys are on your list of favorites.
I'm thrilled you asked me about swoon, because I consider myself a lifelong student of swoon. Seriously, I was asking my father to reread the chapters of SECRET GARDEN with Dickon in them when I was five. I'm embarrassed to say that if a book doesn't have someone for me to swoon over, it loses points. I have basically the fictional male equivalent of a harem of swoony boys. But, to call out a few choice favorites:

Hunter in Jennifer Echols' LOVE STORY (whether as writer/pre-med student or stable boy, he is all smarts and all swoon); Edmund and Eustace Scrubb in the Narnia Books (early crushes, but abiding); Owen Gentry in Colleen Hoover's CONFESS (talented artist with honest soul); Sebastian in Eloisa James' A WILD PURSUIT (there's that stable boy thing I have going on again); Ethan in Kristan Higgins' THE NEXT BEST THING (He's MY best thing); Wes in Sarah Dessen's THE TRUTH ABOUT FOREVER (I came late to this party, but isn't Wes' everybody's swoony boy?); Jason Proctor in A STARBOARD SEA (it's a literary classic to me, but I can still long for the hero, right?); Aristotle AND Dante in ARISTOTLE AND DANTE DISCOVER THE UNIVERSE (I can't choose); Dylan in Viv Daniels' MY ONE AND ONLY (with or without his glasses) ; Reid Alexander in Tammara Webber's BETWEEN THE LINES books, Jace in Cassandra Clare's CITY OF BONES books (because…Wow); West in Katie McGarry's TAKE ME ON (or, basically any one of her heroes, omg)…okay, I'll stop and pick myself off the swooning couch now…until the next book.
Thanks so much for stopping by, Huntley! We just keep reading and rereading your answers.
***About Huntley Fitzpatrick***
Born to parents who read anything and everything, the young, shy and nearsighted Huntley found herself searching for books that let her fall in love… with the story and the boy. It was only natural that one day she would decide to pursue a career in writing. In whole-hearted support, her father presented her with a typewriter, a package of Lucky Strike cigarettes, a bottle of Scotch and a note advising her to "Be Bold, Be Bold, Be Bold."
For her tenth birthday.
Skipping the Scotch and the smokes, she began to write. Her first story involved a family with twenty children who lived by the ocean. The parents were twenty-two. To this day, some things remain constant in Huntley's life: her love of family, salt air, summer and beaches and a shaky grasp of math.
In her teenage years, Huntley's writing involved forcing friends to listen to her stories. At times this involved a twenty-page analysis of a two minute conversation with her current crush and included such phrases as "Pause. Silence. Much audible blushing." Already, she was well on the path to exploring the paradoxical emotions involved in first love and true love. Sometimes we get lucky and they are the same thing.
Huntley spent her college years majoring in Shakespeare and completing a minor in daydreaming, following which she spent time working as a waitress, a caterer, a publicist's minion, a bartender, an account firm assistant, romance novel editor, and co-owner of a café.
Along the way she, too, fell in love.
Today, Huntley lives on the coast of Massachusetts with her encouraging husband and their six energetic children who, thankfully, let her pick their brains, advising her on whatever is currently cool and reminding her of what always matters. In between – and sometimes during – the moments of chaos that surround her large family, Huntley can often be seen dashing to her computer or scribbling with whatever writing implements are on hand—lipstick or eyebrow pencil on an ATM receipt is fair game. Thoughts of young love are never far from her mind. And she'd love to hear yours: Huntley@huntleyfitzpatrick.com
Find Huntley Here:
Website | Facebook | Twitter | Instagram | Goodreads
***GIVEAWAY***
Win a copy of The Boy Most Likely To
a Rafflecopter giveaway
Good luck and happy swooning!
Related Posts