Welcome to Swoony Boys Podcast! This is our stop on The DUFF Tour. It's no secret that we are obsessed with all things Kody Keplinger, which just means that we are thrilled to be a part of this one!
The DUFF hit theaters last month and if you haven't seen it yet, you need to get to a showing immediately. We can promise that you won't regret it. We've got an awesome interview with Kody today, plus a giveaway at the bottom of the post! You don't want to miss any of it! Here we go…
The DUFF by Kody Keplinger
Also by this author: Lying Out Loud
Published by Little Brown Books for Young Readers, Poppy on September 7, 2010
Genres: Contemporary
Pages: 280
Goodreads Buy the Book

Seventeen-year-old Bianca Piper is cynical and loyal, and she doesn't think she's the prettiest of her friends by a long shot. She's also way too smart to fall for the charms of man-slut and slimy school hottie Wesley Rush. In fact, Bianca hates him. And when he nicknames her "the Duff," she throws her Coke in his face.

But things aren't so great at home right now, and Bianca is desperate for a distraction. She ends up kissing Wesley. Worse, she likes it. Eager for escape, Bianca throws herself into a closeted enemies-with-benefits relationship with him.

Until it all goes horribly awry. It turns out Wesley isn't such a bad listener, and his life is pretty screwed up, too. Suddenly Bianca realizes with absolute horror that she's falling for the guy she thought she hated more than anyone.
***INTERVIEW***
Hi, Kody! Thanks for taking the time to talk with us today. We're excited for our readers to get to know you a little better. Let's get started!
For those who might not have read yet, tell us a little about The DUFF. What was your favorite scene to write?
Tbe DUFF is about a girl named Bianca who is informed by a boy, Wesley, that she might be the "designated, ugly, fat friend" or "DUFF" in comparison to her best friends. But Bianca is also dealing with some family drama – on top of this new insecurity – and Wesley ends up being her best distraction from all of these problems. It's about body image and sexuality.

My favorite scene to write was pretty much every scene with Bianca's best friend, Casey. I love Casey so much, and her relationship with Bianca totally took me by surprise as I wrote.  Heck, I love Casey so much that I wrote a short story spinoff about her called "Abbreviations and Alliterations" in an ebook collection, Secrets & Lies.  I missed her and wanted to write from her POV.  That's how much I loved writing about her in The DUFF.
What is your favorite part of the writing process? Do you have a routine or any rituals you follow when you sit down to write?
I like the beginnings. I love writing the first few chapters, when things are fresh and exciting. It gets a little trickier as I get into the middle bits, but the beginnings are always fun.  And while I don't have any rituals, I do always write at night. I don't' know why, but I can't seem to write anything very good before the sun sets.
One of the questions we love to ask every author we interview is, if you could introduce one of your characters to another character from any other book, who would it be and why?
Oh, this is fun!  Hmm.

I'd probably introduce Amy Rush – Wesley's little sister in The DUFF and one of the main characters in my new book, Lying Out Loud – to Lola from Lola and the Boy Next Door. Amy is pretty quiet and reserved, and I think it would be good for her to spend time with someone like Lola, who might get her to break out of her shell a bit.
Since the last time we interviewed you, you have branched into writing Middle Grade. Was the transition from writing YA, with characters who sometimes push the envelope, to writing MG characters in The Swift Boys & Me a hard one to make?
You know, I thought it would be. I was prepared to struggle with it a lot, But in reality, it felt really natural. Maybe it was just that character or that particular story, but the voice just kind of flowed out of me. I really connected with Nola, the narrator, and it wasn't hard at all to find her voice, as a twelve-year-old, even though I was used to writing about seventeen-year-olds.  She just had a very different voice in my head.
We're dying to know more about other Hamilton High characters! Anything you want to share with us about Lying Out Loud or any future projects in that world?
Lying Out Loud is not only a companion to The DUFF, it's also a companion to all of my other YA books, so you will see Bianca and Wesley as well as Lissa, Cash, Whitley, Nathan and maybe a couple others. Plus, you'll get to meet Sonny, who was such a fun character to write, and I think she's quite a bit different from my other leading girls.  I'm so excited for everyone to meet her!
It's time for the questions you knew were coming. Let's talk about Wesley. Did he have you hooked from the beginning? Or was it a slow burn kind of love that developed the more you wrote? Are there any "deleted scenes" or lines you have of him that you want to share with the class?
Wesley's character changed a lot from draft one to final draft. When I first wrote him, he was much crueler, I think. A much darker character. But the more I wrote, the more I realized that just wasn't Wesley.  He says some jerky things, but he's not the type to deliberately hurt someone – he just doesn't realize that what he's saying is hurtful. Once I realized that and did some rewriting, I ended up liking him so much more. And I think he made a lot more sense with Bianca, who has been pretty much the same in my head since day one.
When we heard that Wesley and Bianca's story was headed to the big screen we were ridiculously excited. What has been the best part about that process for you?
Probably getting to meet and become friends with the screenwriter, Josh A. Cagan.  It's always scary to put your work in a stranger's hands, but Josh – I have learned – shares a very similar sense of humor to me, and we care about a lot of the same things. So even in places where the book and the film differ, I feel like the tone and humor of the book are still there.  Plus, Josh is just a cool, nerdy dude. Not only do I admire his talent, I'm also glad to call him a friend.
Let's switch gears for a second and talk about other people's books. Is there a book or book series that you think is under appreciated or hasn't gotten enough credit for how good it is?
My all time favorite YA book is called Ballads of Suburbia by Stephanie Kuehnert.  I love that book so much, and not nearly enough people have read it. It's always the first book I recommend to people, especially If they love complicated characters as much as I do.  It's not a book for the faint of heart – it can be pretty dark – but man, it's so good and means so much to me. I'd love to see it read by more people.
Is there ever anything that you always wish someone would ask you in an interview, but they never do? (We want the answer too!)
I get asked a lot about my favorite boy characters, but I have a lot of favorite girls in YA, too!  If I were to be asked, I'd say some of my favorites are Terra from Starglass by Phoebe North, Eleanor from Eleanor and Park by Rainbow Rowell, and Regina from Some Girls Are by Courtney Summers. I love complex, flawed leading ladies!
We can't let you leave without asking you about swoon. So let's hear it. What swoony boys are on your list of favorites?
I mean, how can I not say Finnick Odair? I love him so, so much.  I loved him from the first time he appeared in Catching Fire. I remember thinking, "I don't know if this guy is a villain or an ally yet, but I think I like him either way." And he certainly didn't disappoint.  And, of course, I also love Adrian from the Vampire Academy and Bloodlines series.  But who doesn't?
This interview was perfection. We just keep reading your answers over and over again.
Thanks so much for stopping by, Jay! This was an absolute blast.
Verdict:
Rating Report
Cover
Characters
Plot
Writing
Swoon
Overall:
4.5
***About Kody Keplinger***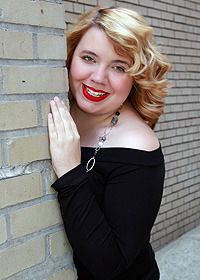 Kody Keplinger was born and raised in small town western Kentucky, where she began her writing career after penning the New York Times and USA Today bestseller, The DUFF, at age seventeen. The DUFF, now a major motion picture, was chosen as an YALSA Top Ten Quick Pick for Reluctant Young Readers and a Romantic Times Top Pick. Kody has since written other books for both young adult and middle grade readers. When she isn't writing, Kody is posting about fashion and body positivity on her Instagram, chatting about her favorite TV shows on Twitter, or making videos for her YouTube account. Kody is also the co-founder of Disability in KidLit and a teacher at the Gotham Writers Workshops in NYC.
Kody is active on social media, so feel free to reach out to her on Twitter, Facebook, Instagram or YouTube.
Find Kody Here:
Website | Facebook | Twitter | Goodreads
***GIVEAWAY***
Win a copy of The DUFF
a Rafflecopter giveaway
Good luck and happy swooning!
Related Posts