Welcome to Swoony Boys Podcast! This is our stop on the Once Upon a Dream Tour hosted by The Irish Banana . We have a fun character interview and giveaway to share with you today and we can't wait for you to get to know more about this book, its characters and author, Liz Braswell! Are you ready to go?
*****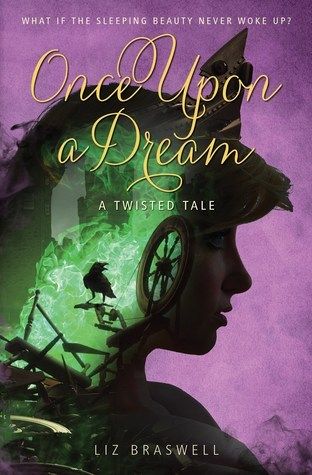 Once Upon a Dream
by
Liz Braswell
Also by this author:
A Whole New World
Series:
Twisted Tales #2
Also in this series:
A Whole New World
Published by
Disney Press
,
Disney-Hyperion
on April 5th, 2016
Genres:
Fantasy
,
Retellings
Pages:
448
Goodreads
Buy the Book
What if the sleeping beauty never woke up? Once Upon a Dream marks the second book in a new YA line that reimagines classic Disney stories in surprising new ways.

It should be simple--a dragon defeated, a slumbering maiden, a prince poised to wake her. But when said prince falls asleep as soon as his lips meet the princess's, it is clear that this fairy tale is far from over.

With a desperate fairy's last curse infiltrating her mind, Princess Aurora will have to navigate a dangerous and magical landscape deep in the depths of her dreams. Soon she stumbles upon Phillip, a charming prince eager to join her quest. But with Maleficent's agents following her every move, Aurora struggles to discover who her true allies are, and moreover, who she truly is. Time is running out. Will the sleeping beauty be able to wake herself up?
***Character Interview***
Today we're sitting down with Princess Aurora from Once Upon a Dream. Hi! Welcome to Swoony Boys Podcast! We're excited to have you with us, and can't wait for our readers to get to know you a little better. Let's get started…
Most of our readers are somewhat familiar with your story. How is this book different?
This is an… alternate telling from the one you are used to. It suggests that my big adventure in life was more than just falling asleep and being kissed awake. It looks deep into Maleficent's penchant for evil, and follows my journey from princess tossed around by fate to queen of the realm.

It tells the story of what happened while I—and the kingdom—slept, and what was done in the world of my dreams, and how it had grave consequences on the real world when we all woke.
If Phillip had to describe you using three words, what would they be? What three words would you use to describe him?
At the beginning of our adventure he would probably say I was happy, light-hearted, and…uh…singy? Is that a word?

By the end of our adventure he would probably describe me as capable, thoughtful, and determined.

I would describe him as unflaggingly cheerful, brave, and constant.
A big part of your story is about overcoming your fears. If you could give advice to all girls (or guys!) reading your story, what would you want to tell them?
Fears don't go away by ignoring them. And, sort of more importantly, anxieties don't go away by ignoring them. I'm not saying you should confront your schoolyard bully with nothing more than good intentions and your fists; I'm saying that you need to let yourself experience your whatever comes from the dark place inside you, examine it, and then deal with it. Whether it's a wicked fairy or fear of your own flaws.
If you were building your own person All-Star Princess Team, which of your princess friends would you want on your side and why?
Lucretia? Boadicea? Nefertiti? I have a sneaking suspicion you're talking about certain other princesses, but according to the rules of the world I live in, we could never actually interact.
Okay, Aurora. We're dying to know once and for all. Pink dress? Or
I…don't want to hurt anyone's feelings, but honestly I prefer more natural colors; blue like the sky and water. But I've had some disturbing and strange experiences involving dresses in general recently, and I think if I were going formal it would have to be gold.
That wasn't so bad, right? We really appreciate you stopping by!
♥♥♥
***Disney Fanart***
***About Liz Braswell***
After the sort of introverted childhood you would expect from a writer, Liz earned a degree in Egyptology at Brown University and then promptly spent the next ten years producing video games. Finally she caved into fate and wrote Snow and Rx under the name Tracy Lynn, followed by The Nine Lives of Chloe King series under her real name, because by then the assassins hunting her were all dead. She also has short stories in Geektastic and Who Done It and a new series of reimagined fairy tales coming out, starting with A Whole New World—a retelling of Aladdin.
She lives in Brooklyn with a husband, two children, a cat, a part-time dog, three fish and five coffee trees she insists will start producing beans any day. You can email her at me@lizbraswell.com.
Find Liz Here:
Website | Twitter | Facebook | Goodreads
***GIVEAWAY***
3 Lucky Winners Will Receive A Finished Copy of Once Upon a Dream!
Open to US residents only
a Rafflecopter giveaway
Good luck and happy swooning!
Check out the other stops on the tour by below:
Related Posts