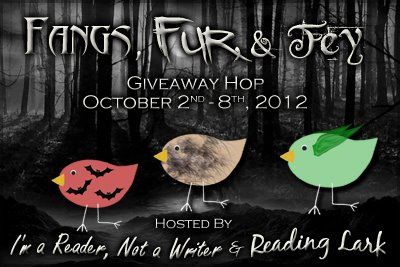 We are so excited to be participating in the Fangs, Fur, and Fey giveaway hop, hosted by I Am a Reader Not a Writer and Reading Lark!
There are so many great books featuring boys with fangs, fur, or (are) fey–we couldn't pick just one! So, we're letting you choose!
In honor of the boy who brought us together and our first podcast episode (which will finally air this week), you can choose any one of the books in the Twilight Saga. They've got fangs and fur.
–or–
Because we can't get enough of Archer Cross, you can choose any one of the books in the Hex Hall series. Fangs, Fur, and Fey!
–or–
You can choose one of our favorite reads this year that just so happens to feature one of our favorite fairies: Tiger Lily. Who woulda thought Peter Pan could make us swoon?
If you've got all of those, you can choose something else (like Hemlock, one of the Wolves of Mercy Falls series, one of the books in the Chronicles of Vladimir Tod, an Iron Fey book, or even The Queen of the Damned). BUT it has to feature fangs, fur, or fey, and you have to send us a picture of you reading one of the other books 😉
To enter, leave us a comment and tell us your favorite book featuring fangs, fur, or fey! Extra entries for all kinds of stuffs in the rafflecopter form below:
a Rafflecopter giveaway
This contest is open internationally, but non-US residents will have to choose ebook versions. Entries are due at 11:59pm EST on Monday, October 8. Void where prohibited. Good luck!
Congratulations to our winner: Stephanie W!
Related Posts