Did you know know that Harlequin Escape is one year old this week? We're celebrating this momentous occasion with a week filled with interviews, reviews, and excerpts, plus awesome giveaways, here on Swoony Boys Podcast and on our sister site featuring New Adult and adult fiction titles: Steamy Guys After Dark!
Today, we're chatting with Lauren K McKellar, author of Finding Home:

***INTERVIEW***
Tell us a little about Finding Home. Was it a fun book to write?
Finding Home was a fun book to write because it was my first ever young adult novel, and, really, my first planned book. Everything else I'd tried before I'd start and then lose enthusiasm at around the 40,000 word mark. This was definitely a departure from that!
This novel tells the story of seventeen-year-old Amy, a teenager whose mother has passed away and whose father is too busy being a popstar to prevent her from drinking herself silly. I loved writing it because it reminded me of being a teenager again; and how real things can get, real quickly!
How do you build your characters? Do you know every single detail of their lives?
I know pretty much every detail, yes. My characters are combinations of everything; things I've read, things I've done, things I've felt … all packaged up together in one character package. I always like to say that every character in my book has a tiny bit of me in them, whether it's eye colour or a particular reaction or a taste in cocktails! I think/hope it helps make them more believable … right?
Right 🙂 How would you introduce Amy to readers?
"Hi, reader; meet Amy. She likes singing, bad boys and spiralling out of control. And your name is …?"
LOL How would you describe yourself in three words?
"Oh!" "Sunshine" and "Loving"
Best description ever. Do you have any interesting writing quirks or rituals?
I'm a strong believer in the reward system. 1,000 words on the page, chips and tea for me …
We work on that system, too. What is the one thing readers would be surprised to learn about you?
That I used to play roller derby. And that I have a puppy-cuddling addiction.
awwww Which character makes you swoon the most (yours or someone else's)?
Oh, gosh … I think the first fictional character I ever fell in love with was Will from Colleen Hoover's Slammed. And you know what they say; it's hard to forget your first love.
::le sigh:: It's true. Do you have any current or future projects you can tell us about?
Sure do! My second novel, The Problem With Crazy, will be out in March, 2014. It's a novel about an eighteen-year-old girl who has to learn to adapt when her absentee father comes home after a year "missing"–he's developed a serious mental illness.
And it's hereditary.
You can find out more by keeping in touch with my website.
Is there ever anything that you always wish someone would ask you, but they never do?
Yes. Why doesn't anyone ever ask me how to sing Heads, Shoulders, Knees and Toes in Japanese? I can do it! I keep suggesting that my fiance ask me, but for some reason, he's always busy then…
We want you to sing it for us!! Thanks for coming by today, Lauren!
***About Lauren K. McKellar***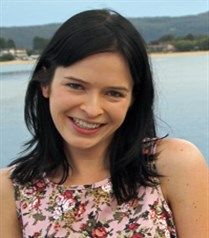 Lauren McKellar grew up in a beachside town north of Sydney, Australia. A self-confessed nerd, Lauren spends every spare second she has writing books and hungrily devouring new releases from her favourite authors. With a passion for Young Adult and New Adult fiction, she especially loves stories that are real and flawed. Lauren is a magazine editor and freelance fiction editor. She juggles her time between editing, writing, and going for long walks on the beach with her partner and their two puppies. She loves to meet new people, so feel free to chat with her on Twitter, Facebook, or on her blog.
Find Lauren K McKellar Here: Website | Facebook | Twitter | Goodreads
**About the Book**

Finding Home by Lauren K. McKellar
Published by Harlequin Escape on October 1, 2013
Pages: 156
Moody, atmospheric, and just a little bit punk, Finding Home takes contemporary YA to a new level of grit…

When Amy's mum dies, the last thing she expects is to be kicked off her dad's music tour all the way to her Aunt Lou in a depressing hole of a seaside town. But it's okay — Amy learned how to cope with the best, and soon finds a hard-drinking, party-loving crowd to help ease the pain.

The only solace is her music class, but even there she can't seem to keep it together, sabotaging her grade and her one chance at a meaningful relationship. It takes a hard truth from her only friend before Amy realises that she has to come to terms with her past, before she destroys her future.
**Read the First Chapter of Finding Home:**
***GIVEAWAY***
eBook copies of Words Once Spoken, The Children of the Mist, A Missing Peace, Riding on Air, and Finding Home
a Rafflecopter giveaway
Good luck and be sure to check out all the other interviews and reviews we've got going on to celebrate the first Birthday for Harlequin Escape!
Related Posts