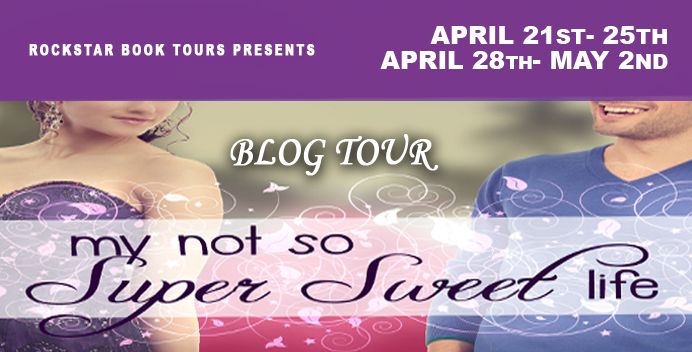 We can't tell you how excited we were to get to sit down with Lucas Capelli from the My Super Sweet Sixteenth Century Series by Rachel Harris. Our interview with him was pretty awesome, so we know you want to get right to it 🙂 But first, here's the 411 about My Not So Super Sweet Life, which hit shelves on April 21, 2014!
My Not So Super Sweet Life
by
Rachel Harris
Also by this author:
The Natural History of Us
Series:
My Super Sweet Sixteenth Century #3
Published by
Entangled Teen
on April 21, 2014
Genres:
Sci-Fi
Pages:
190
Goodreads
Buy the Book
Cat Crawford just wants to be normal—or at least as normal as a daughter of Hollywood royalty can be. And it looks like fate is granting her wish: she's got an amazing boyfriend, Lucas; her fabulous cousin, Alessandra, living with her; and her dad planning his second marriage to a great future stepmom. That is, until her prodigal mother reveals on national television that she has something important to tell her daughter…causing a media frenzy.

Lucas Capelli knows his fate is to be with Cat, and he's worked hard to win her over once and for all. Unfortunately, Lucas has his own issues to deal with, including a scandal that could take him away from the first place he's truly belonged.

As secrets are revealed, rumors explode, and the world watches, Cat and Lucas discover it's not fate they have to fight if they want to stay together…this time, it's their own insecurities.

Well, and the stalkerazzi.
***INTERVIEW***
Boxers or Briefs? (We know it's cliche', but that doesn't mean we don't want to know!)
Boxers. Currently black.
Nice. Do you think you're a good kisser? What's the best kiss you've ever had?
The best kiss is the last one I had with Cat. They keep getting better. I'll never have enough of that girl, the sounds she makes, the feel of her in my arms. She'd have to answer if I'm a good kisser, but based on those sounds… (grins)…I'd say so.
🙂 What's your favorite book?
Sculpture Off the Pedestal: Monuments and Their Makers by Joan Altabe, one of the few books focusing on sculpture, and The Hitchhiker's Guide to the Galaxy, because it's just cool.
We love The Hitchhiker's Guide, too. If Cat wanted to make you breakfast in bed, what would you want on the menu?
As Cat would say, should I keep this "PG-13?" (Laughs and shakes his head) Let's just say if she ever made me breakfast in bed, I'd want her in the tiny shorts and tank set I found in her drawer, her hair mussed and lips pink and swollen, without a trace of makeup on her face, bringing me a glass of OJ, bacon, toast…and strawberries and whip cream.
Can we say we love that you want OJ? And, ahem, the other stuff, too! Okay, last question. Since we're all about the swoon here at Swoony Boys Podcast, we have to ask. What do you think makes you swoony?
I like to tease Cat, vowing to make her swoon her ass off. It's a challenge I make to myself to keep her guessing and top myself. So, without totally giving in my man card, I'll say that's it. Never being satisfied with what I did yesterday. Looking for new ways to put that smile on her face. Make her breathless. That never gets old.
Aww so sweet. We love that. And we ♥ you! Thanks for coming by today, Lucas!
Thanks so much!!
***About Rachel Harris***
Rachel Harris writes humorous love stories about sassy girls-next-door and the hot guys that make them swoon. Emotion, vibrant settings, and strong families are a staple in each of her books…and kissing. Lots of kissing.
A Cajun cowgirl now living in Houston, she firmly believes life's problems can be solved with a hot, sugar-coated beignet or a thick slice of king cake, and that screaming at strangers for cheap, plastic beads is acceptable behavior in certain situations. She homeschools her two beautiful girls and watches way too much Food Network with her amazing husband.
An admitted Diet Mountain Dew addict, she gets through each day by laughing at herself, hugging her kids, and losing herself in story. She writes young adult, new adult, and adult romances, and LOVES talking with readers!
Find Rachel: Website | Twitter | Facebook | Goodreads
***GIVEAWAY***
a handmade sterling silver necklace that retailed over $130. It is an eight petal rose and a replica of the one Lucas gives Cat for Valentine's Day in the book. And 1 rare, signed paperback. US Only.
a Rafflecopter giveaway
Good luck and don't miss the other stops on the My Not So Super Sweet Life blog tour!
Related Posts