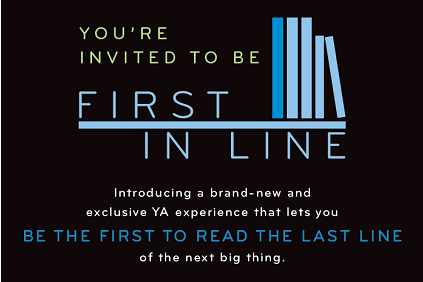 Last week we received an email from Random House filled with info about their new First In Line YA program. It immediately sparked our interest and we want to make sure that you don't miss out on any of the fun either! According to the email, this is what it is all about:
FIRST IN LINE offers YA readers exclusive advance access to bestselling and debut authors and behind-the-book content!Being the first at anything is no easy feat, but you already know that.
You were reading The Hunger Games before VOLUNTEERING AS TRIBUTE.
You were FEELING THE FEELS from The Fault in Our Stars before it was TFIOS. Okay? Okay.
You KNEW YOUR FACTION while other people were being sorted into their houses.
Members receive a monthly newsletter and access to locked sections of the site. This will include special behind-the-book material and author content, such as never-before-seen deleted scenes, extended excerpts, author videos and Q&As, sharable social images, and advance reader's copy giveaways!
The inaugural books that are being featured include: New York Times bestselling author James Dashner's THE GAME OF LIVES, New York Times bestselling author David Levithan's ANOTHER DAY, bestselling and critically acclaimed authors Amie Kaufman and Jay Kristoff's ILLUMINAE, debut author Nicola Yoon's EVERYTHING, EVERYTHING, and more!
We invite you to join now at www.firstinlinereaders.com! And, don't forget to share your FIRST IN LINE moments with hashtag #FIRSTINLINE. Tell your friends, teens, and colleagues to secure THEIR place in line at www.firstinlinereaders.com.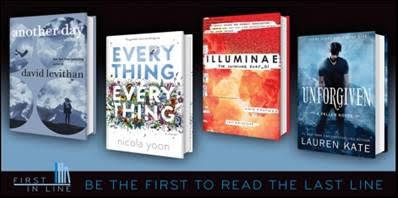 After we got the email the first thing we did was register for our accounts so that we could take a look around! Once we were logged in things got even better. Right now Everything, Everything by Nicola Yoon is featured and there is some awesome content centered around her and the book posted. Not only that, but the site itself is gorgeous. We are excited about this new program and we can't wait to see what is to come!
Are you ready to join?
Go to www.firstinlinereaders.com and register!
***Giveaway***
Enter to win a First in Line tote bag thanks to the lovely people at Random House!
a Rafflecopter giveaway
Related Posts