Welcome to Swoony Boys Podcast! Today is our stop on the tour for FRAZZLED: Everyday Disasters and Impending Doom hosted by Irish Banana Tours! We are kicking off this tour by sharing our thoughts on this book and author, Booki Vivat, with you today. While you're here, don't forget to enter the awesome giveaway at the bottom of the post! You don't want to miss it! But first, let's start with the 411:
***About the Book***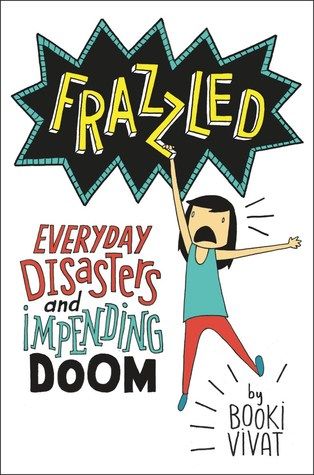 FRAZZLED: Everyday Disasters and Impending Doom by Booki Vivat
Published by HarperCollins on September 27th, 2016
Genres: Contemporary, Middle Grade
Pages: 240
Goodreads Buy the Book

Meet Abbie Wu! She's about to start middle school and she's totally in crisis.

Abbie Wu is in crisis—and not just because she's stuck in a family that doesn't quite get her or because the lunch ladies at school are totally corrupt or because everyone seems to have a "Thing" except her. Abbie Wu is in crisis always.

Heavily illustrated and embarrassingly honest, Frazzled dives right into the mind of this hilariously neurotic middle school girl as she tries to figure out who she is, where she belongs, and how to survive the everyday disasters of growing up. With Abbie's flair for the dramatic and natural tendency to freak out, middle school has never seemed so nerve-racking!

Packed with hilarious black-and-white illustrations and doodles throughout, Frazzled takes readers through Abbie Wu's hysterical middle school adventures.
***Teaser***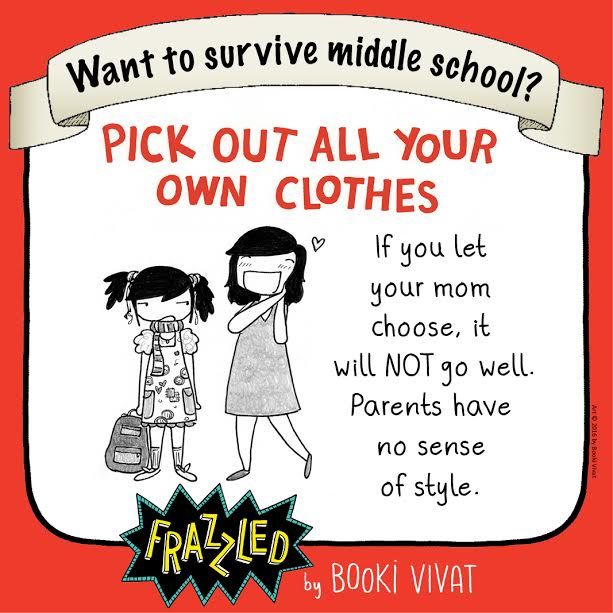 ***Our Review***
The 411:
Abbie Wu isn't too thrilled about starting middle school. She's spent her whole life stuck between an older brother who everyone loves and a younger sister who everyone things is the cutest thing ever. So where does that leave Abbi?

What We Loved:
Have you ever read the first page in a book and instantly knew you were in love? That's what happened to us with Frazzled. Here's how it starts: "Now that I'm going into middle school, my whole life is about to begin. That's what Mom told me yesterday. But I didn't know what she meant and I'm pretty sure she didn't either." Those words were all it took to suck us in. We spent the next few hours reading cover to cover and didn't stop smiling once.
Here's just a few of our favorite things:
Illustrations– If you follow Booki on social media this one is probably obvious, but it needs to be said anyway. Her illustrations are perfection.
Characters– We couldn't get enough of Abbi, Maxine, Logan, Lucy the Demon Squirrel, and the whole crew. You won't be able to either.
The Writing– Get ready to literally laugh out loud. This one is for anyone on their way or currently in middle school and for anyone who as ever been through middle school. It captures the drama, the feelings, and the humor perfectly.

Um...Not So Much:
Nothing. No, really. There's nothing we would change except maybe making it longer because we want more. Or better yet, let's just have a never ending series of these books. We want to see Abbi all the way through HS. Let's make that happen, okay?

Bottom Line:
These pages are filled with amazing illustrations and tons of laughter. It's perfect for readers of all ages and left us asking, "Where was Frazzled when we were in middle school?"

Verdict:
Rating Report
Cover
Characters
Plot
Writing
Swoon
Overall:
5
***Mini Swoons Review***
Review by Luca, Age 8


I really, really liked this one. Abbie Wu is so funny. I didn't think I'd like her because she's a girl, but I did. She made me laugh a lot. And I really liked Logan. And the squirrel! And the pictures. Can we read it again? Can this book be mine?
***Meet Booki Vivat***
Booki Vivat has been doodling somewhat seriously since 2011 and not-so-seriously since childhood. She grew up in Southern California and graduated from the University of California, San Diego. She currently works in publishing and lives in Brooklyn, New York. This is her first novel. Follow her on Twitter @thebookiv and on Instagram @bookibookibooki.
Find Booki Here:
Website | Twitter | Instagram | Goodreads
***Locker Poster***
***GIVEAWAY***
Win a copy of Frazzled | Open US Only.
a Rafflecopter giveaway
Good luck and happy swooning!
Make sure you check out the rest of the tour stops below:
Save
Save
Save
Related Posts