We were so excited when we were invited to participate in the Blog Tour for It Ends With Us by Colleen Hoover. Ya'll. This Book.
As soon as we can contain ourselves, we've got an awesome giveaway for you today, as well as our thoughts on the book. But first, you know the drill–here's the 411 on the amazing book, It Ends with Us by Colleen Hoover.
NOTE: We would normally post New Adult and Romance reviews over on our sister site, Pretty Sassy Cool, so steamy alert if you're not used to that sort of review from us over here 😉
***About the Book***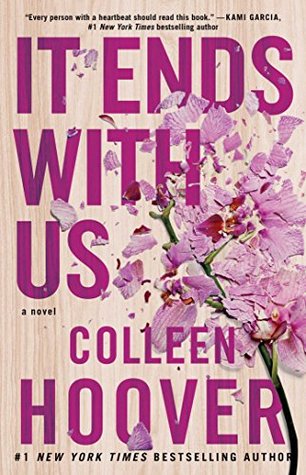 It Ends With Us
by
Colleen Hoover
Published by
Atria Books
on August 2, 2016
Genres:
Contemporary Romance
,
New Adult
,
Romance
Pages:
384
Goodreads
Buy the Book
Lily hasn't always had it easy, but that's never stopped her from working hard for the life she wants. She's come a long way from the small town in Maine where she grew up—she graduated from college, moved to Boston, and started her own business. So when she feels a spark with a gorgeous neurosurgeon named Ryle Kincaid, everything in Lily's life suddenly seems almost too good to be true.

Ryle is assertive, stubborn, maybe even a little arrogant. He's also sensitive, brilliant, and has a total soft spot for Lily. And the way he looks in scrubs certainly doesn't hurt. Lily can't get him out of her head. But Ryle's complete aversion to relationships is disturbing. Even as Lily finds herself becoming the exception to his "no dating" rule, she can't help but wonder what made him that way in the first place.

As questions about her new relationship overwhelm her, so do thoughts of Atlas Corrigan—her first love and a link to the past she left behind. He was her kindred spirit, her protector. When Atlas suddenly reappears, everything Lily has built with Ryle is threatened.
***About Colleen Hoover***
Colleen Hoover is the #1 New York Times bestselling author of Slammed, This Girl, Point of Retreat, Hopeless, Losing Hope, Finding Cinderella, Maybe Someday, Ugly Love, Maybe Not, and Confess. She lives in Texas with her husband and their three boys.
Find Colleen Here: Website | Facebook | Twitter | Goodreads
***Our Thoughts***
Kassiah: This book 100% slayed me.
Like, I don't even know what to do with myself anymore. This book is just so …everything.
I'm going to try to keep this spoiler-free. Lily Bloom (yes, that's her name) has delivered an unforgettable eulogy at her father's funeral when she meets a mysterious neurosurgeon, Ryle Kincaid. He makes his physical attraction to her known right away, but lets her know in no uncertain terms that he can only offer up one night. Lily's not that kind of girl, so they part ways. Imagine her surprise when, six months later, she finds her new employee's brother is none other than Ryle. The spark is definitely still there and Ryle and Lily find themselves in a whirlwind romance that takes them both by surprise. As they fall in love, we find out about Lily's past through her journals that she kept in high school, including the fact that her father abused her mother and that once upon a time, Lily fell in love with a boy named Atlas.
I feel like the synopsis for this book is slightly misleading as it seems that there will be a love triangle with Lily, Ryle, and Atlas, and that's not entirely true. It's more Lily's history with Atlas and kind of the idea of what might have been. Lily and Ryle are blissfully happy–until something happens that makes Lily question everything in her life.
There was so much that I loved about this book. From the very first words, I was enraptured and couldn't put it down. I love that we get her past through her journals. I love Alyssa and her true, genuine friendship with Lily. And the fact that everything's better in Boston. And the book inscription. And Ellen.
I loved Ryle from the moment we met him and I loved the way Lily and Ryle's relationship developed.
"Do you have any idea how many doors I've knocked on to find you?"
I loved their naked truths and how sweet and swoony they were together.
"I requested an Uber so you wouldn't have to go out of your way to take me home. We have approximately…" He looks down at his phone. "One and a half minutes to make out."
And I loved Atlas.
"In the future…if by some miracle you ever find yourself in the position to fall in love again…fall in love with me."
I understood him and was so proud of him.
There is one thing that I didn't like about this book, and that's the second half of the epilogue. It was swoonworthy and I was so happy, but I wish it hadn't happened like that. But honestly, that just makes me lower my rating from one-million-and-one-stars to just one-million stars. I can't even articulate how much I loved this book.
I'm not usually one to read author notes. But I feel like the author's notes at the end of this just make me love Colleen Hoover all the more. I just want to hug her and thank her for sharing this story–and hers. This book isn't like anything I've ever read. I've never experienced the actual manifestation of so many shades of gray. I always thought my feelings on this subject would be so black and white but they're not. View Spoiler »And I found myself wanting her to give Ryle another chance, which I can hardly believe I'm admitting. But I fistpumped when she realized why she wasn't. I loved Ryle, until I didn't. And even then, I still loved him. I just wanted him to not have done what he did. And I was so surprised that Colleen Hoover said she wanted to delete what he had done. « Hide Spoiler
This book is so emotional and amazing and so much more than I ever expected it to be. There were parts that made me gasp out loud. And laugh. And tear-up. And when it was all finished, I put down my kindle and full-on sobbed. It's been a long time since I've read a book that affected me this much, if I ever have. It changed me and my perception of the world and reinforced my love for my kids and humanity. The entire story, and maybe the last three lines especially, will stay with me forever. Raw and emotional, It Ends with Us is filled with swoon and love and courage and understanding the value of one's worth. It's amazing and is the most-consuming book I've read in ages. Highly, highly recommended.
Rating Report
Cover
Characters
Plot
Writing
Swoon
Overall:
5
***GIVEAWAY***
Win 1 of 3 prize bundles of one signed copy of IT ENDS WITH US and a limited Everything's Better in Boston magnet (trust us, you'll get it after you read the book)
a Rafflecopter giveaway
Good luck, Pretties! Let us know what your favorite book by Colleen Hoover is and if you've had a chance to read this one yet. Trust, you need to drop everything and read right now. So long as you grab a box of tissues and some chocolate first.
Related Posts