Breaking Point
by
Kristen Simmons
Also by this author:
Article 5
Series:
Article 5 #2
Also in this series:
Article 5
Published by
Tor Teen
on 02-12-2013
Genres:
Dystopian
Pages:
400
Goodreads
Buy the Book
The second installment in Kristen Simmons's fast-paced, gripping YA dystopian series.

After faking their deaths to escape from prison, Ember Miller and Chase Jennings have only one goal: to lay low until the Federal Bureau of Reformation forgets they ever existed.

Near-celebrities now for the increasingly sensationalized tales of their struggles with the government, Ember and Chase are recognized and taken in by the Resistance—an underground organization working to systematically take down the government. At headquarters, all eyes are on the sniper, an anonymous assassin taking out FBR soldiers one by one. Rumors are flying about the sniper's true identity, and Ember and Chase welcome the diversion….

Until the government posts its most-wanted list, and their number one suspect is Ember herself.

Orders are shoot to kill, and soldiers are cleared to fire on suspicion alone. Suddenly Ember can't even step onto the street without fear of being recognized, and "laying low" is a joke. Even members of the Resistance are starting to look at her sideways.

With Chase urging her to run, Ember must decide: Go into hiding…or fight back?
The 411:
Breaking Point begins with Chase and Ember being taken in by the Resistance, a group with plans to put an end to the Moral Statues. Things don't stay calm for these two long and when Ember becomes number one on the government's most wanted list, complications arise. Soldier's have been given a shoot to kill order and with pictures of her face posted everywhere, it's hard for her to lay low. Things get really interesting when she decides not to stay hidden, and starts standing up for herself and everyone she loves.

What We Loved:
What's not to love? Storyline? Amazing. Characters? Perfection. Swoon? Oh, man. The swoon. We are always a little scared to read the second book in a series, especially when we loved the first book. There's always a chance that it won't measure up, and that the characters we loved will become something we…don't love. Breaking Point was the exact opposite. It got even better.
We loved the way the story progressed, we loved the new characters, we fell deeper for the old characters, and we were left desperate for the next book.

Um…Not So Much:
This is a tough one. The things we didn't care for in Article 5 all but vanished. That's so rare, but a true testament to Kristen Simmon's awesomeness. To be fair, and because we can't jut leave this part blank, we'll just say that we could have used more kissing. Always more kissing.

The Boys:
You already know that we have a crazy amount of love for Chase, but there's a whole lot of boy in Breaking Point and a few of them deserve to be recognized.
First there's Tucker Morris. We're still not sure what to think about him, only time will tell. We will say this though, we're intrigued. Then there's Sean. We've got a lot of love for this guy. He plays a major role in Breaking Point, he's also the comic relief at times, and pretty darn swoony. It's always a bonus for us when there is more than one swoony boy, but without the annoyance of a love triangle!
Last but not least, there's our tall, steamy, main man–Chase Jennings. If you thought that he was something special in Article 5, you won't know what hits you in Breaking Point. Just look at this:
"I love you, Em. I've loved you since I was eight years old, and I'll love you my whole life."
Oh, Chase. We love you and can't wait to read all your swoony words in Book #3.

The Girls:
There are other girls in this series that we could, and probably should talk about, but we think Ember deserves our undivided attention.
If you read our review of Article 5, you know that we weren't always her #1 fan. That is now ancient history. Ember Miller pulled a major Anne Shirley (Anne of Green Gables) and went from being a whiny, sometimes unlikeable character, to being one of our favorite bad-ass chicks. The growth that she experiences in this book is real, and raw. There are times when she's vulnerable and times when she's tough, but all of her emotions happen in the right way, at the right time. We love her.

Bottom Line:
This is a fast-paced sequel that needs to be read NOW. Then you can join us in the excruciating wait for Book #3.
Verdict:
Dream Cast:

In our review for Article 5, we shared Kristen Simmons' dream cast for Chase. She also cast some of our other faves. Here's the rest of them:
What We Think Will Happen Next:
There are endless possibilities for how this series might end. With so many things left to solve, all we're hoping is that when it's all said and done, Ember and Chase are together, alive, and stronger than ever. That's what's important, right?

Other Books by Author:
Article 5 (Article 5 #1) (released on February 12th, 2013), Glass Arrow (coming out in 2014), and the Untitled Article 5 #3 (coming out in 2014).
Other Article 5 Series Posts:
Other Posts About Chase:
Rating Report
Cover
Characters
Plot
Writing
Swoon
Overall:
5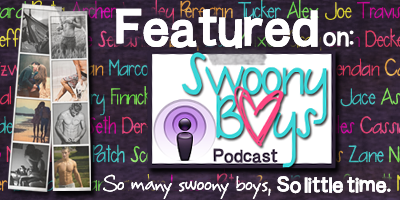 Related Posts